BitDefender is a popular antivirus suite developed by a Romanian cyber-security company of the same name. This antivirus has a long history of keeping computers safe against all kinds of malware and it is (and has been for a long while) one of the most popular security programs out there.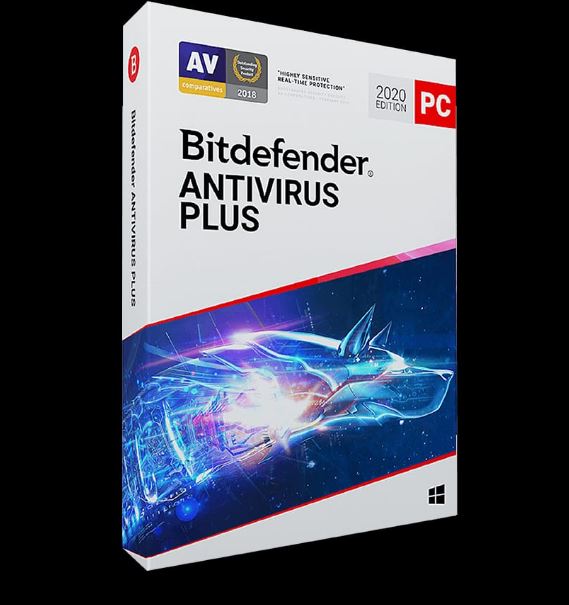 BitDefender 2020 comes with several different consumer-class editions of varying prices, offering different numbers of features.
The first one is BitDefender Antivirus Free Edition – a free version of the program that offers basic malware protection and some online security features. The second option (and the first paid one) is BitDefender Plus and it is a good all-around security suite with lots of protection features as well as a good number of extra functions. This is the version we will be focusing on throughout the rest of this review as it is the one that we believe could benefit the widest range of users. The third option is BitDefender Internet Security, which comes with some additional features that are focused on staying safe while on the Internet and providing the user with enhanced privacy. The last version is BitDefender Total Security and it adds optimization tools and offers cross-platform security for Mac, iOS, and Android.
As we said, BitDefender Plus will be the main focus of this post and we will tell you everything you need to know about its protective abilities, the bonus features it provides, its impact on the system as a whole, and, finally, we will give you our honest opinion on whether or not we recommend this program to anyone who may read this post.
Installation and interface
Starting with the installation of BitDefender, there's nothing noteworthy here – the process is streamlined and there's not much need for customization on the user's side. However, it's worth pointing out that during the installation, BitDefender will automatically install additional elements in your system. One example of that is an Anti-Tracker tool that directly gets added to Chrome as well as the Wallet feature (more on these later). This is to be expected from most antivirus programs and the bonus tools can actually come in quite handy. However, some users may see them as unneeded and unnecessary.
Moving on to the interface of the program, it is clean and intuitive. Even less experienced computer users could quickly find their way around the different functions provided by the antivirus. When you start the program for the first time, you are introduced by a quick tour that explains the main areas of the antivirus for users who are new to it and may need some getting used to.
The different menus are located in a panel to the right, from where you can access the Dashboard (the main screen of the program) as well as the Protection, Privacy, and Utility tools. If you want to run a scan, the scanning button is right there, on the Dashboard, and clicking on it will take you to a new screen with different scanning options. There, you can choose between a Quick Scan, a Full System Scan, or you create a custom scan of your own.
In general, the interface of BitDefender Plus is designed to be easy to use by everyone, even if the person doesn't have much experience with antivirus programs. There aren't any overly-complicated settings placed at the forefront of the program. However, if you are a more advanced user and would prefer to have quick access to some of the more complex features and settings, you have the freedom to add new buttons to the starting screen of the program so that you won't have to look for them inside the different menus every time you want to use them.
Security
The most important aspect of every antivirus or anti-malware tool is none other than how well it handles incoming and already present threats. No number of additional features and tools could make up for poor malware-handling abilities.
BitDefender has been around for a very long time and it has had the time to greatly improve and polish its protective abilities throughout the years. Currently, it is at the top of the food chain when it comes to antivirus programs and a big reason for that has to do with its impeccable capability of keeping your machine safe even against the newest of threats.
Many independent labs have tested and keep testing this antivirus and the results are always excellent. According to the latest tests, BitDefender 2020 scores anywhere between 99,5% (AV-Comparatives) and 100%(AV-Test) in terms of what percentage of incoming threats it is able to stop and neutralize. In other words, the chances of getting your computer infected by malware are very low if this program is active on your computer. Of course, we don't expect any less from an established antivirus suite such as this.
The feature that impressed us the most here, however, is the ability of this antivirus to deal with incoming Ransomware threats. Ransomware has proven times and times again that it is one of the most hazardous and difficult to stop threats on the Internet. Its specific modus operandi makes it a malware hazard that even high-quality antivirus programs are oftentimes incapable of stopping. BitDefender, however, seems to have found a way to spot and intercept such threats as soon as they activate and start encrypting user data. Now, it must be mentioned, however, that despite this impressive feature of the antivirus, Ransomware still remains one of the most advanced and complex categories of malware and newer versions may still be able to stay under the radar of BitDefender. In other words, you should never ignore the importance of personally making sure that your computer doesn't get exposed to danger!
Antivirus Functionality
The main tool of the BitDefender Plus security suite is the actual antivirus. Expectedly, it supports several different scanning options. There are the mandatory Quick and Full scans and there's also a custom scan option labeled Manage Scans that gives you the option to create your own scans that target only certain file-directories or file types. You can also schedule a scan and make it start automatically at a certain time and day. In other words, the basics are all there but more experienced and advanced users may prefer to have more options to choose from when setting up a custom scan. In this regard, some antivirus suites such as Avast or Avira seem to offer a wider range of options with their customizable scans.
One interesting feature, however, is that you are allowed to choose whether or not BitDefender scans incoming and/or outgoing emails for suspicious content. This is a nice touch and can come in quite handy for keeping your inbox clean without blocking any important messages.
Another thing we also liked is that you can run several scans at the same time. For instance, you can run a Quick or Custom scan while a Full System Scan is in progress.
Speaking of the Full Scan, it is worth noting that it takes longer compared to other antivirus programs when it's run for the first time after a long period without running it. To scan about 100GB of data, the program took around fifty minutes which is quite a lot. However, the good news is that consecutive Full scans would take much less time as long as they are not too far apart from one another.
All in all, even though BitDefender Plus may not offer the same variety of scanning options, it still provides everything that a regular user may need while also adding some helpful bonus features that aren't that common among antivirus software as a whole.
Online Security
Nowadays, for an antivirus suite to be regarded as a viable option, having some form of online security feature is a must. Keeping us safe from malicious sites is an essential function that a full-fledged antivirus should definitely have and users are offered that by BitDefender Plus. The web protection feature of this antivirus constantly keeps an eye out for suspicious and hazardous addresses and warns you if a certain site you are trying to visit may be unsafe for your system. According to AV-Comparatives, BitDefender manages to block 98% of the harmful links it got tested against.
The thing that surprised us, however, was the impressive ability of BitDefender's web protection feature to block sites that have not yet been officially confirmed as malicious. When tested against an extensive list of suspect URLs provided by MRG Effitas, an online security company, BitDefender managed to recognize 65% of the URLs as potential threats. This may not sound particularly impressive but keep in mind those are URLs that are not yet confirmed as harmful. This percentage doesn't represent the ability of the program to keep you safe from dangerous sites but rather the speed at which it gets its databases updated with the latest potential threats on the Internet. To put it into perspective, other established antivirus brands such as Avast and Windows Defender have managed to detect and block only 49% and 30% (respectively) of the URLs coming from that same list.
Other Features
The BitDefender Plus package has fewer additional features compared to the two more expensive options but it still offers some helpful bonus tools to help make your life easier.
With BitDefender Plus, you are also given a password manager labeled Walled that allows you to keep track of the various passwords you use online and ensures they are safe from hackers. On top of that, Wallet extends its functionality to protecting other sensitive data such as credit and debit card numbers, Wi-Fi passwords, license keys, app login details, as well as personal information such as date of birth, name, address, etc. However, this feature isn't as polished as some of its standalone alternatives. For example, it may sometimes fail to detect and capture text fields for entering one's password or username, and it occasionally fails to automatically fill in online login forms. Still, it's a neat tool to have for some basic management of passwords and other important details.
The aforementioned Anti-Tracker that gets installed automatically in Chrome is a useful browser add-on that will prevent sites from aggressively collecting data from your browser. It is turned off by default but you can easily activate it when you start your browser. It does its job well, managing to detect and stop Advertising, Analytics, and Social Media trackers. It gives you the option to allow certain trackers or whitelist certain sites but keep in mind that it doesn't block ads so it's still advisable to get an ad-blocker if you want to keep undesirable marketing content away from your browser.
BitDefender Profiles allows you to create and manage different profiles for the antivirus that can be customized to have different behaviors depending on the circumstances in which the machine is being used. For instance, if you are on a laptop that is currently running only on battery, you could assign a BitDefender profile for that, which would use less resources to save battery life. On the other hand, if you are connected to a public wireless network, you can use a profile for enhanced network security. There are quite a few options to play around with and we won't be listing them all but you get the idea.
Safepay is a feature that surprised us with how far it goes to ensure that your banking details and transactions stay secure. It offers a whole separated browser and desktop for securely managing online transactions so that even if there's malware located on your computer, it won't be able to get hold of your details. This feature provides advanced protection against keyloggers and snoopers and it ensures that your details stay secure during and after each transaction. This is definitely one of the most impressive features that come with the BitDefender Plus antivirus suite and we did not expect it.
А Vulnerability detector will let you know whenever there's a potential vulnerability on your computer such as an outdated program that hackers could exploit, a weak password, or a setting that may make your computer less safe (such as a turned-off Firewall). It also gives you information about available Wi-Fi networks and evaluates them to tell you how safe each one of them potentially is.
Performance
Next, we need to say a couple of words about the footprint on system performance that this antivirus leaves. Well, this might be the only aspect where users may take some issue. The program isn't what we would call resource-intensive but there are certainly lighter options. It seems to slightly affect the loading time of Windows and PassMark's Performance Benchmark for security software puts BitDefender at 14th place out of 15 tested antivirus programs. Again, this is not to say that this antivirus will make your computer laggy or slow but it may have some effect on performance, especially if you are running several scans at the same time so keep this in mind if you are on a less powerful machine and are thinking about getting BitDefender.
Pricing
Before we finish, we must tell you about the pricing options offered by BitDefender for its Plus suite. At the moment of writing, there's a big discount on all of the different pricing variants by 50% off the price but the regular price is $ 59.99 for the first year. Note that this gives you a three-device license so you can protect two other computers with this suite. In our opinion, this is quite a good deal for first-year subscriptions but we would have liked to see a lower price option where the license is only for one device.
Final Notes
All in all, there's a reason BitDefender is among the most popular and widely-used antivirus solutions. With its excellent detection and malware-removal capabilities, its user-friendly interface, its satisfying variety of additional features, and its strong online protection, we would most definitely recommend the BitDefender Plus package to anyone who might be looking for a strong and reliable antivirus suite in 2020.