The Dell G5 SE is competitive mid-range gaming laptop choice.
Pros:
Impressive CPU performance

Great game performance for the price

Balanced configuration

144Hz refresh rate
Cons:
Boring design

No FreeSync validation
The Dell G5 SE is a mid-range priced gaming laptop that combines the latest and the greatest of what AMD could currently offer. With its AMD Ryzen 7 4800H processor and the AMD Radeon RX 5600M graphics card, this laptop competes for a leading favorite among the laptop gaming devices.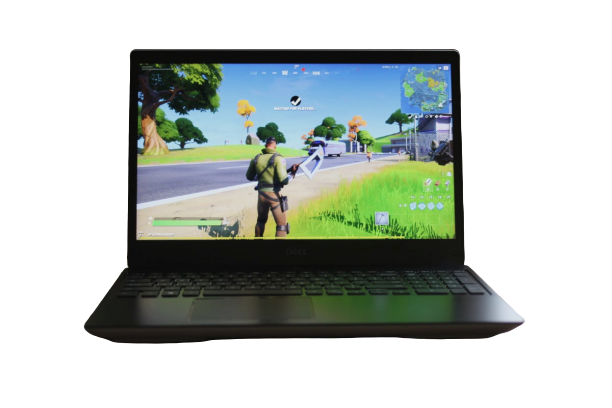 Design
We are not going to waste too many words on the design. We are just going to say that the Dell G5 SE "Special Edition" tag does not refer to its appearance. The laptop has a plastic chassis and generic silver lid. It is 5.5 pounds in weight and 0.85 inches in length. The outdated appearance and size doesn't scream a gaming laptop but that's actually part of the compromise when you are paying as low as 880 dollars for a gaming-class laptop.
Another compromise is the Dell G5 SE screen with no gloss. The brightness is just 171 nits, and the color accuracy is wildly off – the colors are highly saturated and the screen has a blue tint. Of course, that's not an issue during gaming but you should better not purchase the G5 SE to do some precise photograph or video work as its integrated display is clearly not for that job.
The refreshing rate of 144Hz, though, is fantastic and ensures incredibly smooth actions be it with the cursor or high frame rate gaming. But the Dell G5 SE is not a certified FreeSync product and you can always run into any visual glitches and tears if the frame rate is not caped or V-Sync is turned on.
There are several heavy bezels around the screen. For laptops such as the Razer Blade, ROG Zephyrus G14, or even the Predator Helios 300 you'll see slim bezels. But that's again a bargain when it comes to budget-friendly gaming laptops even tough that is evolving with the recent Asus TUF Gaming Laptop.
The ports in Dell G5 SE are not on the back but are split between the right and the left. The laptop comes with two USB-A 2.0 ports, a headphone socket, a Kensington lock and an SD card slot on one side. On the other side there is a USB-A 3.2, Ethernet port, HDMI 2.0, USB type C and barrel plug connector. Thunderbolt 3, however, is not supported.
Dell also sells a Dell G7. In this model, the frame is more luxurious, with a stronger aluminum panel, better screen, and smaller bezels.
Keyboard and Touchpad
In a gaming laptop, the keyboard and the touch pad are often the last thing to be bothered about, especially on inexpensive models. The Dell G5 SE, however comes with a keyboard that has a conventional layout, a lot of space, and even backlight four-zone RGB for gaming. If you want fancy backlighting, though, you will have to pay an extra 30 dollars for it.
The touchpad is big, smooth and provides a silent click. For a laptop that can double for work or gaming it's an important feature.
The Dell G5 SE does not include a Windows Hello fingerprint or an IR camera, tough. In the top of the screen is the 720p webcam. It's nothing remarkable, but still it can handle a Zoom call.
Performance
Now we are going to dig into the real significance of the "Special Edition" tag. Thanks to the Ryzen 7 4800H, this laptop offers eight cores and 16 threads of processing power. The RX 5600 M GPU also sports 36 compute units and GDDR6 memory.
Yet these components are not the true tale. When they operate together, the real magic happens.
Games eat up the GPU more than the CPU, thus, a fine  balance between these components is needed. In a test with games such as Civilization VI, Fortnite, and the Assassin's Creed Odyssey the RX 5600 M is not, of course, the most powerful graphic card in the world. It lies strategically positioned between the Nvidia GTX 1660 Ti and the Nvidia RTX 2060. Still, it is a fantastic deal to get this CPU with a Dell G5 SE base model for as low as $880.
Smart Shift
The Dell G5 SE also incorporates a new AMD technology, which ties together both – the  latest GPU and Processor. The name of this technology is SmartShift and represents a way to organically distribute control among the two components. Each laptop has a cap on how much power they can use. SmartShift uses Infinity Fabric of AMD to increase the CPU or GPU power on both ends, even after the standard wattage as much as the thermal headroom allows. AMD claims that SmartShift technology can increase the frame rate of games by up to 10 percent.
Unfortunately, the SmartShift function cannot be stopped so we can say if it actually functions and measure the performance with and without it. We have to only assume that AMD provides this 5% or 10% of additional output.
In order to achieve optimized performance, SmartShift uses an automatic algorithm that assigns best power allocation on a moment-by-minute base. However, Dell says AMD also needs to "whitelist" applications to be able to better optimize them.
Battery life
The G5 SE uses a 51 watt-hour battery, smaller than the 68 watt-hour battery that can be found in Intel model. Still, the laptop performs well and lasts for over six hours in light usage just with one charge. For a gaming laptop, that is serviceable but is still far from great.
Of course, the 1080p screen resolution and the absence of Nvidia G-Sync technology saves a lot from the battery life. Yet, G5 SE won't take you through a full working day. It will last only about 2 hours during a game, but, in any case, you simply can't expect to play heavy games off a socket for a long time.
Summary
If we are talking about affordable gaming laptops that are currently available on the market, you can hardly get anything better than Dell G5 SE at the moment. This machine is powerful and surprisingly good at most games and at a price of about 880 dollars for the basic model it really is a killer for that money. Equipped with AMD and its Ryzen 4000 platform Dell G5 SE performs in well. Whether the SmartShift technology makes a significant different  that is makes its debut with this model is hard to tell but we are satisfied with the AMD's Radeon RX 5600M output. Despite its outdated appearance and feel, Dell and AMD have a hard to compete value offering.