Irritating web ads are everywhere nowadays, right? You open your Chrome, Firefox, IE (or any other) browser and your screen gets immediately flooded with all kinds and forms of pop-ups, banners, box-messages, page redirects, etc. Many of those ads come from the sites themselves and there's little you can do about that (aside from getting an ad-blocker). However, did you know that oftentimes, the ads you see online might not actually be getting generated by the sites that you visit. In fact, there are many programs and apps known as browser hijackers and adware that are getting created for the sole purpose of generating advertising materials from within the user's device. Now, most such software is typically associated with PCs and laptops. However, if you are currently experiencing irritating display of ads on your mobile device as well as sudden redirects to web pages you didn't mean to visit, then you are likely dealing with "Google has found a serious virus on your android system" Scam or some other similar ad-generating software. "Google has found a serious virus on your android system" is what you could call an Android browser hijacker. Again, it's main purpose is to advertise different products such as different apps, online stores, services, websites, etc. Although at times such activity might actually provide you with relevant online offers that you might be interested in, most users typically find such hijackers to be really irritating and intrusive as they tend to be heavily obstructive with all the ads and banners that they tend to impose upon the customers' displays. Because of that, hijackers like "Google has found a serious virus on your android system" Scam are typically seen as unwanted and undesirable.
But are they dangerous?
Most hijacker-related software isn't something to be overly concerned about. It will likely not harm your device or trigger any other harmful processes. However, the ads displayed by such a software piece might not always be safe and reliable. If you aren't careful and tap on the wrong ad you risk getting redirected to some shady or maybe even illegal site which, in turn, increases the chances of landing insidious viruses such as Trojans, Spyware, Ransomware, etc. That is the reason why we believe it's better if you simply remove "Google has found a serious virus on your android system" from your device – we can show you how to do that in our removal guide down on this page.
Also, in order to avoid future hijackers like this one, make sure that you only use reliable sources for new applications (such as the Google Play Store) as most hijackers typically come as built-in elements added to other apps. Another great tip is to conduct your own research on any apps that you want to get before you actually download them so that you can read opinions from other users and find out if there is anything potentially unwanted about the application.
"Google has found a serious virus on your android system" Scam Removal

Whether you use the default "Internet" App for browsing or a different browser like Chrome you need to go to:
Settings/More/Application Manager/All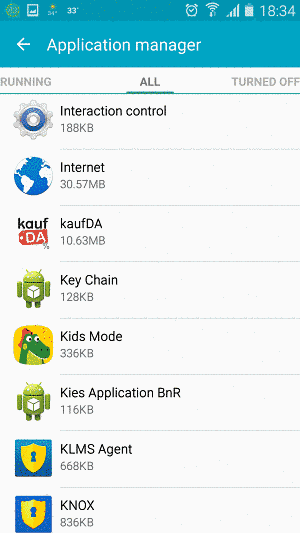 Locate the Browser/App in question and tap on it.

Now the method is effectively the same for users using both "Internet" and Chrome/Other Browsers, yet for more clarity we have provided instructions for both:
For "Internet" Browser Users:
Tap the Force Stop button.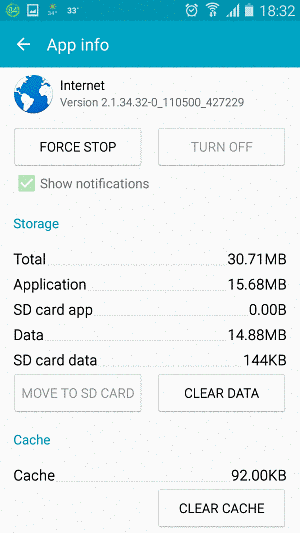 Now tap the Clear Data and Clear Cache Buttons.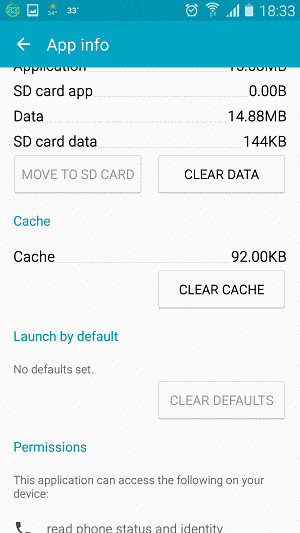 For Google Chrome Users:
Click on  Force Stop.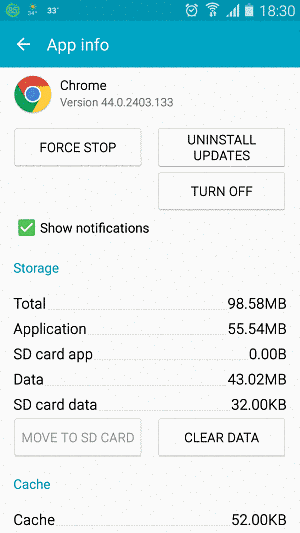 Then click on Clear Data and Clear Cache.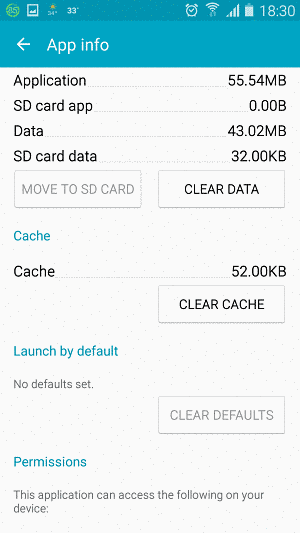 Restart your Browser. It might be a good idea to Reboot your Android device, just in case.

If you are still seeing Ads in your browser, it is likely they are generated by the websites you visit and there is nothing you can do about it.
However, if you are seeing Adverts outside of your internet browser, then one of your installed Apps contains the problematic Adware. In this case you need to take a look at this guide.

Did we help you? Please, consider helping us by spreading the word!