Nextbestgame.org Overview
This is a PUP – something close to a virus. In this case it displays intrusive startup pop-ups and should be removed at first notice, because the longer it manages to remain on your system, the more chances it will have to damage it.

Potentially Unwanted Programs (PUPs) are somewhat of a grey area – they are not exactly malware, but can be intrusive and malicious, ranging from specimen to specimen. In this case, security experts recommend  removing nextbestgame.org's pop-ups as soon as possible.

The advertisements that are displayed sometimes are real as far as we could tell – but that does not make them safe. Lacking the proper precautions and clicking on the pop-ups can result in even bigger problems.
How Was I Infected With Nextbestgame.org?
There is a variety of ways this could've happened. For one, you could have simply gone through an unsafe website and contracted nextbestgame.org – there's nothing you can do about this, but be sure of the websites you visit. A second way is through spam email. Similarly to what I just mentioned, there's nothing much you can do, but identify it is spam and not open. And especially don;t open any attachments, this is a-must.
The third way is quite prominent – studies we've collected show that the majority of users contract viruses this way, and not just nextbestgame.org. That is through a packaging marketing technique called "bundling." Whenever you install another program, there is some chance that the setup will carry another program. Here's the catch: third parties are not allowed to install anything on your PC, unless you give consent. Since this is very unlikely, that only leaves them with  the option of tricking you. At some point during the setup, it has to ASK you if you want the other program, in this case the PUP. The problem is that's usually asked during the last steps of the installation, and most users are too uninterested to monitor it. Hence they end up with nextbestgame.org or a similar software.  If this is what happened, avoiding such mistakes in the futures will probably end up being easy – simply always choose Custom Install (because Express will give you the virus 100%) and monitor each step.
The most likely programs to carry such threats are free ones – tools for optimization, useful utilities, that sort of stuff. Beware these and always be careful what you install. Read reviews before downloading anything, or just do a quick google search to make sure it isn't infected. Another way to identify infected products is to quickly skimp through the software EULA. If there is any mention of "not being held responsible for third party advertisements" (or something in that vein) you'll probably end up with nextbestgame.org on your system. Keep your eyes peeled. Ultimately you are the only one who can protect you
How to Remove nextbestgame.org
STEP 1
Download and install a program called Autoruns from here. The program is verified safe and will not cause you any troubles.
Once you've installed it, run Autoruns and click Options on the top left menu, the Filter Options.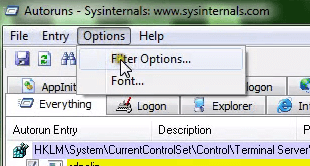 A new window will appear then, where you need to uncheck  Hide Microsft entries, then click Rescan. This will now check the integrity and composition of the files in your system.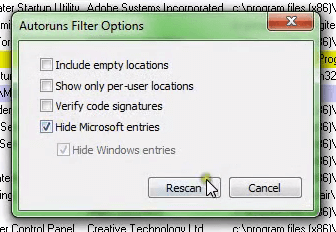 Next up, locate and click the tab called Logon.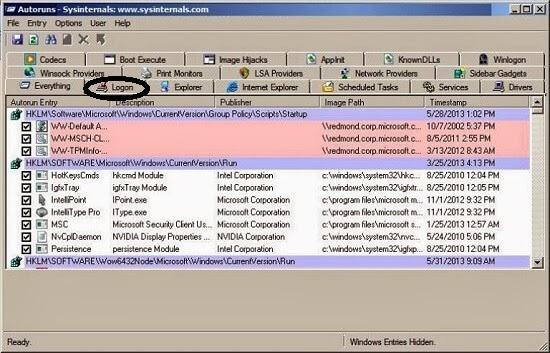 After that a new list will open up.  Find HKCUSoftwareMicrosoftWindowsCurrentVersionRun, right-click CMD and Delete it.

STEP 2 (Optional)
If you've reached this step, then well done for removing nextbestgame.org. We've prepared a short and sweet optimization guide, specifically designed for users who just removed a virus. It is completely free, you do not need to download anything, and it's not very time consuming. If you are interested you can check it out here.