This page aims to help you remove Totmania.net "Virus". Our removal instructions work for Chrome, Firefox and Internet Explorer, as well as every version of Windows.
A new source of browsing irritation and obstructiveness has recently been reported to us and we are here to tell you all that you may need to know about it. The unwanted application in question goes under the name of Totmania.net and is yet another representative of the browser hijacker family. As such, Totmania.net can silently "invade" the main browser in the system (be it Chrome, Firefox, Explorer or some other browsing program) and introduce unauthorized changes to its settings in order to start promoting third-party ads, banners and pop-ups on its screen. Typically, the changes involve the replacement of the main search engine service in the browser and/or the replacement of the current homepage. After this, you are likely to start experiencing invasive automatic page-redirects to specific websites, sales offers and promotions.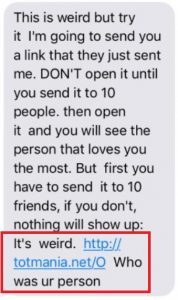 The nature of this application is not malicious but its behavior can easily be mistaken for a possible infection with a virus or a malware program from the ranks of Trojans and Ransomware. And, indeed, the users, who have never met a browser hijacker before oftentimes mistake such apps nasty infections because Totmania.net usually lacks a built-in uninstallation mechanism and its ads, in most of the cases, are ridiculously difficult to remove. The application normally shows lots of sponsored ads, modified search results, pop-ups, ads, banners etc. on the targeted computer and is aimed at redirecting the web searches to certain websites to boost their traffic and generate revenue by doing so. The creators of this browser hijacker use a method known as Pay Per Click to get commissions on every redirect and ad click generated by the invasive app. Therefore, they are more than interested in keeping such software on your system for as long as possible and in redirecting your searches to the pages that bring them revenue. In the removal guide below, however, we will show you how to quickly uninstall Totmania.net and remove its potentially unwanted changes in order to browse the web in peace.
How can Totmania.net "Virus" infiltrate your PC?
Totmania.net is not some nasty virus, a Ransomware or a Trojan which can infect your computer in full stealth. Yet, this browser hijacker has lots of tricks that allow it to get installed on more computers. It most commonly gets installed into the system without the users' direct permission thanks to methods such as software bundling, automatic software updates and installs, spam and torrents. The application can typically be found under the advanced or the custom installation settings of a given setup package and is usually labeled as a "recommended" or a "bonus" component added to the main program that you want to install. Selecting the automatic installation option will make the hijacker part of the system alongside the main program of the bundle by default. That's why, if you want to keep Totmania.net and similar browser hijackers away, you should always pay attention to the settings of the software you install and manually select your preferences about the bonus components that the setup package may contain.
Once inside your computer, Totmania.net "Virus" can easily make some potentially unwanted changes to your main browser and expose you to all sorts of third-party ads, links, and pop-ups, the origins of which may not always be reliable. Due to this, we recommend that you stay careful around such applications and uninstall them in case they start messing with your browsing experience.
SUMMARY:
Remove Totmania.net "Virus"
You are dealing with a malware infection that can restore itself unless you remove its core files. We are sending you to another page with a removal guide that gets regularly updated. It covers in-depth instructions on how to:
1. Locate and scan malicious processes in your task manager.
2. Identify in your Control panel any programs installed with the malware, and how to remove them. Search Marquis is a high-profile hijacker that gets installed with a lot of malware.
3. How to clean up and reset your browser to its original settings without the malware returning.
You can find the removal guide here.
For mobile devices refer to these guides instead: Android , iPhone