Restoro Repair Tool Review
Restoro Repair Tool wants to ensure that your PC is fast and stable and that you know that this should be your priority. However, PC problems are inevitable, and sooner or later they occur. Whether it is that your computer is no longer new and it runs into certain issues such as freezing, sluggishness, sudden crashes, etc. or you have recently installed/uninstalled something that has caused system configuration disturbance and errors, or malware has caused some damage, fixing these things isn't always easy.
However, there are specialized tools such as Restoro Repair Tool that can make things much easier even if you are not a computer guru. This software is promoted as an all-in-one repair tool, capable of repairing common computer errors, protecting you from file loss, repairing damage caused by malware, preventing hardware failure, and optimizing your PC for maximum performance.
But can Restoro really do all that? Our "How to remove" team decided to take a thorough look at this program and come up with a detailed review that will hopefully help you decide if this is indeed the right tool to invest in.
What is Restoro?
Restoro is an optimization software created by Kape Technologies that was released in 2018. Unlike most optimization apps on the market, this tool is promoted as a powerful system solution that promises to "restore your PC to its greatness" not only by optimizing it but also by repairing malware damage.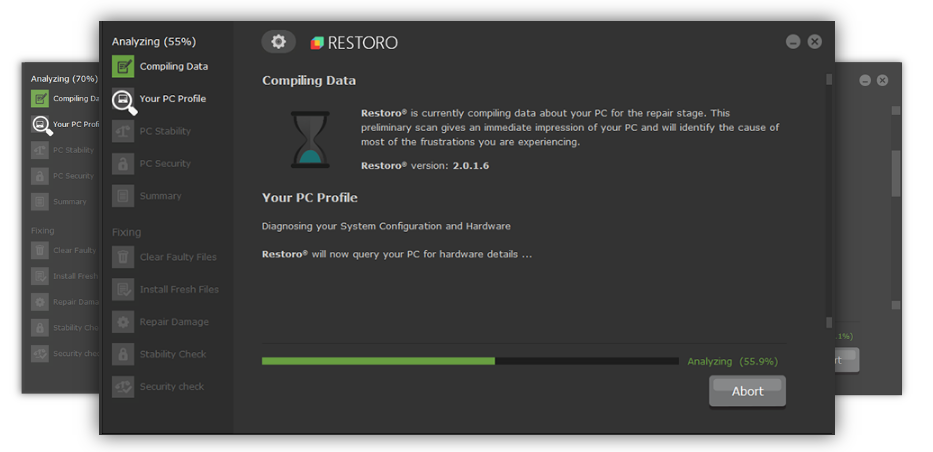 Our review starts with a look at the Restoro website, where the developing team of professional IT experts and programmers claims that they are constantly working on increasing the capabilities of the software through innovation.
What makes us an impression is that Restoro's team is focused on the users. Unlike many other popular optimization tools that have limited options for direct communication with the support team, Restoro's team provides its users with technical support at any time over the phone, email, or through the online chat form.
Restoro Repair Tool for Windows
Restoro installation
Users can download Restoro from the official website. The download and installation process takes just a few seconds and requires you to simply follow the instructions on the screen.
What speaks well about the app is the fact that there is no hidden bundled software within the installer. Users can install Restoro without worrying about adding some unwanted PUPs on their PCs afterward.
System requirements
The main idea of any system optimizer is to maximize the performance of your PC, thus, being modest when it comes to the consumption of your resources is what you should be looking for.
That being said, Restoro is made to be as lightweight as possible, which lets it run on even the eldest and slow computers and diagnose and fix them.
How does Restoro work?
As soon as you open Restoro, its simple and intuitive interface will make you feel at home. The app will scan your PC for problems in your hardware, security, and system stability which will take about five minutes.  
Once the scan completes, you'll see a detailed report of your system's issues. You can examine the report and see all problems and threats on your PC.
To fix them, you don't need to do anything special but simply click the Start Repair button and wait for Restoro to do its repair. The entire repair process is almost fully automated. This is ideal for users who aren't that computer savvy and don't feel comfortable constantly being prompted to choose different options they don't understand or take action.
The repair process covers five categories, and shouldn't be interrupted until it completes. Once the process is finished, your PC should be repaired and you don't need to do anything else.
What can Restoro repair?
Restoro works as an all-in-one program that is capable of restoring broken or missing registry entries and fixing settings, removing junk files, clearing corrupted files, fixing startup programs, etc. This helps users to get rid of unnecessary clutter on their computer, free up precious disk space and increase computer response time, which allows them to use its maximum capacity and power.
Restoro has a huge database with Microsoft files that it uses to replace the corrupted or missing Microsoft files in your computer. This database is automatically updated and contains only genuine and clean files.
Damaged DLLs can also be fixed by Restoro. The program replaces the missing or broken DLLs with new, healthy ones from its extensive Microsoft files database.
The software will also fix the damage left on your PC by malware such as viruses, Trojans, etc.
What does Restoro not fix?
On the official website, the developers of Restoro are completely transparent about what the program shouldn't be expected to fix. This includes:
Repair or replacement of files that belong to 3-rd parties that are not included or provided with the Windows Operating System.

Repair compromised Antivirus software. Restoro is only a complementary program to your main security software and should not be expected to work as a substitute.

Restoro does not fix hardware issues but only scans and suggests hardware that may be replaced for better performance.
Restoro PC Repair tool
What are Restoro's features?
There are several features that make Restoro a powerful and competing repair tool. In fact, the app is a blend between an antivirus, a system optimization tool, and a user-grade technical tool that pretty much offers all the basic features the users may need:
| | | | | |
| --- | --- | --- | --- | --- |
| Features | Restoro | Typical antivirus tool | Registry cleaners | User-grade technical tools |
| Windows Repair | ✓ | | | ✓ |
| Protection from viruses | ✓ | ✓ | | |
| Virus Removal | ✓ | ✓ | | |
| Virus damage repair | ✓ | | | |
| Fix error messages | ✓ | | ✓ | ✓ |
| Optimize Registry | ✓ | | ✓ | |
| Hardware repair | ✓ | | | ✓ |
| Database of automatically updated replacement files | ✓ | | | |
| PC Crashing and Freezing Fix | ✓ | | ✓ | ✓ |
| User-friendly automatic repair | ✓ | ✓ | ✓ | |
| Restoration and replacement of DLL files | ✓ | | | |
Is Restoro safe?
Restoro is a legitimate program that does not initiate illegal or malicious processes on a computer. Besides, unlike other PC optimization programs which commonly bundle dubious free apps inside their installers, Restoro has a clean installation wizard with no additional bloatware or freeware alongside.
A common practice of many system repair and optimization tools is to display nagging advertisements and redirects to sponsored sites, but Restoro has a clean interface and does not spam its users with unwanted pop-ups, ads and redirect prompts.
Another rather unethical practice that is common among this system repair type of software (also known as scareware) is the display of false positives and on-screen alerts that keep warning the users about different PC errors and issues. We are pleased to notice that Restoro does not disturb its users unnecessary and shows accurate scan results that detect existing issues.
Who should use Restoro?
Probably one of the best features of Restoro is its ability to fix all detected issues automatically with just a single click from your side.
This is a great convenience for less experienced users who just want to fix a certain problem quickly and without the need to worry about not being savvy enough.
In order to do that, the software is using a remarkable technology – it holds a remote database of authentic and updated Windows system files, which can replace the broken ones on the scanned system. The database is continually updated, so there is no need to worry about replaced files being out of date.
The application is also a perfect solution for the removal of adware, browser hijacker, ransomware, trojan, keylogger, and other malicious programs. It detects and removes them in a few clicks. Restoro can be an excellent help in dealing with the consequences caused by severe and persistent virus infections.
From what we can conclude from our experience, Restoro is a perfect tool for both – IT gurus that need a reliable tool that saves them time, as well as less computer-savvy users who need an automated PC optimization program with a simple interface.
Is Restoro Trustworthy?
When it comes to programs that have access to registries, DLLs, and other sensitive system files, and have the ability to make changes to them, your main concern should naturally be related to their safety.
However, Restoro seems to have proved as trustworthy software and has received many certifications to prove that, including:
Attention: Make sure that you download Restoro from its official website and install only legitimate apps from reliable developers on your computer.
How much does Restoro cost?
Restoro has a free version that can do an initial scan and point out the problems of your PC. To fix those problems, however, users need to purchase a license. The program gives a choice between three different licenses:
A one-time repair license for $29.95
One license valid for one year with unlimited use for $39.95
Three licenses valid for one year with unlimited use for $59.95.
The company offers full Money back guarantee to anyone who is not happy with the repair of their PC under their Refund policy.
Pricewise, in our opinion, Restoro stands as an affordable PC optimization solution compared to other tools from the same class and combines a number of handy features in a single all-in-one software interface.
Final thoughts on Restoro
Based on our experience with the app, Restoro is a PC optimization and repair tool packed with useful features that can fix a wide range of common PC issues. With its automated scanning and repair process, this tool is ideal for even the less experienced users. Restoro's ability to repair damage caused by malware and restore corrupted or missing system files from its up-to-date database, makes this app stand among the best optimization applications that are currently available on the market. Besides, it helps to avoid costly computer technician fees and improves computer performance at an affordable rate.
Our recommendation would be to use Restoro alongside your professional antivirus app and have it fix common PC issues for you whenever they occur.