Thor Premium Home
Thor Premium Home is brought to you by security software developer Heimdal Security. And as a matter of fact, Thor Premium is actually the highest class of the Thor range of antivirus products from this manufacturer.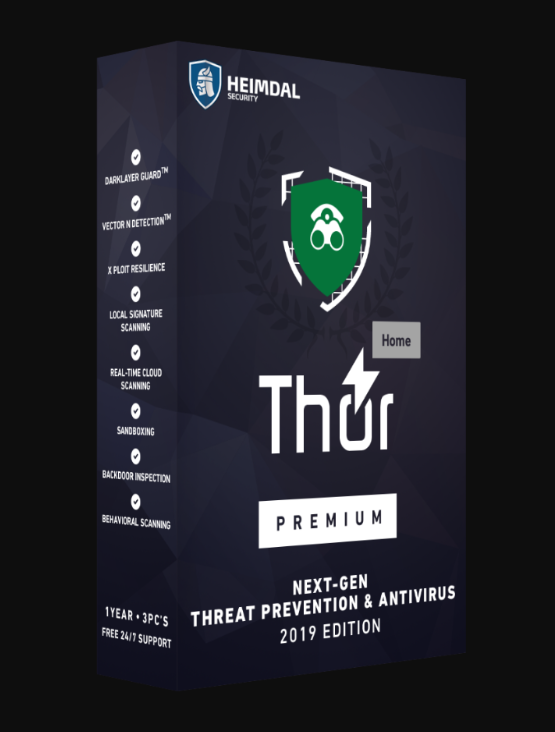 There are two other products in the Thor range: Thor Foresight and Thor Vigilance. The former is all about preventative measures and blocking threats before they can make their way into your computer. It benefits from several different security layers, including URL blocking, phishing protection as well as protection against online banking fraud. You can purchase a one-year license for $52.46 and enjoy coverage of one device. Or you can expand that coverage onto three devices for the price of $70 per year.
Vigilance, on the other hand, has a stronger focus on detecting and stopping malicious threats after they have already entered the system. Hence, it has the functions of an antivirus program. But on top of that it benefits from features like cloud storage scanning, behavior monitoring and even has its own firewall. The price for Thor Vigilance is $45 per year with coverage for up to three different devices – for the first year. Upon renewal, the license price jumps to $56.
And that brings us, finally, to Thor Premium Home, which we will be reviewing here. It brings both Thor foresight and Thor Vigilance together into the same product for the price of $75 for the first year. Coverage is provided for up to three devices as well, and upon license renewal the cost goes up to $100 per year.
Given that Thor Premium uses Avira's antivirus engine, which costs about just as much but comes packed with a variety of features and can cover up to 5 devices at a time – the price is a little steep. There's very decent products from competing developers out there that have even more to offer at an even lesser price, such as Bitdefender, for instance. But at a glance, here are the main takeaways from our experience with Thor Premium.
PROS:

Equipped with high-quality Avira antivirus engine

Automatic updates of third party apps

Good URL filters

CONS:

Pricey

Can be vulnerable to malware

No independent lab testing
Getting started
Thor Premium Home is rather easy to set up and start using right away. In addition to that, the developer offers a 30-day free trial, which is a great opportunity to try everything out before committing to a paid plan.
To download the package, simply head over to the main website and click on the respective download link. Then all you have to do is type in your email address to activate the package and the installer will take care of the rest of the process for you.
Another piece of good news is that Thor Premium is very compact, requiring just 300MB of storage on your computer and launching 5 background processes. But that's where the good news ends.
We were a little surprised and quite disappointed to find that Thor Premium was incapable of protecting itself from malware attacks. This is a serious vulnerability. Unfortunately, though, it's also one that commonly accompanies suites that use third party antivirus engines, which is precisely the case here.
We ran a few tests to check and see whether Thor Premium had this same vulnerability and as a result we were able to delete much of the software by running a batch file as an administrator. This was enough to completely disable the interface of Thor Premium and even some of its features. Furthermore, we were even able to close the program's background processes, which is something that most software of this type should be able to prevent.
Design & interface
We really like the design of Thor Premium. It's brighter and greets you with a little more of cheerful color scheme, as opposed to what you see in most antivirus programs. In addition, the interface is equipped with larger icons, making it easier to spot them and navigate the client. Furthermore, the buttons and text can change color depending on the state in which the system is, which is another neat feature.
As soon as you open Thor, you will see that it immediately displays several different stats right off the bat. These are relating to the number of threats that have been blocked, software that has been updated, etc.
However, here is where things get a little odd. There are two scan buttons: one for the Foresight part of the package and one for the Vigilance part. These, too, can change color based on which of them Thor recommends that you run. So in the beginning at least that may be a bit confusing.
At the top left corner of the screen is where you will find the main menu button. Clicking on it will reveal the main security layers of the suite. And you can easily navigate and configure them from there as you see fit. But things can be confusing here as well, due to the fact that the developers have decided to use their custom terminology for the different features and functions instead of more understandable generic terms. And they are by no means intuitive either, so it will without doubt take some time to learn what's what.
Scanning options
When it comes to different scanning options, Thor Premium has a whole array of these to offer. In the main console you have the option to run a Quick Scan, which is convenient and makes total sense. But head over to the On Demand Scan menu and you will see the entire list of different scans that are available.
These include the aforementioned Quick scan, along with options such as Active Processes, Removable drive, Network and system drive, Full scan, as well as Hard and Local drives. As you can see, it's plenty of options.
On the downside, however, there is no custom scan availability. And coupled with the fact that none of the other scan options comes with a description as to what they are designed to do that becomes fairly annoying. Furthermore, even after you choose a particular scan to run, it doesn't exactly show you what it's doing either. The most you can count on seeing is the specific file name that the software is currently scanning.
Another inconvenience is that the scans usually take a little longer than average to complete. The Quick Scan on our test system, for example, took in excess of 10 minutes. And there is also no way for you to customize the process in order to speed it up. So basically, what you see is what you get.
If you look at it from a different perspective, though, you do get a very thorough scan and that is essentially more important than speed. So this bit may only be disappointing to those consumers who are already accustomed to high-speed, under-a-minute scans that many modern antivirus programs boast.
As far as the quality of the scans goes, Thor gave no false positives, which is certainly a plus. It also managed to detect all of the malware samples we threw at it. However, it did not react to a file that was filled with malicious URL's, which is a bit concerning.
Extras & bonus features
Thor Premium has its primary focus on preventing attacks rather than acting on them once they have already taken place on your system. And it's a good approach, do questions there. Obviously it is better to block an attack before it even has a chance to cause any damage on the infected machine. However, the only issue with this approach is that it doesn't really allow much room for testing.
For instance, one of the Thor's functionalities labeled as DarkLayer GUARD is set to scan network traffic via HTTP, HTTPS and DNS layers. The aim of these layers is to block the delivery of malware and payload, as well as data exfiltration. And while that may sound fine and dandy, we don't really have a meaningful way in which we can evaluate this and prove or disprove these claims.
The URL filtering function, on the other hand though, is much easier to put to the test and it proved to work perfectly. Thor Premium blocked all of the malicious domains we threw at it, without allowing an obvious way to circumvent it. And that can be a bit of an irritation in cases where you're sure that the URL isn't dangerous.
Another thing that allowed to be tested fairly effectively was the X-Ploit Resilience feature. Using another one of Thor's custom terms, this is a good example of how you can be left utterly clueless about certain functionalities of the suite.
X-Ploit Resilience is designed to automatically find and install missing software patches. It's a simple feature and it's relatively limited in that it can only support around 60 different applications, which isn't very much. The more commonly used apps supported by X-Ploit Resilience include Chrome, Firefox, Dropbox, TeamViewer, Acrobat Reader, Flash and VLS, among others.
In order to take advantage of this functionality, though, you will have to enable it manually from Thor's settings. Switch monitoring on, and the software will proceed to check which of the supported apps need to be updated.
Furthermore, it pretty much instantly provides you with a list of these. And from then on it's up to you how you would like to proceed. If you'd prefer, you can manually choose to update separate apps from the report. But what's great about X-Ploit Resilience is that it can do all of that for you, and you can choose where you want it to act on all of the outdated apps it detected or just specific ones.
Be warned, however, that depending on the amount of apps you have set it to update, this may take a little while. But the good news is that Thor's update process didn't interfere with the computer's performance in any way at all. The process ran quietly in the background and didn't get in the way of other tasks.
One small issue is that the interface wasn't synced with what Thor was actually doing at the moment. So we had to close and reopen the window in order to deal with that. It's not a big deal, but it is something to be aware of in order to avoid any confusion.
Protection
Thor Premium passed all the malware tests that we ran with it with flying colors pretty much. Unfortunately, this suite hasn't undergone any independent lab tests, which makes it difficult to get a larger picture. However, we do have the benchmark tests for Avira, whose antivirus engine Thor uses. And those results were quite impressive.
We wouldn't put too much emphasis on them, though, because Thor won't necessarily implement the engine the same way that the Avira suite does. So we cannot know for sure whether or not there will be the same accuracy.
To sum it up
A great thing about Thor Premium is that it has proactive layers of protection to make sure that it can fight off threats before they can actually reach your system. And while it's a fantastic concept on paper, we can't really prove it with any reasonable tests.