Top Captcha Solver Virus
The Top Captcha Solver virus is an unwanted browser-infecting application with the ability to use your browser for the promotion of certain sites and products. Once Top Captcha Solver becomes part of the browser, it begins to change its settings and trigger page redirects in its attempts to push its advertising agenda.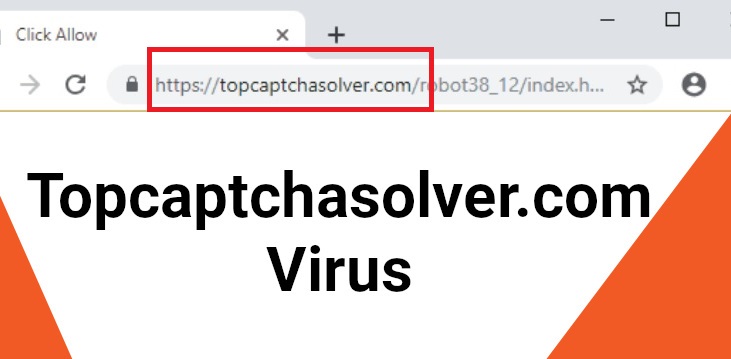 Initially, many users think that apps like Top Captcha Solver are just regular extensions for browsers like Firefox, Chrome, or Edge. Indeed, it is oftentimes difficult to distinguish a regular browser add-on from one that can be categorized as a browser hijacker. It is in the best interest of the hijacker developers to make their apps resemble normal browser extensions as closely as possible because that would mean that more users get them installed in their browsers.
Still, there are some key differences. For starters, a hijacker will almost always cause automatic page redirects, and change the browser's homepage and search engine addresses. Of course, search engine and homepage changes are often introduced by regular add-ons for browsers but the difference here is that the hijacker will either not ask for your permission or try to get your permission in a covert way, oftentimes without you even realizing you've given permission to have parts of your browser changed. Another important difference is that most hijackers don't allow the user to restore their previous browser settings. Either that or they make it really difficult to find a way to bring your browser back to its normal state. In either case, it can be particularly frustrating to not be able to easily set your browser in your preferred way. The good news is that there is a very effective solution to this problem and that is uninstalling Top Captcha Solver from the system and removing all leftover components and pieces of software that it may have left behind.
The Top Captcha Solver Malware
You may see Top Captcha Solver being referred to as a virus or a Trojan on certain sites but we must say that, thus far, there haven't been any indications that this app may be malicious or may possess any harmful abilities. Top Captcha Solver, Fastcaptchasolver, Time4news.net, and real virus programs like Trojan horses, Spyware, Ransomware, and others, despite certain similarities, are fundamentally different in their goals and in their abilities.
That being said, it is unwise to keep a hijacker on your PC for long or to interact with any of the content it tries to put on your screen as advertisements. The main problem with the banners, pop-ups, and other ads and the page redirects coming from a hijacker app is that you can't really be sure if they originate from reliable sources. A given Top Captcha Solver ad may be linked to a legitimate online store, where you can find good deals on interesting products, but it is also not excluded that another advert may be a disguised link to the site of some hacker group that is trying to get more users infected with Ransomware, worms, or Trojan horses.
Top Captcha Solver Com
In conclusion, your best option, when faced with an unwanted app like Top Captcha Solver Com, is to ensure that this app is removed in the fastest way possible. If you need any help uninstalling this app, be sure to check out the instructions from our specialized Top Captcha Solver Com removal guide from this page.
SUMMARY:
Remove Top Captcha Solver Virus
To remove Top Captcha Solver, you should clean your browser from undesirable extensions that may be related to the hijacker.
To do this, start by opening the affected browser, selecting its menu, and opening the Extension settings.

Look for extension items on that page that you haven't installed yourself and/or that look potentially unwanted.

Disable any undesirable extensions that you may have found in your browser and then uninstall them to remove Top Captcha Solver.

Do this with all your browsers if you have more than one.
In many cases, those four short steps should be enough to take care of your hijacker problem. However, if the problem persists, you will have to complete some more advanced removal steps. Therefore, if you are still getting bothered by Top Captcha Solver even after cleaning your browsers from unwanted extensions, proceed with the instructions below.
---
Step 1: Save this page
At different points of this guide you will be required to restart your browser and/or computer, so to make finding this page again easier we suggest bookmarking it. Another thing you can do is to have it open on your phone or another device and look at the steps from there while completing them on the computer.
Step 2: Uninstall rogue software
Type Programs and Features in your Start Menu and hit Enter. A list of programs and apps will appear on your screen and in it, you must find any suspicious items that may be connected to Top Captcha Solver and/or that have been installed around the time the hijacker got inside your browser.
If you think you've found an app or program that may be behind your hijacker issue, select it and then click on Uninstall (the button at the top). An uninstallation wizard would probably show up on your screen so follow its steps to complete the uninstallation process. Check all uninstallation settings and make sure that you opt to delete everything related to the unwanted software, including any personalized settings and temporary files. Once you are finished, restart the computer.
Step 3: Find the hijacker process
WARNING! READ CAREFULLY BEFORE PROCEEDING!
Go to the Task Manager utility (Ctrl + Shift + Esc) and select Processes. There, you must find the Top Captcha Solver process but since it's likely going to have a different name, you must look for suspicious processes that you don't recognize and/or that seem linked to the hijacker.
Obviously, you are not expected to be familiar with all the processes listed there as many of them are OS-related ones that don't correspond to any program that you have on the computer. Therefore, to figure out which process may be linked to the hijacker, we suggest looking at the RAM and CPU consumption – the Top Captcha Solver process will likely consume large portions of those system resources so focus on the processes that are resource-intensive.
If any of them seem questionable, look them up using Google or another reputable search engine and see what information you can get that way. If anything from your research suggests the process in question is a hijacker-related one, right-click on its entry in the Task Manager, go to its File Location, and scan the files stored in that folder with our free malware scanner that can be found right below:
Each file will be scanned with up to 64 antivirus programs to ensure maximum accuracy
This scanner is free and will always remain free for our website's users.
This file is not matched with any known malware in the database. You can either do a full real-time scan of the file or skip it to upload a new file. Doing a full scan with 64 antivirus programs can take up to 3-4 minutes per file.
Drag and Drop File Here To Scan
Each file will be scanned with up to 64 antivirus programs to ensure maximum accuracy
This scanner is based on VirusTotal's API. By submitting data to it, you agree to their
Terms of Service
and
Privacy Policy
, and to the sharing of your sample submission with the security community. Please do not submit files with personal information if you do not want them to be shared.
If malware is detected in any of the files, go back to the process in question, right-click on it again, and End its Process Tree. After that, delete the entire File Location Folder. If you can't do that because you are prohibited from deleting the folder or any of the files that are inside it, open it, delete whatever files you can, and proceed with the rest of the guide. Once all other removal steps have been completed, try deleting this folder again.
Step 4 Safe Mode
It can greatly help with the Top Captcha Solver removal if your PC is in Safe Mode because that way any hijacker processes that you may have missed in the previous step would be prohibited from starting automatically, and so they won't disrupt your troubleshooting actions. Therefore, you are advised to boot into Safe Mode – if you need help with that, click on the provided link that will take you to a separate guide on how to access Safe Mode.
Step 5: Clean the Hosts file
Open the Hosts file of your PC by placing this next line in the Start Menu and selecting the first file from the results: notepad %windir%/system32/Drivers/etc/hosts.
When the Hosts file opens, look towards the bottom of the text and if there you see any strange IP addresses and custom rules, copy them and place them down in the comments section. Anything written below Localhost in the Hosts file qualifies as unusual, but we can't tell you if it's from the unwanted software unless we first take a look at it. After we see the lines of text that you send us, we will tell you if they must be removed from the Hosts file.
Step 6: Restore DNS settings
Click on the Start Menu, type network connections, and select the first result. Right-click on the icon of the network that the PC is currently connected to, select Properties, and then click on the item labelled Internet Protocol Version 4 (TCP/IPv4) from the list. Select Properties again and check the Obtain DNS server address automatically setting – it must be enabled so if it isn't, enable it. Next, move on to the Advanced settings and open the DNS section. In it, remove any IPs from the list and then click OK on everything to close all windows and save any changes that you may have made.
Step 7: Delete unwanted startup items
Type msconfig in the search box below the Start menu, hit Enter, and select the Startup tab in the window that opens (System Configuration). There, you will see what items (apps, programs) start automatically when Windows boots up. If any of the listed items look connected to Top Captcha Solver or have an unknown developer, block them by removing the tick from the checkbox in front of them and then click on OK.
Step 8: Clean the Registry Editor
Important: be warned that deleting items that you are not supposed to from the Registry could lead to unforeseen consequences for the system, so it's best to consult us through the comments section in case you don't know if a given Registry item must be deleted while completing this next step.
Type regedit below the Start Menu, click on the regedit.exe icon, and select Yes when asked for admin permission to start the App. When the Registry Editor opens, press Ctrl and F – this will evoke a search box in which you must type the name of the hijacker. Press Enter to search for items related to the hijacker and delete what gets found. After that, repeat the search, delete the next thing, and do this for as long as there are results from the search. After you are done with this, expand the folders to the left and manually go to the following directories:
HKEY_CURRENT_USER/Software/Random Directory. 

HKEY_CURRENT_USER/Software/Microsoft/Windows/CurrentVersion/Run

HKEY_CURRENT_USER/Software/Microsoft/Internet Explorer/Main
Look for suspicious items with unusual names in those directories – anything with a very long name with randomized letters and numbers should count as suspicious, so you must delete it. Still, remember to contact us if you are not certain if something must be deleted.
Step 9: Clean the browsers
The short browser-cleaning instructions at the start are generalized for all browsers but if you need browser-specific instructions, you can find such for Chrome, Firefox, and Edge down below. Also, even if you deleted the unwanted extensions from your browsers earlier, it's still a good idea to check them again.
Before we get to the browser-specific instructions, go to the icon of your browser(s), right-click it, go to Properties > the Shortcut tab, and select the Target text field. If there's anything written in it after "exe."", delete it.
Chrome instructions
The Chrome menu is indicated by an icon with three dots so select it, go to More Tools > Extensions and there clean the browser from any undesirable or unneeded extensions.
Next, go to the browser menu again, open its Settings, and select Privacy and Security from the left. Then click on the Delete browsing data option, put ticks in all the boxes leaving only the Passwords one unchecked and click on Clear data. Be patient and don't quit the browser until the deletion completes – if you haven't done this in a while you may have to wait for a couple of minutes.
Firefox instructions
The Firefox menu is the three lines icon in the top-right – click on it and go to Add-ons. Again, clean the browser from anything seemingly unwanted.
Next, go to Options from the Firefox menu, select Privacy & Security, scroll down a bit, and click on Clear Data. Check both of the boxes, click on Clear, and wait for the deletion to complete.
Edge Instructions
Like with Chrome, open the browser menu by selecting the three-dot icon and go to Extensions. Delete the items on that page you deem suspicious and unwanted.
Open the Edge menu again, go to Settings, and select the Privacy, search, and services settings. Click on the Choose what to clear button and select all boxes except the one for the Passwords. Select Clear now to begin the deletion and wait until it finishes before you close the browser.
FAQ:

What is Top Captcha Solver?

Top Captcha Solver is a rogue site that uses deceitful tactics to lure users into giving it permission to show push notifications in the browser. Once the user mistakenly allows Top Captcha Solver to display notifications, the website would start to spam ads, banners, and page redirects. Usually, this site would show a permission request to show notifications (like many legitimate sites do) but the request would be disguised as something else. For instance, you may be asked to click on Allow to confirm that you are 18 years old or that you are not a robot. However, what clicking on Allow does is it gives permission to the rogue site to put its ads on your screen and page-redirect your browser. While this activity won't directly harm your computer, it could significantly increase the risk of becoming a target for hackers, scammers, and other cybercriminals.

Is Top Captcha Solver a virus?

Top Captcha Solver is not a virus, but it's also not something that you should keep in your browser. Top Captcha Solver is an unsafe website that has been allowed to show advertisements on your screen and might be able to monitor your browsing activity. If you are frequently seeing aggressive pop-ups, ads, and banners while browsing and/or if the browser is automatically getting rerouted to suspicious sites, some of which could be znews-live.com, newsfeedzscrollz.com, and captcha2020.com, then you are most likely dealing with Top Captcha Solver. Usually, the reason this site is able to control the behavior of the user's browser is that the user has unknowingly given it that permission. While this doesn't mean there's a virus on the computer, it is important to know that there's a big chance that Top Captcha Solver may potentially land you on sites with malicious content, thus greatly increasing the risk of getting attacked by an actual virus.

What is Top Captcha Solver com malware?

The Top Captcha Solver com is a questionable website known for displaying aggressive ads and push notifications after secretly gaining the user's permission for that. The permission given to the Top Captcha Solver com malware must be revoked to avoid system harm. Even though technically the Top Captcha Solver com malware isn't truly a virus, it could easily lead to the system's exposure to various forms of malicious programs, including Ransomware, Trojans, Rootkits, and more. In fact, if this site currently dictates the behavior of your browser, it is not excluded that it may have already managed to insert unwanted and/or potentially dangerous software in the browser and/or the system. Unfortunately, once such sites succeed in acquiring permission to show notifications and ads, it can be quite difficult to bring things back to normal, yet it is critical that you find a way to do that in order to avoid further complications.

How to remove Top Captcha Solver?

Step 1: The first thing that must be done is for you to go into your main browser's site permissions settings and block the Top Captcha Solver site as well as any other suspicious sites that may be listed there.
Step 2: Next, you will need to check the browser for add-ons/extensions added to it without your permission and/or ones that think maybe unwanted/malicious. If you find such extensions, uninstall them from the browser.
Step 3: Find the settings for the browser's homepage and if the homepage address has been altered without your approval, restore the old homepage address.
Step 4: Open the search engine settings of the browser and check what search engine is the current default one. If it has been changed, bring back the previous one. Also, block any unknown search engines that the browser may be allowed to use.
Step 5: Delete temporary browser data such as cache files, site cookies, auto-fill data, and browsing history.
Step 6: Repeat Steps 1 to 5 for any other browsers that might be on the computer even if they don't display symptoms of having been hijacked and even if you don't use them on a regular basis.
Step 7: Go to the DNS settings and the Hosts file of your computer and check if any changes have been made to them without your knowledge. If there are any unauthorized alterations, revert them.
Step 8: Take a look at the system Registry and search for anything that may be related to Top Captcha Solver. If you find any such items, delete them.