If we were to have to name the top most irritating type of software on the web, it would have to be browser hijackers – no contest. Programs of this kind tend to appear seemingly out of the blue, without being invited onto your device. And then they just take over your Chrome or Firefox browser and mess with your entire browsing experience as a result of that. One of the latest programs to be changing people's browser homepages and default search engines, as well as redirecting them to sponsored websites is Viruses-scanning.com. This browser hijacker has been affecting Android smartphones, tablets, phablets and hybrid laptops. So, if your device has also fallen victim to Viruses-scanning.com "Virus", then you might be in need of a decent removal guide like the one we have prepared below.
Are browser hijackers a danger?
You are completely right to be concerned with the safety of your device in the event of a browser hijacker infection. However, the good news is that Viruses-scanning.com and the other programs in this category are not malicious. They are often mistakenly compared to viruses, but in reality the two have nothing in common. Nevertheless, browser hijackers are most often classified as potentially unwanted programs. And that's because, though they aren't necessarily malicious, they still have questionable features you should know about.
For one, browser hijackers can greatly interfere with the productivity and efficiency of your smartphone or tablet. They have to call on your device's resources in order to be able to produce all the popups, banners and other online ads that you've been seeing on your screen lately. So, this can result in sluggishness, longer time for pages and apps to load, etc. More importantly, though, a program like Viruses-scanning.com can potentially also expose you to external threats, like viruses, Trojans, ransomware, etc. This, in turn, may happen as a result of the constant redirecting process that may land you on insecure websites, etc.
So, though they don't intend to cause harm, browser hijackers are still more of an unwanted presence on your device. Therefore, it's best to remove Viruses-scanning.com and see to it that others like it don't get installed again. And you can do that by only relying on the Google Play Store for app downloads, as well as researching separate apps online before actually installing them. This will let you know if they may have an ad-generating component (aka browser hijacker) integrated with them.
Viruses-scanning.com "Virus" Android Removal

Whether you use the default "Internet" App for browsing or a different browser like Chrome you need to go to:
Settings/More/Application Manager/All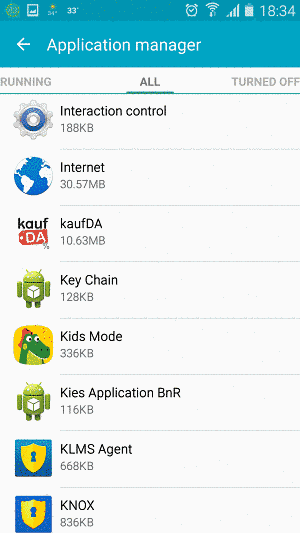 Locate the Browser/App in question and tap on it.

Now the method is effectively the same for users using both "Internet" and Chrome/Other Browsers, yet for more clarity we have provided instructions for both:
For "Internet" Browser Users:
Tap the Force Stop button.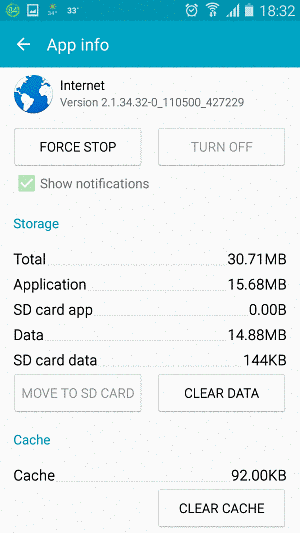 Now tap the Clear Data and Clear Cache Buttons.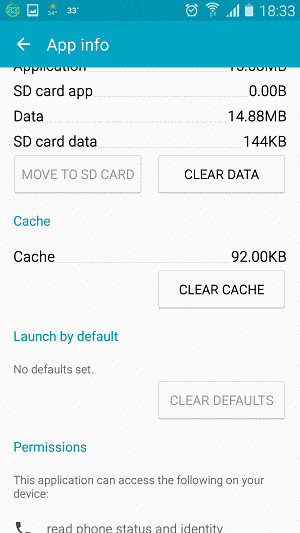 For Google Chrome Users:
Click on  Force Stop.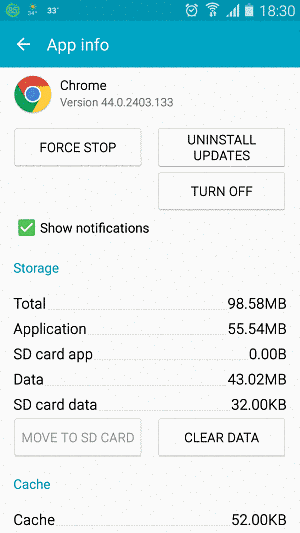 Then click on Clear Data and Clear Cache.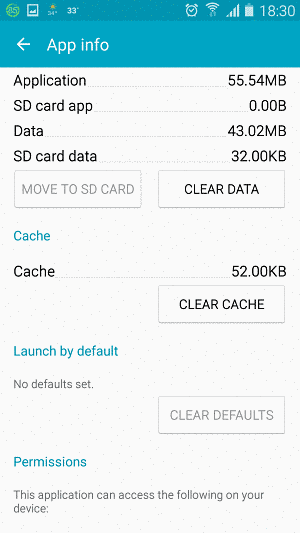 Restart your Browser. It might be a good idea to Reboot your Android device, just in case.

If you are still seeing Ads in your browser, it is likely they are generated by the websites you visit and there is nothing you can do about it.
However, if you are seeing Adverts outside of your internet browser, then one of your installed Apps contains the problematic Adware. In this case you need to take a look at this guide.

Did we help you? Please, consider helping us by spreading the word!