Vtua
Vtua is a ransomware cryptovirus that can blackmail you for a certain amount of money in exchange for restoring access to your digital data. To perform its money-extortion scheme, Vtua first sneaks inside the computer and secretly applies encryption to all the files that are stored there.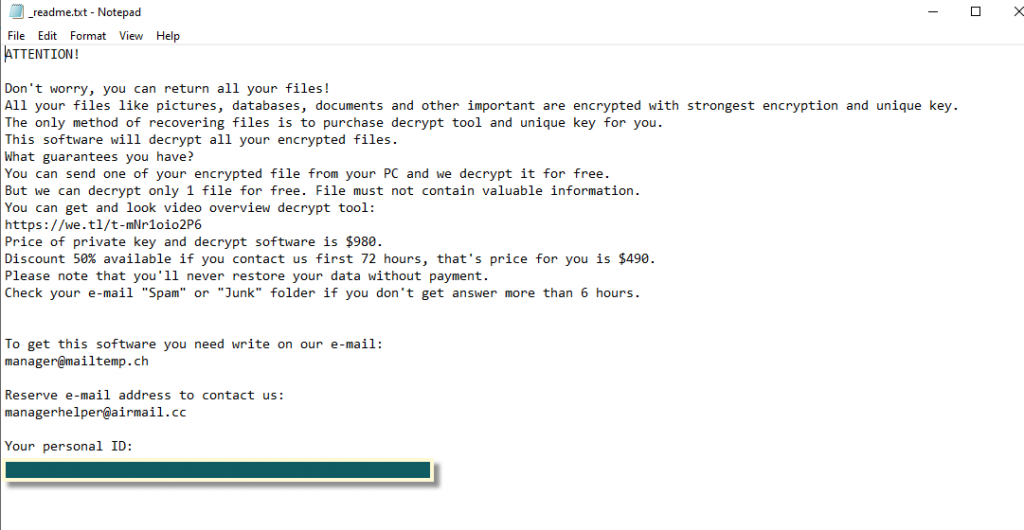 If you are on this page, chances are Vtua has already encrypted a most of your personal digital documents, work-related files, images, archives, and other data of great value to you. And, sadly, this type of ransomware can be very tricky to deal with and the effects of its attack are often permanent, irrespective of what the victims may try to do to fix them. Nonetheless, there is still hope that you may be able to recover from the Vtua attack. For instance, our "How to remove" team will give you a set of removal steps which you can find at the bottom of this page, as well as separate instructions for recovering the files that this ransomware virus has encrypted. Of course, if this is the first time you are facing a ransomware, we advise you to read the next few paragraphs before you move to the removal guide in order to gain a better understanding of what exactly you are dealing with.
The Vtua virus
The Vtua virus is a computer infection from the ransomware type that is specialized in encoding user data and keeping it hostage until a ransom is paid. The Vtua virus typically applies encryption to a variety of file types including documents, images, archives, videos, and audio files stored on the system.
Ransomware viruses like Vtua and Irjg are extremely sophisticated threats. They can often use the help of a Trojan horse to sneak inside the computer and can run in the background of the system without being detected by the security software. Sadly, once they place their encryption to the targeted files, there's very little you can do to get those files back. In fact, not even paying the ransom that the hackers demand can guarantee that you will be able to access your data again.
The Vtua file decryption
The Vtua file decryption is a process that allows users to reverse the encryption that has been applied to their files. To start the Vtua file decryption process, the victims need to obtain a decryption key from the hackers behind the ransomware.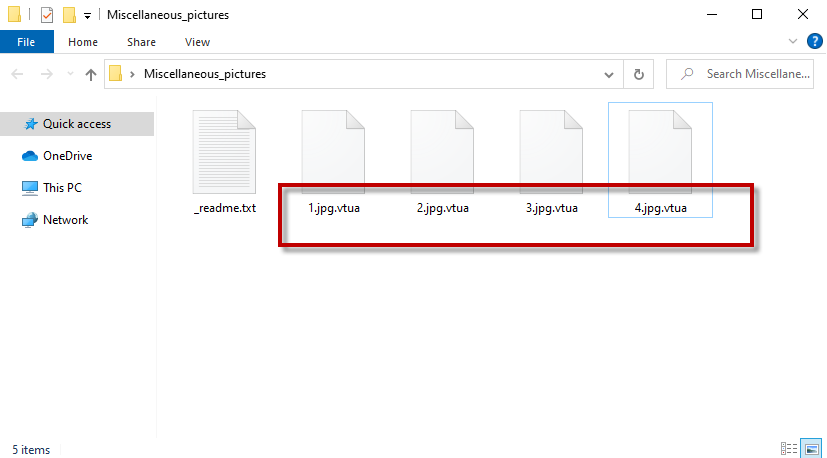 If you don't have a decryption key, what you can do to try to beat Vtua is to remove it from your system by using the instructions in the removal guide at the end of this page. In this way, you will at least make sure that no further harm can come from this ransomware. Once you've accomplished this, you can safely proceed to the instructions for file recovery attached to the guide. Hopefully, with their help, you may be able to restore some of your data from system backups. Alternatively, you may also use your personal backup sources and connect them to the ransomware-free computer. If you seek to break the encryption of Vtua, you may also want to check out our list of free decryptor tools which has been published on this website.
SUMMARY:
Before you start
You should take into account the following four pointes before starting the removal process of Vtua.
First and foremost, if there are any external HDDs, phones, tablets, flash memory sticks, or other devices that can store files attached to your PC, disconnect them immediately to prevent the virus from locking up the files stored in them.
Disconnect the infected computer from the Internet – this will ensure Vtua is not able to receive new instructions from its server.
Though it's recommended to not pay the ransom, if you still decided to do it, then we advise you to postpone the Ransomware removal for after you've performed the payment. Otherwise, even if you pay, you may never be able to restore your data. Obviously, after the money is paid and your files (hopefully) recovered, the Ransomware should still be deleted.
Even if it seems like Vtua has automatically removed itself from your computer after encrypting your data, it's still best to perform the steps from the guide in order to ensure that your PC is clean.
Vtua Ransomware Removal
To remove Vtua from your system and ensure that no more files get encrypted, there are four important steps that need to be performed:
First, you need to find out if there's a rogue program on your computer that has initiated the infection and delete that program.
Second, if there are any malware processes that are still active, you must find them in the Task Manager and stop them.
Next, you must delete any malware data that may be in these folders: AppData, LocalAppData, ProgramData, WinDir, and Temp.
The last step to remove Vtua is to clean the system settings – this includes the Registry, the Hosts file, and the Startup items list.
To successfully complete each of the steps, we recommend checking out the detailed instructions we've provided within the next lines.
Detailed removal instructions
Step 1
The easiest way to see if there may be a rogue program on your computer that may have caused the Vtua infection is to search for the Control Panel in the Start Menu, open it, and click Uninstall a Program. There you will see every program that's currently installed in your system – if any of the entries shown in that list appear suspicious or are unknown to you, especially if they have been installed recently, you should probably uninstall them. Click such programs, then click Uninstall, and perform the on-screen steps to delete the potentially unwanted program. Bear in mind that if the uninstaller asks you if you'd like to keep anything from that program on your PC, you should deny that offer.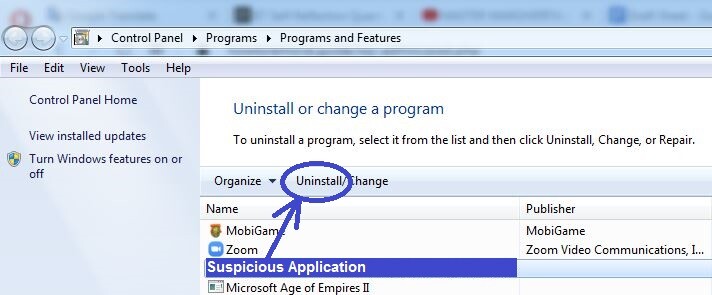 Step 2
WARNING! READ CAREFULLY BEFORE PROCEEDING!
Now you must ensure that no rogue processes are running on your computer. To do this, open the Task Manager using the Ctrl + Shift + Esc combination from your keyboard, and look in the Processes section. If any malware processes are running at the moment, they'd probably have high CPU and memory use, as well as strange names that are unfamiliar to you. Before you quit any process, however, you need to make sure that it is indeed related to the virus. To do this, we recommend using the following two methods:
You should Google the name of each process you think is a potential threat – if it truly is malicious, there should be relevant posts that warn about it on reputable cyber-security sites and forums.
Right-click the process' entry in the Task Manager, click the Open File Location option, and use the following free malware scanner on the files that are in the newly-opened folder. If it turns out that one or more of the scanned files are malicious, this would indicate that the process, too, is a threat and must be ended.
Each file will be scanned with up to 64 antivirus programs to ensure maximum accuracy
This scanner is free and will always remain free for our website's users.
This file is not matched with any known malware in the database. You can either do a full real-time scan of the file or skip it to upload a new file. Doing a full scan with 64 antivirus programs can take up to 3-4 minutes per file.
Drag and Drop File Here To Scan

Each file will be scanned with up to 64 antivirus programs to ensure maximum accuracy
This scanner is based on VirusTotal's API. By submitting data to it, you agree to their
Terms of Service
and
Privacy Policy
, and to the sharing of your sample submission with the security community. Please do not submit files with personal information if you do not want them to be shared.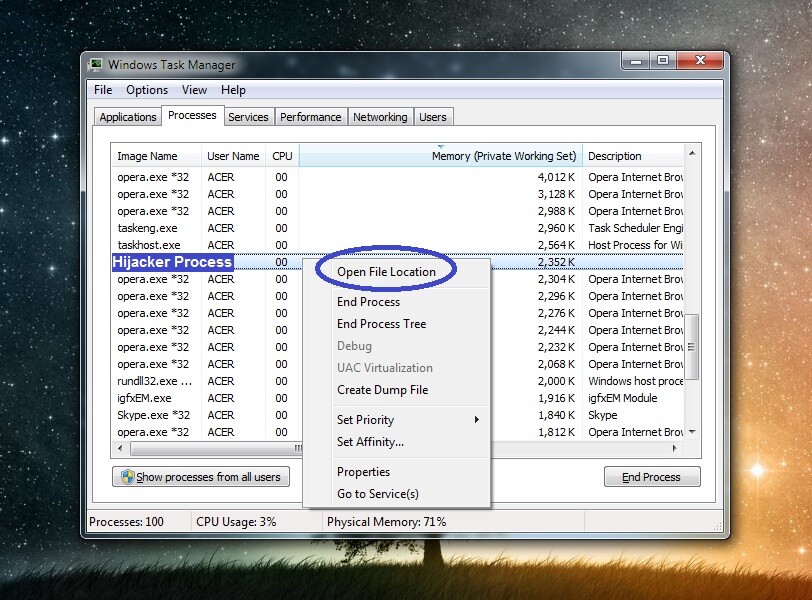 If it turns out that there are harmful processes in your Task Manager, you must first end them (right-click the process, and then click the End Process option) and then delete the entire folders where their files are saved.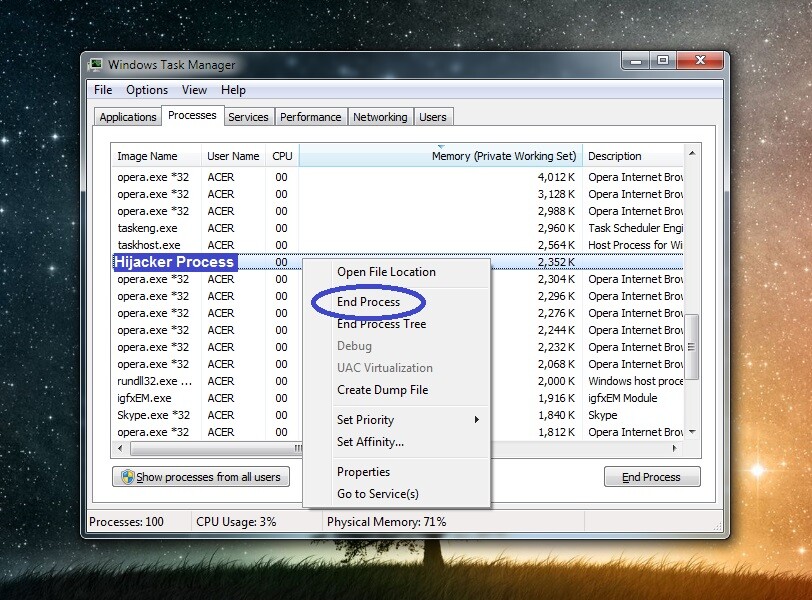 Step 3
Since the virus may attempt to re-launch its harmful processes, you need to enter Safe Mode on your computer to prevent that from happening.
Step 4
Click the Start Menu, then type in the search bar below it "Folder Options" and open the icon that gets found first. Then select the View tab, find in it a setting named Show Hidden files, folders, and drives, select it (check it), and click the OK button.
Next, copy this "%AppData%" (without the quotes), paste it in the Start Menu search bar, and hit Enter to access the AppData folder. In that folder, sort the files and sub-folders by order of their creation date, and then delete everything created since the virus' arrival. You must now perform the same thing with four more folders:
%LocalAppData%
%ProgramData%
%WinDir%
%Temp%
When you get to the Temp folder, simply delete all files that are stored in it rather than only the most recent ones. Since it's likely that there would be thousands of files there, to easily select them all, press Ctrl + A when you enter the folder and then press Del to delete the selected files.
Step 5
Now you must go to the System Configuration settings and clean the Startup items. TO do this, type msonfig in the Start Menu, hit Enter, and then click the Startup tab. Once you do this, look through the list of items that are automatically started when your computer boots up – if there are any entries among them that you don't recognize or think are suspicious, uncheck them. Also uncheck entries that have "unknown" in the Manufacturer column and then click the OK button to save the changes.
Next, navigate to the following folder: C:\Windows\System32\drivers\etc, double-click the file named Hosts, and if you are asked to select a program with which to open the file, click on Notepad. When the file opens in Notepad, have a look at what's written at the end of the file – if there are IP addresses listed below "Localhost", this means the file has been changed by a third-party program. Send us those IPs down in the comment, and we will soon tell you if that third-party program is the virus and if the IPs must be removed.

Step 6
You must now search for the regedit.exe app using the Start Menu search field and open it. You will be asked to give your Admin approval in order to start the app, so do this by clicking on Yes. Then, when you see the Registry Editor window on your screen, open the menu labelled Edit, then open Find, and type Vtua in the Find search field. Then select Find Next to start the search and delete anything that may get found. Always search again after you delete an item to ensure there aren't more rogue items left in the Registry.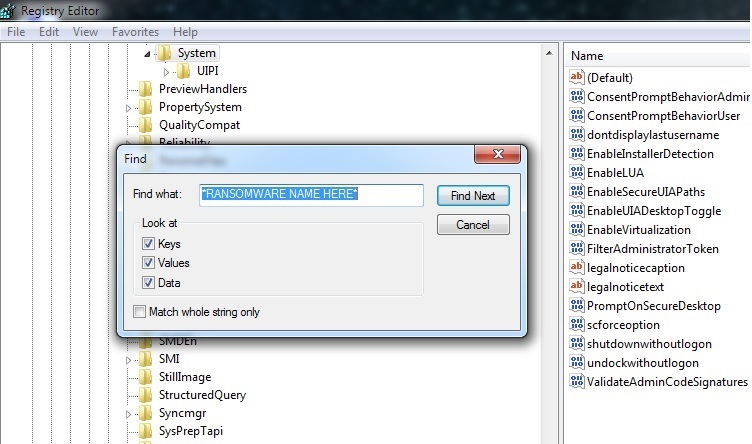 After making sure that there are no Vtua left in the Registry Editor, take a look at the following Registry folders – you can find them in the left panel of the Editor, by expanding the folders shown there.
HKEY_CURRENT_USER > Software
HKEY_CURRENT_USER > Software > Microsoft > Windows > CurrentVersion > Run
HKEY_CURRENT_USER > Software > Microsoft > Internet Explorer > Main
In those three folders, look for strangely-named items – ones that seem to have names that have been randomly generated. For instance, a possible example of such an item name would be "2u0909u3e092ut302ekd0293it03ue290d2u3r". If you come across anything like this, make sure to tell us about it in the comments, and we will soon get back to you, telling you if anything needs to be done about the item(s).
If Vtua is still in the system
A common tactic use by Ransomware hackers is to employ a secondary piece of malware (typically a Trojan or a Rootkit) that helps with the distribution of the Ransomware and also makes it significantly more difficult for the victim to remove the latter. This is a possible reason why you may have not been able to manually delete Vtua. Our suggestion if that is your current situation is to make use of the powerful malware-removal tool that you can find on this page, as it can take care of all potential malware in your system in one fell swoop.
How to Decrypt Vtua files
To decrypt Vtua files, it's better to not go for the ransom payment and instead focus on finding and using alternative data-recovery methods. Before you try to use such methods to decrypt Ransomware files, however, you must be sure that the PC is perfectly clean.
If you've noticed any sketchy files that are still on your system, but you aren't sure if they are malware, remember that our free malware scanner can help you determine if they need to be deleted. After you've made sure that no malicious data is left on your computer, we advise you to visit the How to Decrypt Ransomware article that we have on our site, where we've explained in detail the different alternative options that you can choose from in order to attempt to recover the data that Vtua has encrypted.
What is Vtua?
Vtua is a malware program that targets the files of its victim but instead of damaging or stealing them, it encrypts them to make them inaccessible. Once it locks its victim's files, Vtua demands a ransom for the private key that can unlock the files.

If you have been hit by this malicious software, you've probably already seen a ransom-demanding message on your screen that gives you some general information about what Vtua has done to your files and that the only way to reverse the encryption process is to issue a ransom payment and, in turn, be given the decryption key.

It's very important to not panic in a situation like this. Instead, see what files got encrypted and if none of them are too important, forget about them and use the guide from this page to clean your system. If there are important files that got locked, see if there are any backup locations where you may have safe copies of them rather than directly paying the ransom.
Is Vtua a virus?
Vtua is a virus designed to blackmail you by making you unable to access the most important files that are saved on your computer. If you want those files back, the Vtua virus asks you to send money to its creators as a ransom.

In general, threats like the Vtua virus are known for "keeping quiet" while performing their encryption, which is the reason why most users are unaware of the ongoing process until it's too late, and their files have already been locked. Sometimes, especially on weaker computers and/or computers with a lot of data stored on them, the ongoing encryption process may cause dips in the machine's performance due to the high use of virtual memory and CPU. However, for the most part, even this would remain unnoticed by the victim.

Once the virus finishes its encryption, it would generate a notepad file or show a big banner on the screen in which it will give instructions to the victim regarding the way they are supposed to issue the payment.
How to decrypt Vtua files?
To decrypt Vtua files, the recommended method is to try alternative options such as free Ransomware decryptors or data restoration from shadow copies in the system. Paying the ransom to decrypt Vtua files is generally discouraged due to the many risks involved in it.

If you are truly out of options and the files that this virus has locked are especially important to you, then you can try paying the required money. However, it's almost always recommended to first try all other options that may be available in an attempt to restore as much data as possible instead of giving in to the demands of the blackmailers behind Vtua. Search for backups of the locked files that may be saved on other devices or on cloud storage, or try some of the methods in our How to Decrypt Ransomware article that's available on this site.

Ultimately, sometimes it may simply be better to leave the locked files as they are if they aren't worth risking your money, but this is a choice you'd have to make based on the specific circumstances of your situation.