Wwka
Wwka is a file-encrypting infection that belongs to the ransomware category. Wwka specializes in keeping user files hostage through encryption and demanding ransom money from its victims in exchange for a decryption key.
If this stealthy malware has encrypted your files and you don't want to pay a ransom to the crooks behind it, the info on this page may be able to help you deal with the infection and remove it. Our "How to remove" team has prepared a removal guide below that is intended to help users like you to minimize the harmful consequences of the ransomware's attack and learn how to protect their device in the future. So, if you want to explore some alternative solutions and clean your computer from Wwka, in the next few lines, we will share with you our removal steps and file-recovery suggestions.
The Wwka virus
The Wwka virus is a ransom-demanding threat that extorts money from its victims by encrypting their most valuable files. The Wwka virus typically infects the computer when the users interact with malicious web content.
Such content is often circulated via spam e-mails, e-mail attachments, links, torrents and low-quality downloads. The ransomware can be distributed with the help of a fake web ad, an infected image, a fake pop-up alert or a common file that tricks you into clicking on it. Trojan horses, however, are a favorite tool that hackers use to deliver ransomware inside the system. The Trojans have the ability to exploit system vulnerabilities and to insert other malicious code inside the infected computer without being detected. Sadly, noticeable symptoms can hardly be observed during the infection time or during the file-encryption process. That's why the victims of the ransomware typically get notified by the consequences of its attack only after a ransom-demanding notification is shown on their screen.
The .Wwka file encryption
The .Wwka file encryption is a harmful process that converts digital files into inaccessible bits of data. The purpose of the .Wwka file encryption is to restrict the owners of the data to open or use it so that they can pay a ransom for its decryption.
A specially generated decryption key is the only thing that can reverse the applied file encryption. Sadly, that decryption key is in the possession of the crooks that control Wwka, Zzla, .Zqqw and they sell it only for a fat amount of money paid in Bitcoins. Detailed instructions on how to make the payment are provided immediately after the ransomware's attack and they typically are displayed on the screen in the form of a ransom notification. Very often, the hackers try to scare the victims that they will destroy the decryption key if payment is postponed or not made within a given deadline. However, you should know that such deceptive tactics are used only to get the victims to act impulsively and pay as quickly as possible, without searching for other solutions.
However, it's not a good idea to send money to ransomware crooks because there is no guarantee that they will send you a decryption key in the first place. Besides, if the file decryption fails for whatever reason, you will still be left with your data encoded and no money in your pocket.
SUMMARY:
Remove Wwka Ransomware
To remove the Wwka virus
, the first thing that must be done is to delete any harmful programs, then you must quit rogue malware processes, and finally restore any system settings that the virus has modified.
Open the Programs and Features list, search it for rogue programs, and uninstall anything potentially unwanted you find there.
Look in the Task Manager for Ransomware processes and disable anything you think could be related to the virus.
Check the Hosts file and the System Registry for changes and items made/added by the virus and revoke/delete them.
Visit the next folders and delete from them any rogue files that may be stored there in order to remove the Wwka virus: AppData, LocalAppData, ProgramData, WinDir, and Temp.
More details on how each of the listed steps must be performed can be found in the expanded version of the Wwka removal guide that you will find below.
Expanded Removal Guide

Use the Start Menu search field to search for
Programs and Features
and then go there and search the list for program installs that have been added not long before Wwka made its presence in your system known and that look suspicious. If you think that a given program is linked to the Ransomware, delete it by clicking on it, selecting the
Uninstall
option, and following the on-screen steps in the uninstallation wizard. While going through the uninstallation wizard, be sure that you opt out of any settings that leave any data related to the unwanted program on your computer.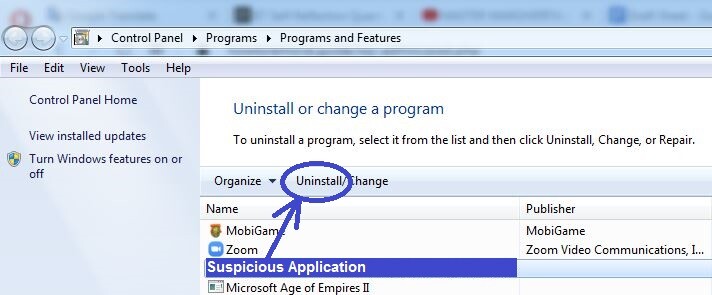 WARNING! READ CAREFULLY BEFORE PROCEEDING!
Press together, in the order they are given, the following keys:
Ctrl + Shift + Esc
. This will open the
Task manager
in which you must select the
Processes
section.
From the list of processes, try to find the one that is related to Wwka. Usually, that process would be using up lots of RAM and CPU, so focus on the items shown at the top of the list (the ones that are most resource-intensive).
If you see that among them there is an item that looks questionable, do not hurry to disable it – instead, first look it up on the Internet and see what information about it comes up. If other users and security researchers have said that the process may be harmful, then right-click on it, select the first option from the menu, and scan all of the files in the location folder that opens using the following free online scanner.
Each file will be scanned with up to 64 antivirus programs to ensure maximum accuracy
This scanner is free and will always remain free for our website's users.
This file is not matched with any known malware in the database. You can either do a full real-time scan of the file or skip it to upload a new file. Doing a full scan with 64 antivirus programs can take up to 3-4 minutes per file.
Drag and Drop File Here To Scan

Each file will be scanned with up to 64 antivirus programs to ensure maximum accuracy
This scanner is based on VirusTotal's API. By submitting data to it, you agree to their
Terms of Service
and
Privacy Policy
, and to the sharing of your sample submission with the security community. Please do not submit files with personal information if you do not want them to be shared.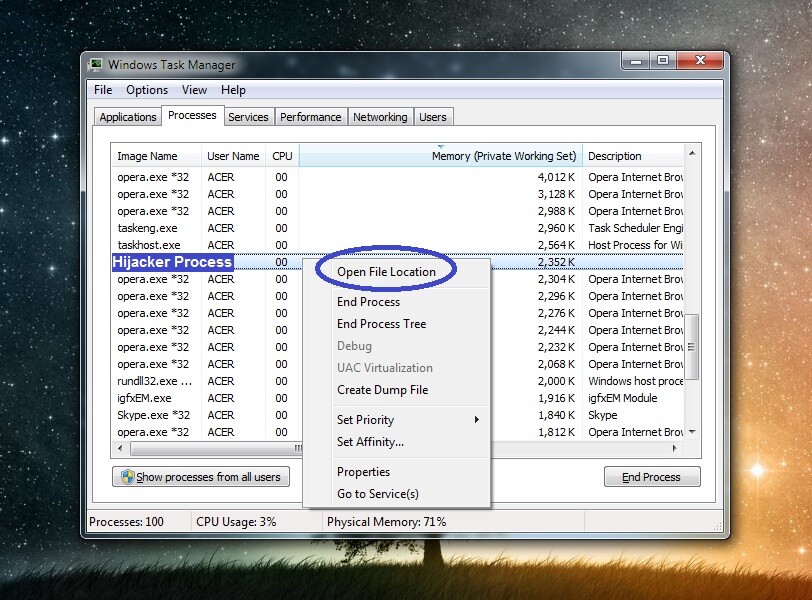 If our scanner detects malware code in one or more of the files, select the suspected process with the right-click of your mouse and click on
End Process
. After that, delete the file-location folder of the malware process.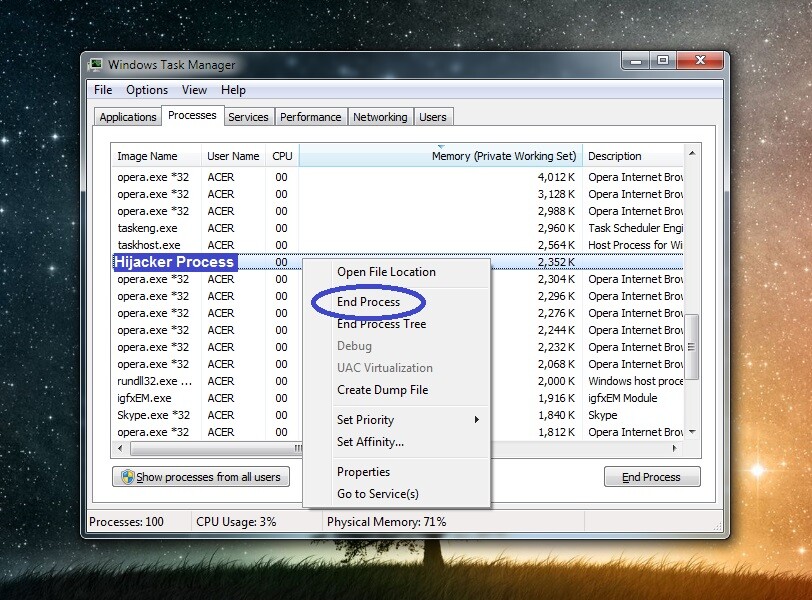 Note 1: If you are currently unable to delete the process' location folder, try to delete as many files as you can that are stored in the folder and then continue with the guide. Later, once the other steps have been completed, you should be able to delete the folder so be sure to remember to do that.
Note 2: If you have high levels of certainty that the suspected process is from Wwka, do not hesitate to quit it and eliminate its file location even if none of the files in it got flagged as threats.
---

You must
put your PC into Safe Mode
as a way of preventing any remaining Ransomware processes from interrupting you while you are completing the remaining steps from the guide. Follow the link we have provided if you don't know how to put your computer in Safe Mode.

Copy this file path:
notepad %windir%/system32/Drivers/etc/hosts
, paste it in the Start Menu, and click on the file that shows up in the results. If you need to first pick a program with which to open the file, select
Notepad
from the list.
When the text file shows up on your screen, take a look at what's at the end of the text – if the last thing written there is
"Localhost:"
, this means the file hasn't been modified by the virus, and you don't need to do anything about it. If, however, there are strange IP addresses or other text written below
"Localhost"
, you should copy what's there, place it in the comments section below this post and wait for our reply. We will have a look at your comment, determine if what you've sent us is from the virus, and tell you if further action is required.


Proceed with caution!: The following step will require that you find and delete Ransomware items in your System Registry. When completing the step, you must be certain that the items you are deleting are from Wwka or else you may end up damaging the system. If you are in doubt, it is strongly recommended that you ask us in the comments about the items you aren't sure must be deleted instead of outright removing them from the Registry.
Start the Registry Editor of your computer by typing
regedit
in the Start menu and opening the
regedit.exe
icon. When/if Windows requires your permission as an Admin, provide it by clicking on
Yes
.
After the Registry Editor Starts, go to
Edit > Find
, type
Wwka
in the search box and start the search. Only the first found item will be shown to you – you must delete that item, perform another search to see if there are other Wwka items, and delete them too. You must keep dong this until there are no more search results for Wwka.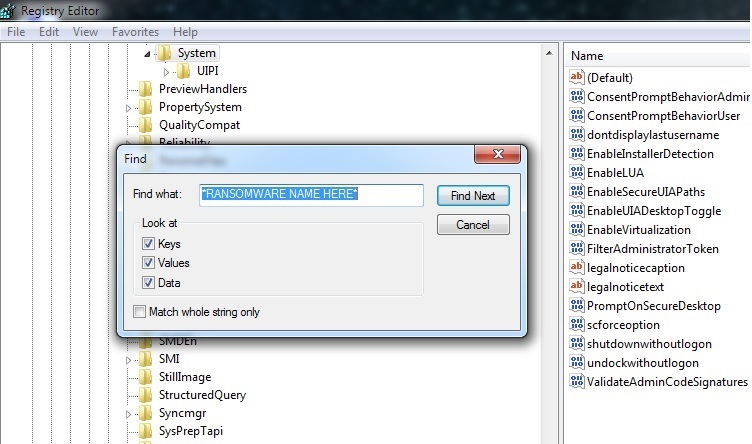 The next thing you must do is find the following Registry directories from the left panel of the Editor.
HKEY_CURRENT_USER > Software
HKEY_CURRENT_USER > Software > Microsoft > Windows > CurrentVersion > Run
HKEY_CURRENT_USER > Software > Microsoft > Internet Explorer > Main
When you get to them, search them for items that seem suspicious. For instance, if you see an item with a name that's significantly longer than the rest and/or consist of seemingly random letters/numbers, you should probably delete that item. Again, if you aren't sure, just ask us through the comments section down below.

The final step you must complete is to visit the folders listed below and search them for rogue files that you should delete. To go to each folder, simply copy its name from the below (including the
"%"
characters), paste it in the Start Menu search field, and hit
Enter
.
%AppData%
%LocalAppData%
%ProgramData%
%WinDir%
%Temp%
In each of those folders, see what file have been added after the date you think Wwka entered your system and delete those files. In the
Temp
folder, delete all files stored there.
Use Professional Removal Software
Ransomware is one of the fastest evolving and growing malware categories and some Ransomware viruses are highly advanced and very difficult to remove manually. Therefore, if thus far you've been unable to successfully delete Wwka, even after completing all steps from this guide, we suggest trying to use a specialized removal program to take care of the virus. One such program we strongly recommend can be found linked on the current page. It is a powerful and reliable malware-removal program that will scan your system for rogue data and settings and delete/disable them so that any malware that may be present on the computer will get removed.
How to Decrypt Wwka files
Removing the Wwka virus and restoring the files that it has locked up are two separate processes. Before you attempt to restore your data, you must first make sure that the Ransomware is gone from the system, or else any files you may manage to recover could get locked up again. The removal of the virus itself doesn't automatically set the files free, so that's why you must perform additional actions to release your data. Paying the ransom is a possible option, but we advise against it due to the risk of not getting anything back and simply losing a lot of money. For that reason we've prepared a special
How to Decrypt Ransomware
post, where we have compiled the most effective alternative data-recovery methods we've been able to find. We strongly recommend visiting this post and following its instructions if your files have been locked by Wwka (but only once you've successfully removed the virus from your system).
Also, do not forget that you can always use
our free malware scanner
to scan any suspicious files that are still in your system and that you think may be related to Wwka.