A capable VPN service provider with simple and intuitive interface.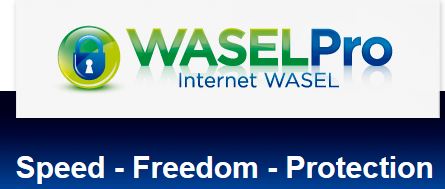 Pros:

Simple and intuitive interface

Allows access to Netflix and other popular streaming channels

Offers a free trial of its service

Impressive speeds
Cons:

Does not offer refunds

Lack of transparency in its no-logging policy

Limited number of servers

Packages are a bit costly
WASELPro is a Netherlands-basedVPN service, maintaining high anonymity and fast speeds, which can be tested for free. It does provide its customers only with a limited number of servers to choose from, but you do have access to Netflix and an unrestricted sharing of P2P data.
The company
iElement B.V, a corporation with a head office in the Netherlands, is the company that stands behind the WASELPro VPN service. Our first impression about the website is that it seems quite old-school, but, as a matter of fact, it is accessible in eleven different languages and makes getting all the details that future and existing customers may need easy and straightforward.
With this VPN service you can connect to 40 servers worldwide in different locations around the world, including India, Singapore, Saudi Arabia, Taiwan, Hong Kong, Japan, Ukraine and more.
Evaluation of privacy and encryption methods
The WASELPro VPN service users various combinations of protocols – L2TP, OpenVPN ShadowSocks, and OpenVPN over SSH connections – to ensure maximum protection of your privacy. There are also several extras such as a Smoke Tunnel option that allows you to switch on the VPN throttling protection over UDP, TCP or both.
There is also a kill switch safety mechanism that prevents your data from leaking by cutting off your Internet access in the event that the VPN connection drops. This feature is switched off by default in Windows, but can be easily turned on in the client's settings. There, you can find also IPv6 protection which can also be managed from the same settings panel.
Another extra that the users of WASELPro can take advantage of is the Wi-Fi/hotspot protection that the provider offers. With it, you can share large files easily through P2P and torrenting clients without any restrictions. And the best is, this protection is present in all of the WASELPro's VPN subscription packages.
As far as logging your data is concerned, the vendor claims that it has a no-logging policy. However, it is not clearly explained what kind of data is covered by this policy. Moreover, there are no formal confirmations of the claims by an outside audit. Thus, in a way, we consider this lack of clarity on the user data collection as a drawback. Still, this doesn't stop us from testing the service and its performance.
Testing speed and user experience
If you are a newbie with VPN services, you will find working with WASELPro VPN very easy. It is extremely fast and intuitive to set up and use the platform. All you have to do is simply follow all the steps of a quick installation kit and connect to the server location with one click. The only challenge that you might potentially have is to switch between servers once you have already connected to one. For that, you may need to first disconnect from the current server and then select another one to connect to.
We received some impressive results when testing WASELPro on the fastest server of our location. In specific, on our 55Mps test link in France, the server reached download speeds of approximately 30Mbps, although for more distant locations, such as the server in California, USA, the speeds have dropped marginally to just 18Mbps.
Subscription packages and user support
If you want to give a try to this VPN service, WASELPro offers various subscription options that you can choose from. There is a one-month plan for just $9.99, a three-month plan that is available for $27 (that comes to $9 a month), a six-month subscription that will cost you $50 (equals to $8.33 per month) and an annual subscription that sells for $90 which gives you the best value per month of just $7.50. The prices of these packages, aren't low, though, and place WASELPro on the rather costly side compared to the offerings of other VPN providers.
Still, there is a lot of value that you can get for these money. For instance, users can operate up to six simultaneous connections per protocol on one account without any limitations or restrictions by fair usage policies.
There are also a lot of convenient payment options that you can choose from. The company lets you pay through credit cards,  as well as through Paypal, WebMoney, OneCard, CASHU, Moneybookers and even Western Union (if you are subscribing for the annual package). Cryptocurrencies aren't accepted, tough, which might not be ideal for those who want to remain anonymous when paying online.

An announcement from September 2019 informs that WASELPro does not offer refunds in an attempt to limit the abuses of its network. Nonetheless, the website notes that refunds may potentially be made if you prove that you have substantial trouble utilizing the service, albeit without any guarantees for refunds.
Despite its no-refund policy, the company gives you a free trail that allows you to try the WASELPro VPN before you decide to purchase any of its packages.  You are allowed to test the service every day for a limited period of time.
When it comes to user support, WASELPro provides user-friendly and lightweight apps for Windows, Mac, iOS and Android. You can download the apps from the official website of the vendor and quickly install them on your device(s). From a first look, the VPN client apps may look a little outdated, but as we have seen during our tests, they perform really well and are intuitive when it comes to adjusting their settings. Additional tinkering with the settings unlocks more options, including installing the VPN service on your router.
A quick check on the ratings in the app stores gives us more information about the users' feedback. The Android version is scored at 4.4 by more than 3 000 users and has been installed by more than 100,000. The iOS version of the app also has a ranking over 4.0 on its different language versions which speaks positive about the user experience.
Customer support for any unusual problems is available on a 24/7 basis through live chat and remote support via TeamViewer. Usually, it takes only a few minutes to receive prompt and straightforward responses from the support team.  You may also contact them via e-mail at support@waselpro.com or via a web form. However, you may need to create an account with the website in order to use these forms of communication. If you are more into self-help, the website itself is a decent source of information and offers concise answers to FAQs and detailed service manuals, accompanied with images for every shown step.
Our conclusion
The old-school look of WASELPro website conceals a capable VPN service that provides reliable protection of your online presence via secure protocols. In addition to taking care of your privacy, the service offers good speed, provides support for your torrenting and lets you access streaming channels like Netflix and BBC iPlayer that usually restrict their usage in some locations. The vendor isn't very clear about its no-logging policy, however, and we would like to see more transparency on that matter.