iOS 13.6 Battery Drain Fix
In case that the battery of your iPhone has started to drain super quickly since iOS 13.6 has been installed and it can't last till the end of the day, then here are a few quick tips to troubleshoot and fix this issue.

Many users share that they feel like the battery life of their iPhone has been less than good since the iOS 13.6 install on their device. They can't go about their day without a recharge and the battery slowly worsens with each passing day. This is a very annoying issue, more so since you may be left with a dead phone in the middle of the day or when you most need it.
Before you throw off that darn dead phone, though, you should know that there are some quick fixes that may help you improve the battery life significantly. Moreover, it will cost you nothing to give them a try.
Check the battery health of your iPhone
When your iPhone is over a few years old, running a simple battery check can give you some useful information about the battery health and the need to replace it. For that, you should go to:
Settings >>Battery >> Battery Health
If the Maximum Capacity of your battery shows more than 80% and the Peak Performance Capability indicates that "Your battery is currently supporting normal peak performance", then this means that there is still a lot of life to be drained out of your battery and you need to seek the problem elsewhere. In case the indicators show different results, however, you may need to think about replacing the battery with a new one.
Do an iOS update check
An outdated operating system can drain a lot of battery life. So, if you haven't done an iOS update from some time, make sure you get the latest updates in order to make your system operate smoothly and optimally.
Go to Settings >> General > >Software Update and download the latest iOS 13 updates.
Update your apps
If the iOS update does not fix the battery life issue and your battery keeps dying very fast, then it is a good idea to check if you have any outdated apps that are eating out its life. Application problems may commonly occur, particularly if new iOS versions have been launched. The fix for this is to launch the App Store and click on your profile icon in the corner to check for notifications on Available Updates. If there are any, simply install them and see if that makes a difference in your battery performance.
Check your iPhone's charger
The iPhone tracks the usage of your battery over time, which can be a valuable diagnostic tool. The view the logs go to Settings >> Battery, and there you'll see Battery Level chart.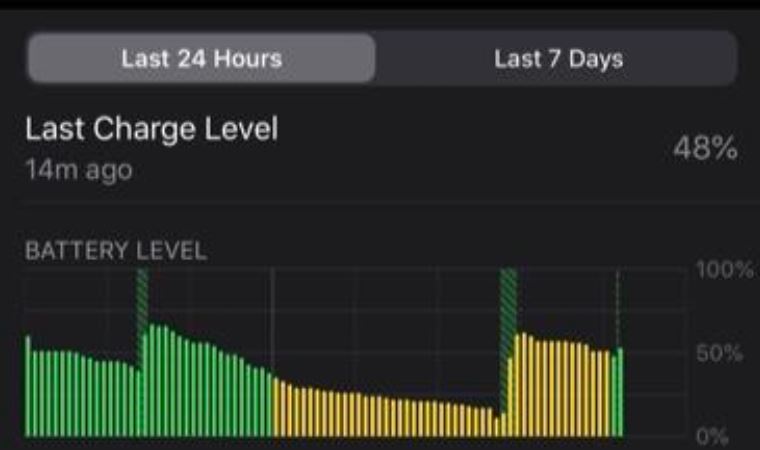 Green indicates when your iPhone runs normally using its battery power. Yellow indicates the Low Power Mode of your iPhone. Hatched green indicates when your iPhone is charging.
Last Charge Level indicates how much battery charge was added during the last recharging. This gives you information whether or not the battery was completely charged.
In case you can't see those hatched green indicators in the Battery Level chart, check your charger as it may not be functioning properly due to braking or corrosion.
Disable your iPhone's background activity
Another chart that can give you a lot of useful information is called Activity and is found below the Battery Level chart. The Activity chart displays for how long the apps are running on the screen (in dark blue) and when the screen is off (in light blue).

If you have a lot of background activities, then there might be some problems with apps that drain your battery. Below the Activity chart, there is a table that breaks down the battery usage by the app. You can use the information there to view which apps are using up the battery the most and get details about their on-screen and background activity.

Keep in mind that some apps may indeed need a lot of background time to operate but there are apps that aren't that necessary and can only cause battery drain. Therefore, you may want to test that by disabling the app's ability to run in the background.
For that, go to Settings>>General>>Background App Refresh and switch that off for any app that seems to be heavy on background time usage.
One quick fix solution that may work
This may seem like an easy fix but, surprisingly, it works in most cases.
For iPhone 8 and later: Press and release the "Volume Up" button, then the "Volume Down" button followed by pressing the "Power" button until the Apple logo appears on the screen.
For iPhone 7 and earlier: Press and hold the "Power" and "Volume Down" buttons until the Apple logo is displayed on the screen.
Reset your iPhone
Resetting your iPhone is the last resort option but it will allow you to decide if the problem is a hardware or software-based. Before you do an iPhone Reset, make sure you have saved all your information and have backups of your data so you can recover it later.
For the Reset, go to Settings >> General >> Reset and select Reset All Settings or Reset All Content and Settings if you want to uninstall all the apps.

Do you have any other tips and fixes for iPhone battery issues that work? Feel free to share them in the comments section below.