This article was created to help you remove Ads by DNS Unblocker from Chrome, Firefox, Internet Explorer and Safari, as well as their respective system.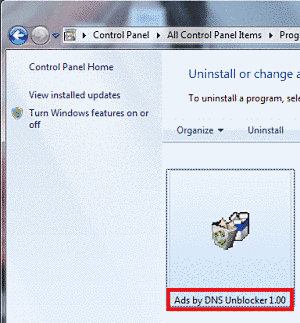 Today we have set our sights on a virus called Ads by DNS Unblocker. This bugger is a nasty piece of Adware and true to it's nature it will create a large quantity of advertisements every time you start your browser or load a new page while working on it. These Ads could be pop-ups, banners, new pages or maybe even Ads by DNS Unblocker will turn words from any text you read into hyperlinks, accompanied with an Ad that will be shown if you hover over the word. Despite their shape these Ads do share something – they are very annoying to deal with and they will make your time browsing a living nightmare. Before we explain what you need to do there are a couple of think you need to know beforehand.
Don't click on the Ads
Even though the Ads may offer great discounts on things you need you should not fall for their lure. Ads by DNS Unblocker is able to read your browser's history and past search queries and thus it will load Ads that advertise similar goods. The discounts are also part of the trap as nobody sells these things so cheap… unless he is not planning to sell anything. There is some chance for the offers to be legitimate, but we advise against trying your luck.
Further you should be careful as Ads by DNS Unblocker may try to install viruses on your computer. The Ads may even offer free downloads of software or other free stuff like wallpapers, screensavers etc. These files will almost certainly be infected with a virus. Other popular tricks including fake messages about missing plug-ins, bogus warnings about virus infestations or registry errors and more. Typically the offered software will be suggested to help with the before mentioned fake problems or presented as a stand-alone useful app like PC optimizer.
We recommend you never install what Ads by DNS Unblocker might offer you, otherwise you might regret it later. There are some very dangerous viruses propagating themselves through programs like Ads by DNS Unblocker.
SUMMARY:
Remove Ads by DNS Unblocker Virus
To try and remove Ads by DNS Unblocker quickly you can try this:
Go to your browser's settings and select More Tools (or Add-ons, depending on your browser).

Then click on the Extensions tab.

Look for the Ads by DNS Unblocker extension (as well as any other unfamiliar ones).
Remove Ads by DNS Unblocker by clicking on the Trash Bin icon next to its name.
Confirm and get rid of Ads by DNS Unblocker and any other suspicious items.
If this does not work as described please follow our more detailed Ads by DNS Unblocker removal guide below.
Search Marquis is a high-profile hijacker – you might want to see if you're not infected with it as well.
You can find the removal guide here.
If you have a Mac virus, please use our How to remove Ads on Mac guide.
If you have an Android virus, please use our Android Malware Removal guide.
If you have an iPhone virus, please use our iPhone Virus Removal guide