*15-day Free Trial w/Credit card, no charge upfront or if you cancel up to 2 days before expiration; Subscription price varies per region w/ auto renewal unless you timely cancel; notification before you are billed; 30-day money-back guarantee; Read full terms and more information about free remover.
1PUwf7ybLvvKLJ8NpWeaEChz4WFQtnC2Gx
A lot of online hackers (or at least, that's what they claim to be) try to blackmail different users all over the Internet into making a ransom payment in a bitcoin wallet like 1PUwf7ybLvvKLJ8NpWeaEChz4WFQtnC2Gx by threatening them to harm their systems or make some sensitive personal info publicly available through the use of a Trojan Horse virus that has already infected the targeted user's computer.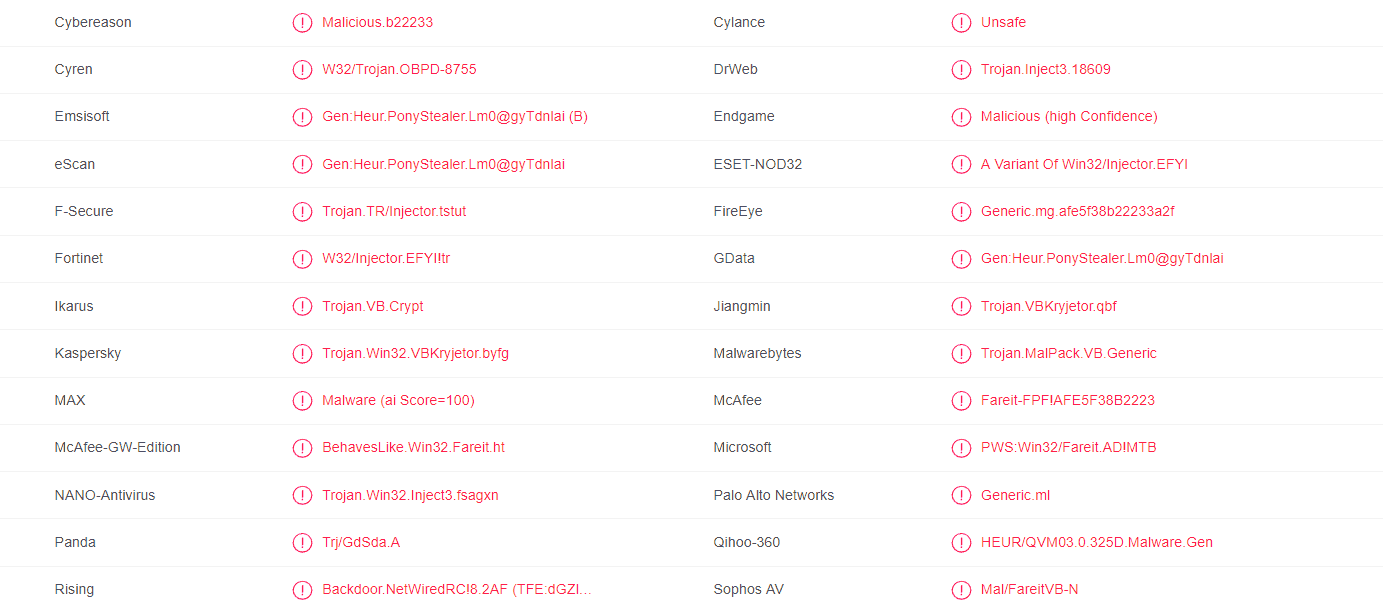 Some of our users reached to us about an email they received with the following message:
Greetings! Have you seen lately my e-mail to you from an account of yours? Yeah, that merely confirms that I have gained a complete access to device of yours. Within the past several months, I was observing you. Are you still surprised how could that happen? Frankly speaking, malware has infected your devices and it's coming from an adult website, which you used to visit. Although all this stuff may seem unfamiliar to you, but let me try to explain that to you. With aid of Trojan Viruses, I managed to gain full access to any PC or other types of devices. That merely means that I can watch you whenever I want via your screen just by activating your camera as well as microphone, while you don't even know about that. Moreover, I have also received access to entire contacts list as well as full correspondence of yours. You may be wondering, "However, my PC is protected by a legitimate antivirus, so how could that happen? Why couldn't I get any alerts?" To be honest, the reply is quite straightforward: malware of mine utilizes drivers, which update the signatures on 4-hourly basis, which turns them to become untraceable, and hereby making your antivirus remain idle. I have collected a video on the left screen where you enjoy wanking, while the video on the right screen shows the video you were watching at that point of time. Still puzzled how much damage could that cause? One mouse click is enough for me to share this video to your social networks, as well as e-mail contacts of yours. In addition, I am also able to gain access to all e-mail correspondence as well as messengers used by you. Below are simple steps required for you to undertake in order to avoid that from occurring – transfer $1550 in Bitcoin equivalent to my wallet (if you don't know how to complete that, just open your browser and make a google search: "Buy Bitcoin"). My bitcoin wallet address (BTC Wallet) is: 1PUwf7ybLvvKLJ8NpWeaEChz4WFQtnC2Gx.
Trojan Horse malware infections are the worst and it is understandable that a lot of users tend to panic when they think such a malicious program has infiltrated their computer. Blackmailing is actually a quite common blackmailing scheme but what you should know is that oftentimes it's all a ruse. In many cases, the hackers who are sending these blackmailing e-mails and phishing messages are actually bluffing by claiming that they have infected their victim's computer with some scary Trojan Horse. That is why you should definitely not fall into their trap and send them any of your money. However, since Trojans are indeed a major software threat, it would still be a good idea to check your PC for any hidden malicious software. One recently detected Trojan named 1PUwf7ybLvvKLJ8NpWeaEChz4WFQtnC2Gx might sometimes be involved in such blackmailing schemes and in this article, we will tell you more about this infection. We will also show you how you can manually remove 1PUwf7ybLvvKLJ8NpWeaEChz4WFQtnC2Gx in case it has somehow sneaked inside your machine and is currently operating from it. It's oftentimes difficult to detect a Trojan Horse threat because they might not cause anything unusual on the computer and so there may not be anything to give away their presence. That is why you can never be fully certain that your computer is totally clean in such situations and this is why we advise you to follow the next guide.
How a hacker might use a Trojan Horse
There are oftentimes a variety of ways in which a virus like 1PUwf7ybLvvKLJ8NpWeaEChz4WFQtnC2Gx, Plurox Backdoor or "You got infected with my malware" could get put into use. Trojans can spy on their victims, harm their systems, corrupt sensitive and important data stored on the machine and even backdoor other infections the likes of Spyware, Rootkits and even insidious Ransomware cryptoviruses. We certainly do not mean to scare you by telling you all that – you might not have anything malicious on your PC since some phishing e-mails do not prove anything. However, being prepared and having taken the right precautions is never a bad thing which is why we advise you to use our guide. Also, the recommended anti-malware tool added to the guide could also be a great asset in your PC security as it could detect hidden threats like 1PUwf7ybLvvKLJ8NpWeaEChz4WFQtnC2Gx Bitcoin Email which, as earlier mentioned, might often lack any symptoms that you might be able to notice. In case you have any questions, know that you can always ask them in the comments section and we will make sure to answer them. Last, but not least, make sure you stay safe online – do not answer to any spam/phishing/blackmailing e-mails (or open their attachments) and also stay away from any Internet content that you think can't be trusted.
SUMMARY:
Remove 1PUwf7ybLvvKLJ8NpWeaEChz4WFQtnC2Gx Bitcoin Email Virus
You are dealing with a malware infection that can restore itself unless you remove its core files. We are sending you to another page with a removal guide that gets regularly updated. It covers in-depth instructions on how to:
1. Locate and scan malicious processes in your task manager.
2. Identify in your Control panel any programs installed with the malware, and how to remove them. Search Marquis is a high-profile hijacker that gets installed with a lot of malware.
3. How to clean up and reset your browser to its original settings without the malware returning. You can find the removal guide here.
For mobile devices refer to these guides instead: Android, iPhone