Touch-msg.com
Although the most common target for browser hijackers are PC computers, it seems that the developers of this kind of potentially unwanted apps like Touch-msg.com are also actively creating hijackers for Android devices as well. A lot of users complain about having the browsers on their Android smartphone or tablet modified in different (unwanted ways) by Touch-msg.com and getting constantly exposed to pesky web ads, pop-ups, screen-wide banners and frequent page redirects.
Some of the changes to the browsers (Chrome, Firefox, Opera, the default browsing app of the device or any other browser) are a replacement of the starting page or of the previous search engine. All of this intrusiveness is undoubtedly the work of a hijacking app inside the users' devices. One of the more recent examples of such software is Touch-msg.com – this is a browser hijacker software component that is normally getting distributed as a built-in part of another app that the user might install on their device without knowing about the hijacker element. Once the "carrier" app is installed, the hijacker starts to operate and begins to disrupt the user's regular browsing experience.
Touch-msg
Now, we need to mention that the annoyance caused by Touch-msg is not suppose dot harm the device in any way. All those ads, pop-ups, banners, page-redirects and browser modifications are mainly there for the sake of online advertising. Browser hijackers like Touch-msg are the perfect software tools for conducting different online marketing campaigns and it normally all happens at the expense of the end-users' undisturbed browsing.
Not a virus but still an issue
Touch-msg.com isn't some nasty Trojan Horse or Ransomware virus aimed at blackmailing you or damaging your Android device's system. However, it is undoubtedly still a major pain in the neck and the longer it is allowed to stay in your device, the more irritating it's presence would get. If you have Touch-msg.com and need help with uninstalling it, follow the steps from our removal guide below and you should have no problem eliminating the annoying app that's causing the browsing disturbance. Also, remember that it' advisable if you keep away from the advertising materials brought to your screen by the hijacker as it's possible that some of them might not be safe and might potentially land you on web locations that could be used for distribution of viruses like Ransomware, Spyware, Trojans, etc. Last but not least, remember to only download new applications for your Android smartphone or tablet from trusted sources in order to avoid landing some sketchy, hijacker-carrying app.
Remove Touch-msg.com Virus
If you have an Android virus, continue with the guide below.
If you have an iPhone virus, please use our iPhone Virus Removal guide.
If you have a Mac virus, please use our How to remove Ads on Mac guide.
If you have a Windows virus, please use our Windows Virus Removal guide.

Whether you use the default "Internet" App for browsing or a different browser like Chrome you need to go to:
Settings/More/Application Manager/All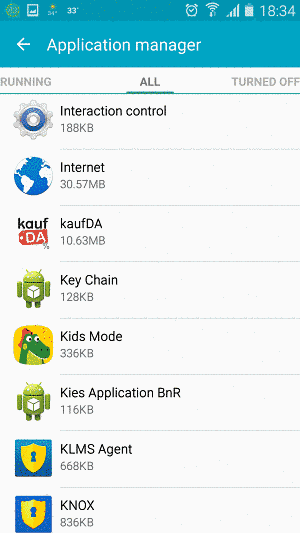 Locate the Browser/App in question and tap on it.

Now the method is effectively the same for users using both "Internet" and Chrome/Other Browsers, yet for more clarity we have provided instructions for both:
For "Internet" Browser Users:
Tap the Force Stop button.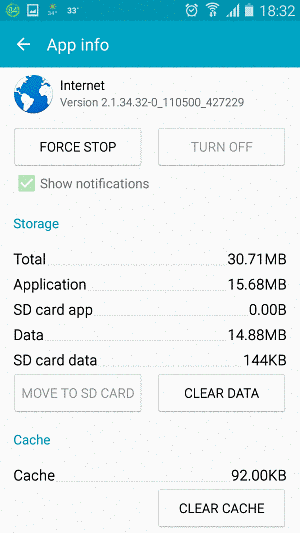 Now tap the Clear Data and Clear Cache Buttons.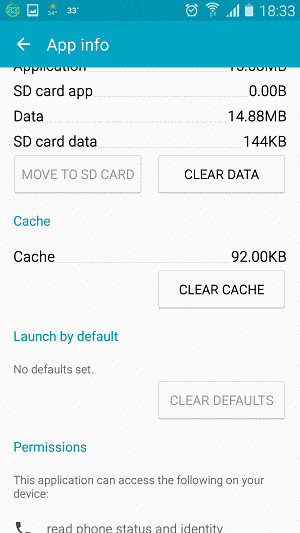 For Google Chrome Users:
Click on Force Stop.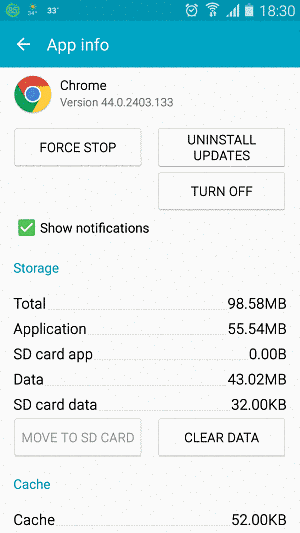 Then click on Clear Data and Clear Cache.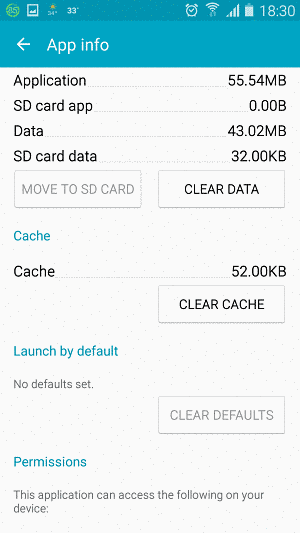 Restart your Browser. It might be a good idea to Reboot your Android device, just in case.

If you are still seeing Ads in your browser, it is likely they are generated by the websites you visit and there is nothing you can do about it.
However, if you are seeing Adverts outside of your internet browser, then one of your installed Apps contains the problematic Adware. In this case you need to take a look at this guide.

Did we help you? Please, consider helping us by spreading the word!