269 GB of data leaked from Police Departments and Fusion centers
A massive 269 GB of data, stolen from over 200 US police departments, fusion centers and other law enforcement agencies, has been publicly published by a group of hacktivists and advocates of transparency known as the DDoSecrets.
The data archive has been named "BlueLeaks" and includes hundreds of thousands of confidential records, both official and personal, from the past decade which could potentially be misused by malicious actors.
DDoSecrets (Distributed Denial of Secrets) is a transparency collective of hacktivists that is similar to WikiLeaks. It is involved in publicly publishing data and classified information that leakers and hackers submit. The organization claims that it never engages in information exfiltration itself.
According to DDoSecrets group, the BlueLeaks data archive exposes "police and FBI reports, bulletins, guides more" which provides one-of-a-kind insights into law enforcement and a wide spectrum of government activities, including thousands of COVID 19 papers.
A quick glimpse of the screenshot below is enough to give us an idea of the type of data that has been exposed. It includes millions of files such as images , documents, videos, websites, text files, e-mails, audio files etc. It is yet to be investigated how many of these files are not meant for the public and contain classified information.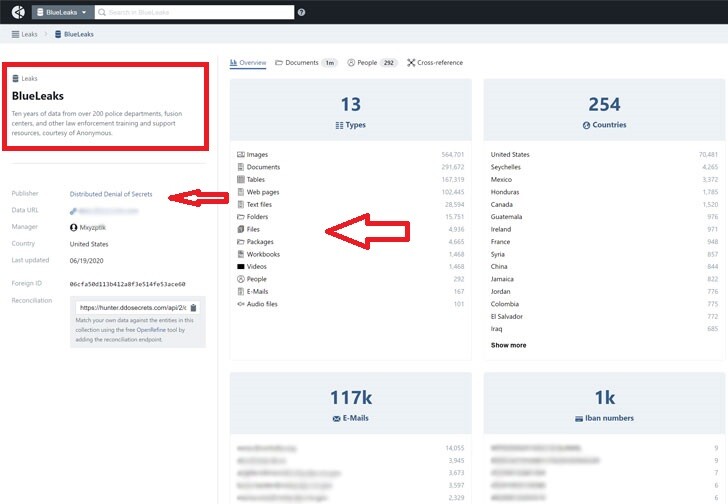 It is dubbed that some of the guides and alerts that have leaked from the BlueLeaks contained information related to the recent protests in the United States, including the Black Lives Matter protests related to George Floyd's death in Minneapolis.
In principle, Fusion Centers are information centers which enable information sharing between local state, tribal, territorial and federal law enforcement agencies. Their role is to support the work of the law enforcements and to increase their capacities to detect, prevent, investigate and respond to criminal and terrorist activities.
Here is a list of some of U.S. agencies and fusion centers that have been affected by the BlueLeaks:
Alabama Fusion Center
Austin Regional Intelligence Center
Boston Regional Intelligence Center
Colorado Information Analysis Center
California Narcotic Officers' Association
Delaware Information and Analysis Center
FBI Houston Citizens Academy Alumni Association
FBI National Academy Association Arkansas/Missouri Chapter
FBI National Academy Association Michigan Chapter
FBI National Academy Association of Texas
Krebs security reported in their post that security breaches in the Houston-based web hosting company "Netsential Inc." appear to be the source of this massive data breach. The company is a web services provider used by multiple fusion centers, law enforcement, and other government agencies across the United States.
NFCA confirmed in a statement to Krebs that "dates of the files in the leak actually span nearly 24 years — from August 1996 through June 19, 2020 — and that the documents include names, email addresses, phone numbers, PDF documents, images, and a large number of text, video, CSV and ZIP files."
The agency said that a range of cyber threat actors, hacktivists and economic-motivated cyber criminals could exploit the data exposed in the BlueLeaks archive in various cyber attacks and campaigns against fusion centers and associated agencies and their personnel.
They also informed that Netsential has confirmed that the leak is a potential result from the actions of a malicious actor that may have taken over a compromised customer account and has exploited the upload feature of the web platform which enabled him to exfiltrate additional customer data from Netsential, including several US police agencies and Fusion Centers.
With its volume of material exposed, the BlueLeaks database gives room for a range of organized crime operations that may put at risk sensitive operations, human sources and undercover police.