Google 5 Billionth Search
Google 5 Billionth Search is a browser hijacker that can interrupt your web surfing activity by filling every page that you visit with intrusive pop-up ads. Google 5 Billionth Search is also known to place changes to your main browser in order to ensure auto-redirects to sites that pay for promotion and traffic.
You have most likely found 5 Billionth Search on your Chrome, Firefox, Opera or Edge browser and are now experiencing its rather disturbing effects on your system and wondering how to uninstall it. This program can easily set a new homepage or replace your default search engine with another one without asking for permission. Or it can display a huge number of online advertisements (pop-ups, pop-unders, banner ads, text links) that might make you irritated because you can't navigate through them. Thankfully, we are here to provide you with more information on this type of software and help you to remove it from your computer. To your luck, 5 Billionth Search is not a virus, Ransomware or a stealthy Trojan, so you have a great chance to uninstall it without any issues. Just make sure you read the details below and closely follow the instructions in the removal guide.
The 5 Billionth Search Scam
5 Billionth Search is one of the latest versions of browser hijackers that can take over your web browser. Security experts might classify the so-called browser hijackers as potentially unwanted programs because they can be very annoying. However, programs like 5 Billionth Search have not been identified as dangerous or malicious.
Such programs are typically used to advertise specific websites and the products, services, and software they offer. To do their job as efficiently as possible, most browser hijackers use some rather irritating online advertising tactics and tend to install some brand new search engine or a special homepage in the main browser. They can also display a bunch of pop-up ads, banners and similar commercials with the idea to redirect you to web pages that pay for traffic and promotion.
Some users might think they're dealing with a virus when they are faced with all these unauthorized and unwanted browser modifications. But we recommend that you stay calm because programs like 5 Billionth Search are not identical to viruses. Real viruses usually destroy your system or lock some data and then harass you for money. Typically, that is what a Trojan horse or Ransomware infection would do. That's why such threats need to be removed as soon as possible.Fortunately, nothing like this could be performed by 5 Billionth Search. The way this program enters your PC, however, may seem somewhat intrusive to you. It most often happens when a free software bundle is downloaded and installed from the web. Such packages of programs are very common as they are used as delivery means of mixed adware, hijackers and originally created applications.
Another thing you should bear in mind about the hijackers is that they can affect all browsers that have been installed on your computer. None of them are safe, including Firefox, Chrome, Safari or Edge. Furthermore, most browser hijackers are designed to monitor your search requests and to tailor the stream of generated ads to your supposed preferences and interests. So, if you are looking for a trip to Thailand, for example, the advertisements that you will start to see can also be for excursions and holidays. The redirection process you may experience while you browse the web, however, is yet another aspect of 5 Billionth Search that may bother you. If you find yourself on pages that seem sketchy or you have been redirected to inappropriate websites and are concerned about this, please close these pages and be careful. Ideally, don't click on anything that could reroute you to unknown web locations or simply use the instructions below to uninstall the browser hijacker that is causing these redirects.
SUMMARY:
| | |
| --- | --- |
| Name | 5 Billionth Search |
| Type | Browser Hijacker |
Remove 5 Billionth Search Scam

On your smartphone, open the Settings > App Manager (this one could have a different name such as Apps, Application Manager, Manage Apps, etc.) and open the All Apps tab.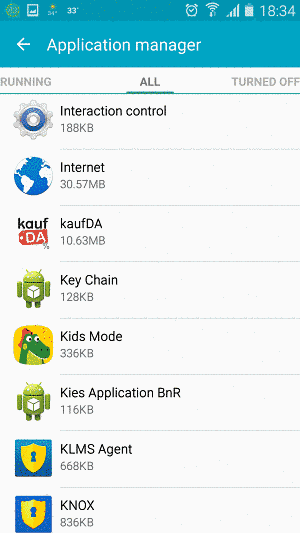 Once you get there, try to locate the app you suspect is causing the problem. Note that it is very possible that you won't see an item labeled 5 Billionth Search in there but if there's indeed an app on your device that is triggering ad-generation and other unusual behavior, it should be listed under All Apps inside the App Manager. It might help to sort the list of apps by installation date to see the most recently installed ones at the of the list. If you could relate the appearance of the problem to the installation of any of the apps from the list, it is that app that is likely responsible for the disturbances.
Once you single out the potentially problematic app, open it from the list, tap on the Force Stop button and then on the Uninstall button to remove the app. Then proceed to the next step to clean your browser.

The next step is identical regardless of what browser is being the problematic one but, for clarity's sake, we've provided instructions for both the default pre-installed browser app and for the Google Chrome browser.
Default Browser App ("Internet"):
Open the browser from the App Manager list of apps and tap on the Force Stop button – this will quit the app and allow you to move on to the next actions.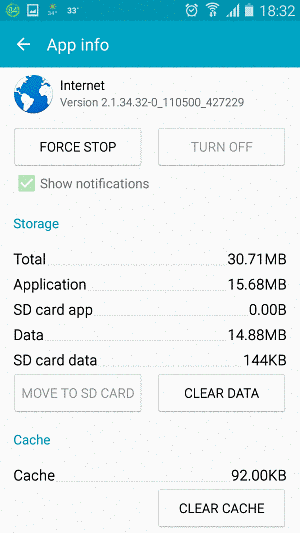 Next, tap on the Clear Data button and then on the Clear Cache one. If either of them is not available, do not worry and move on to the next step.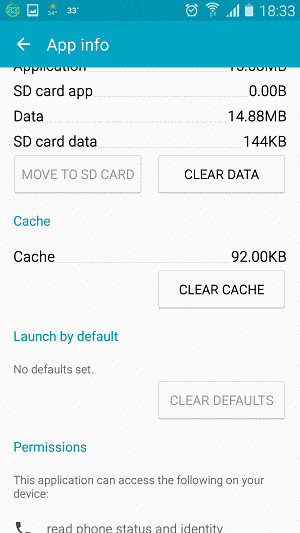 If you are using Google Chrome:
Open the Google Chrome app from the All Apps list in the App Manager and Force Stop it.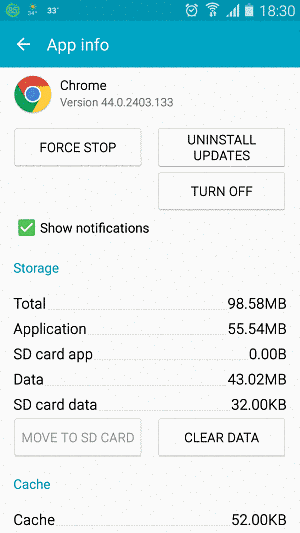 Following that, tap on Clear Data and Clear Cache. This will delete any data from your browser that may be causing it to behave in an unusual way.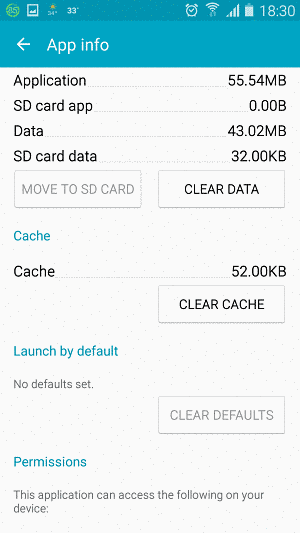 Reboot your device and start your browser to test if the problem has been resolved.
Important!
If you are still getting ads on your screen while using your browser, it is possible (or even likely) that the advertisements are coming from some of the websites you are visiting. In this case, there's not much you could do aside from not going to these sites anymore. An ad-blocker might be of help here but many Android ad-blocker apps tend to do more harm than good so we advise you to be very cautious when choosing an ad-blocker if you end up deciding to get one on your smartphone.