Acer has a wide variety of laptops for different occasions and users. However, gaming laptops have not always been a forte of Acer. That being said, in recent years, this has changed and Acer can now officially be considered a laptop manufacturer with potent gaming machines that have a lot to offer to their gamer-customers.
Acer Predator Triton 500
In this post, our focus will be the Acer Predator Triton 500, a highly-potent gaming laptop that provides its users with premium performance at a price that is somewhat lower compared to other machines that come with similar characteristics. By that, we certainly do not mean that this is a budget/affordable laptop nor should it be that. Gaming is one of the most resource-intensive activities for any computer and only a high-end machine could provide the necessary power and efficiency required for gaming.
However, is the Acer Predator Triton 500 truly a worthy competitor of other 2020 gaming laptops or are the alternatives better than it? Let's find out together!
Design
Design isn't always necessarily the focus when manufacturing gaming computers but it is still something that must not be disregarded, especially when it comes to laptops. A badly designed laptop chassis could mean awkward or outright frustrating gaming experience, not to mention that it could lead to overheating problems while running demanding games.
The design of Acer Predator Triton 500 is not anything outstanding but it's not bad either. Sure, the chassis isn't particularly slick or stylish and has a rather boxy outlook but it also offers enough space for its keyboard while keeping the laptop thin and light enough.
Speaking of the keyboard, it is pleasantly designed and the individual keys have a very satisfying travelling space range that makes them very pleasant to press. The backlight of the keyboard is rather bright and might be a bit too much in a dark room at night but its lighting is adjustable so you can easily change that.
Something we really liked are the cool-looking speakers at the top of the keyboard that provide above-average sound for a laptop. Sure, most gamers would still prefer a headset but if you don't have one lying around at the moment, don't worry – the built-in speakers of the Acer Predator Triton 500 should prove to be more than capable of providing you with quality sound.
The touchpad of this laptop is unassuming and, in all fairness, rather mediocre. It's just a piece of plastic with no designated buttons and no button to turn it off. I, personally, dislike the type of touchpad this and many other Acer laptops have – they are awkward to use and not particularly reliable. The lack of a key to turn off the touchpad is also rather irritating, especially for gamers, as it is really easy to accidentally tap the touchpad with your palm while using the keyboard resulting in unintended cursor movement.
A design choice that may be disliked by some is the omission of a Numpad. While this is perfectly normal for a laptop and is to be expected, considering this is a gaming machine and that lots of PC gamers tend to use the Numpad for various controls, its lack on the Acer Predator Triton 500 could be seen as a potential drawback.
Something else that annoyed us is the power button that's located on the keyboard right where you'd normally find the Del key. Undoubtedly, this would result in many, many accidental laptop "sleeps" whenever one tries to press Del but instead hits the power button.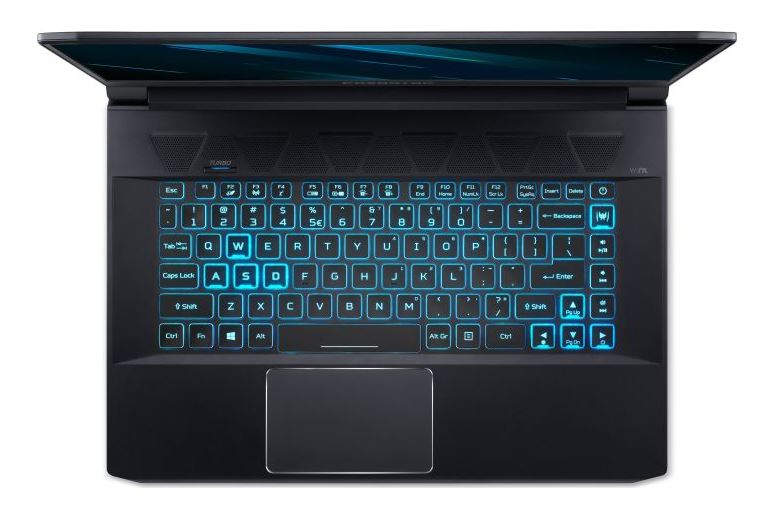 Lastly, we'd like to come back to the thickness of the Acer Predator Triton 500. It's only 0.7 inches and while most would see this as a good feature, we must keep in mind that this is a gaming laptop that is supposed to run demanding games that would quickly heat up the CPU. A thinner laptop means less space for ventilation, resulting in higher temperatures and quicker overheating. In our opinion, keeping gaming laptops this thin is not the best design choice even if it is the current trend and improves portability.
Display
An important aspect of every gaming machine is its screen – a badly optimized screen could be irritating or sometimes outright ruin one's gaming experience (especially if you are a hardcore gamer).
At first glance, the display of the Acer Predator may not seem all that impressive. It's rather dim with only 272 nits of brightness and it doesn't offer 4k or even 1440. However, for gaming what's even more important than screen resolution and brightness is the refresh rate of the display. In the case of the Acer Predator Triton 500, the refresh rate is a whopping 300Hz. This is far more than other laptops provide and the reason it is so important for serious gaming is that it makes everything on your screen far more responsive and gives you that so needed edge over the opponents while playing an online game.
Overall, though the screen of this laptop may not be what one would think is acceptable for such an expensive machine, the conscious decisions made while designing and manufacturing it make it a great and optimized addition to an already impressive gaming machine.

Specs
Of course, we cannot talk about a gaming laptop without taking a very careful and detailed look at what's under its hood. In the current case, Acer Predator Triton 500 certainly doesn't disappoint with what it has to offer in terms of hardware. However, there may be certain nitpicks that we have here and there.

First, let's take a look at the CPU – it is an Intel Core i7-10750H 10th gen processor with six cores and twelve threads. For all intents and purposes, this is a powerful, high-end processing unit that will provide you with spectacular performance and allow you to run even the newest and most demanding games that are currently available on the highest settings. However, is this the best option out there? Well, while this is certainly an impressive CPU, we must say that it might be a bit outdated when it comes to gaming laptops. Currently, there are quite more efficient (and cheaper!) CPUs available on the market. For example, the Ryzen 7 4800H equipped on the significantly less expensive Dell G5 SE Gaming laptop outperforms the Intel Core i7-10750H of the Acer Predator Triton 500. None of this is to say that the Predator's CPU is bad or that it won't provide gamers with premium performance but there are simply other options out there that provide more value for their cost.
Moving on to the GPU of the Triton 500, one of the most important aspects when it comes to gaming, this laptop comes with the impressive Nvidia RTX 2080 Super Graphics. If you are into gaming laptops hardware, then you already know that this is pretty much as good as it gets in terms of graphical prowess. This dedicated GPU is currently the king of mobile graphical cards and it only makes sense having a gaming laptop equipped with it. This GPU will basically allow you to play all the most recent and resource-intensive games at ultra-high graphics and will likely stay relevant for at least 3 years (and will probably allow you to play new games at high or medium settings about 5 years from now).

Next, we need to briefly mention the RAM and the storage of the Triton 500. Depending on which specific configuration you go for, you can get either 16GB or 32GB of RAM. While 16GB is fine, since this is a gaming laptop, we'd say it's better to go for the 32GB option. 16GB is currently enough to run the latest games at their highest settings but it might not be in a couple of years.
The storage of the machine is always SSD and you have the option to choose between 512GB and 1TB. Here, it is entirely up to your own preference and individual need for storage. In our opinion, the 1TB option is the one to go for because, though it would come at a higher price, it would give you the needed space to store all these sizable new PC games that could take up to 50GB (or maybe even more).
Performance
Normally, we put specs and performance in the same paragraph but, since we are talking about a gaming machine, we thought we'd give ourselves a bit more space to elaborate upon the capabilities of the Acer Predator Triton 500.
As we already said a couple of times, with this machine, you should be able to run all of the latest PC gaming titles without compromising with the game's settings. Well, testing has confirmed this – running a couple of the most demanding games of recent years on the Acer Predator Triton 500 proved to be a smooth and pleasant experience. Here are the details and the technicalities from the test results.
On Civilization VI, the Predator 500 managed to deliver 138 frames per second while using the ultra detail settings and having Multisample anti-aliasing turned up to 2x. The resolution used here was 1080p – the native resolution for the machine.
While running the highly-demanding Assassin's Creed Odyssey 2017, the Acer Predator managed to get up to 59 FPS on ultra detail.
Another resource-intensive game that this machine was tested with was Battlefield V, where it managed to score 80 FPS, again, with the ultra detail settings enabled.
All in all, when it comes to performance while running demanding games from the last couple of years, there's barely anything more that could be desired from the Triton 500. Compared to competing laptops such as the Razer Blade 15, the Rog Zephyrus Duo 15, and the Alienware M15, the Acer machine slightly outperforms them on all of the three games we mentioned with the exception of Battlefield V, where the Rog Zephyrus Duo 15 managed to deliver 90 FPS with the same ultra-high settings.

Battery
Battery is probably the weakest aspect of this laptop but this is to be expected from a gaming machine with top-shelf CPU and GPU that require lots of battery to function when the laptop isn't directly connected to a power socket.
When used for basic browsing, the laptop barely reaches two hours of battery life and if you are playing any demanding games while only on battery, it would barely last for an hour. Again, though this might make it seem like the laptop has an extremely bad battery, the actual reason for this is that the machine uses really advanced and power-hungry hardware that no conventional battery could support for any long amount of time. In other words, the Triton 500's battery life is what you would expect from a gaming laptop that isn't particularly well-suited for extensive use away from an electrical outlet.
Pricing
Obviously, gaming hardware isn't cheap and neither is the Triton 500. There are different configurations with the cheapest one being priced at $ 1699.99 and the most expensive one at $ 2899.99. Again, this is not what one would call an affordable laptop. However, it is something to be expected from a gaming machine that is supposed to be able to run demanding and resource-intensive modern PC games while using their high or ultra settings. With this in mind, one could actually say that certain configurations of the Triton 500 would give you quite a lot of value for the price they are offered at. In fact, this machine is slightly cheaper than other competing gaming laptops while being on par (and sometimes above) them in terms of performance.
This is especially true about the entry-level $ 1699.99 Acer Predator Triton 500 that still comes with the powerful Intel Core i7-10750H. However, it has only 16GB of RAM and a 512GB of SSD storage. Also, it's GPU is the weaker GeForce RTX 2060. While those specifications are below what we reviewed in the previous paragraphs, this machine is still a solid, highly-performing gaming laptop that will run everything you throw at it. The only downside is that it will start to struggle with games that get released in the future sooner than its more expensive variants. In terms of value, though, even the entry-level Acer Predator will give you premium performance at a price that is significantly lower than other machines of similar characteristics.

The Verdict
The Acer Predator Triton 500 is a solid machine with great gaming capabilities and regardless of the specific configuration you pick, you can rest assured that your gaming experience with this machine will be of the highest quality.
And while there are certainly other gaming options out there, some of which may surpass the Triton 500 in certain aspects, in terms of value for your money, this machine is the best choice currently available and we recommend it to anyone who wishes to purchase a portable gaming PC of the highest quality.