This article aims to help users remove Ads by AddonJet from Chrome, Firefox, Internet Explorer and Safari, as well as their respective system. It is possible to encounter the virus as "brought by Addonjet" instead, but in reality it is completely the same thing.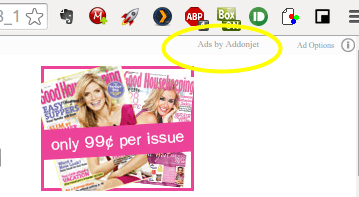 If you suddenly started seeing a lot of advertisements on every page you open then it's likely because your computer has been infected by Ads by AddonJet. This application is categorized as Adware software and displaying unwanted Ads is what is characteristic of Adware in general.
You may have already noticed the slowdown Ads by AddonJet will cause to your computer. Your CPU has to download and render the Ads in addition to the content of every page you are about to open. This split system resources and causes a delay in display speed. if you have an older machine or your internet speed is poor (weak Wi-Fi signal is the most common reason in these days) these delays might even transform into program non-responsiveness. Unfortunately this is only a mild side effect of having Ads by AddonJet on board. The danger is real and it is lurking under the surface of the Ads you are seeing, as well as hidden in any executable file you are offered to download.
Don't click on any Ads, don't download any files offered by Ads by AddonJet
Generally the main goal of Ads by AddonJet is to generate revenue for its creator by making you watch the Ads. Unfortunately hackers and developers of viruses use the service of Ad-displaying programs like Ads by AddonJet in order to distribute the viruses they make. Even more common are the PUPs (Potentially Unwanted Programs) that circulate around the web. PUPs are a form of bloatware – programs with limited or zero actual functionality that sell themselves to unsuspecting customers by giving reports about non-existing problems.
Most PUPs sell themselves by scare tactics. They will present themselves with a trial containing a free scanner. This scanner doesn't even do anything most of the time – it is pre-programmed to show you some massive problem with your computer. It could be viruses, it could be registry errors, it could be HDD health issues and a hundred other problems. If you make the mistake of paying the program will just remove the warning messages without actually doing anything else.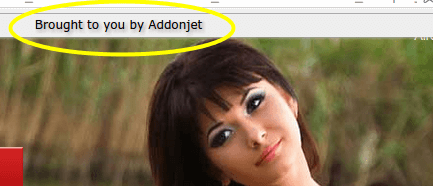 Viruses are most often installed as a supposed update or patch for another program, or as a system requested file. Remember that Ads by AddonJet may show you Ads that are basically indistinguishable for system messages and those Ads will demand that you install something like a:
Missing plug-in

Required video player or codec to view online media

Update an important program like Flash/Java
All of this is just a scam to make your download and install the infected file. Don't installing anything like this until you get rid of Ads by AddonJet first.
SUMMARY:
Ads by AddonJet Removal
Search Marquis is a high-profile hijacker – you might want to see if you're not infected with it as well.