This article aims to help users with removal of Ads by Arcade Cake from Chrome, Firefox, Internet Explorer and Safari, as well as their respective system.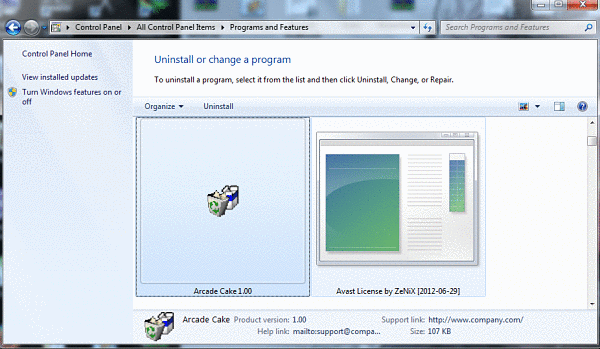 If you have Ads by Arcade Cake installed on your computer then you definitely have a problem of the Adware variety. This application has no other purpose then to saturete your internet browser with advertisements. These advertisements could be in the form of banners, pop-ups or maybe even copy pages you try to load an fill them with Ads. On rare ocasions Ads by Arcade Cake may even set up keywords that show up as hyperlinks and display an Ad when hovered over.
The presence of Ads will certainly slow down your computer. You CPU has to first download the data of the Ads and then rended them on your screen in addition to the content of whatever page you are trying to load yourself. This delay can add up a lot on older machine and possible also cause instability and non-responsivness.
The Ads are only a mild problem compared to what's hiding behind them
The main goal of Ads by Arcade Cake is to generate revenue for whoevever update and distribute it. Unfortunately reports from similar programs have shown that Adware like Ads by Arcade Cake are often responsible for the installation of more Adware or other, more dangerous viruses. This is done through sending the user of the infected computer into contaminated sites or through making him download infected executable files.
Remember that Ads by Arcade Cake is malicious software and reputable online sites do not advertise through the likes of it. Any Ad you see will likely lead to some kind of dangerous site that will either try to install a virus or run some scan on you, The safest approach in dealing with the Ads is thus to simply ignore them.
Another more direct possibility is that Ads by Arcade Cake may attempt to have you download some kind of executable file that contains a virus. Commonly these pose as PC problem solving software – either anti-virus scanners or PC optimizers. In order to push you into installing it Ads by Arcade Cake is not shy of creating Ads that appear as fake system messages. These may give warning about problems with your PC that only the program offered can fix. We strongly avoid that you do not download or install anything prompted by the virus or by a system message until you remove Ads by Arcade Cake.
Remove Ads by Arcade Cake
Search Marquis is a high-profile hijacker – you might want to see if you're not infected with it as well.
You can find the removal guide here.