Ashampoo is a German software developer that has been on the market for well over 20 years now. The company has a fairly diverse portfolio of software solutions ranging from multimedia applications and office products to CAD tools, system maintenance suites and beyond.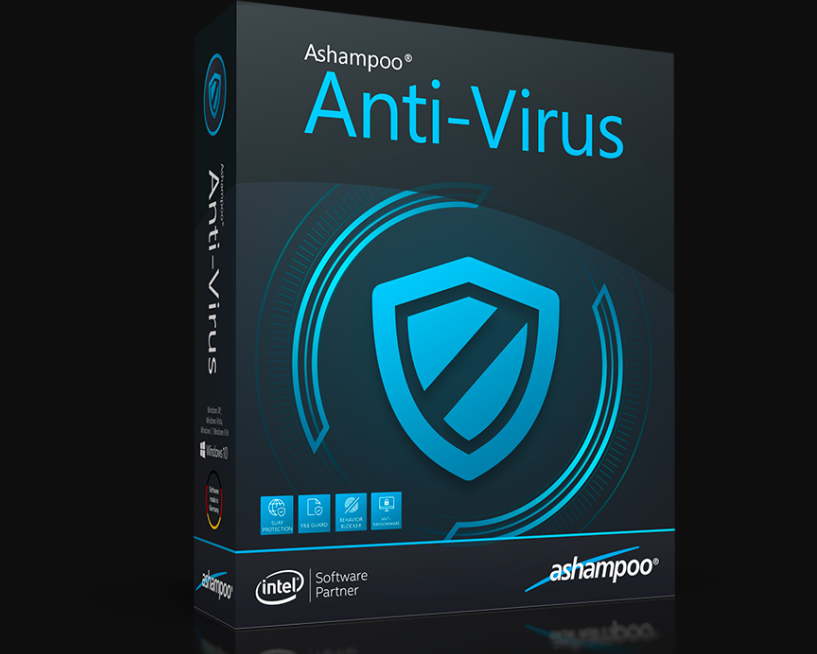 Obviously, Ashampoo also has a product designed to provide cyber security solutions, too – Ashampoo Antivirus, which we will be reviewing here today. Ashampoo Antivirus is actually marketed as a pretty capable tool, with multiple layers of protection to make sure your system is safe from any angle you look at it.
Some of its main functionalities and features include things like a dual engine malware and virus scanner, behavior monitoring and analysis, as well as real-time protection. In addition to those, users get to benefit from an anti-ransomware protection layer and a feature designed to guard your files in real-time, as well.
Some of our more experienced users may recognize the Ashampoo interface just by looking at it because it is practically the same as Emsisoft's anti-malware suite. In fact, the entire product is based on Emsisoft's package and engine, but it also uses Bitdefender's engine in addition to that, too. So, you might expect this to be quite the powerful security tool, right? Well, we'll get to that.
But before we move on to the actual specs and performance, let's first cover where Ashampoo stands in terms of cost. And prices are actually fairly decent starting at $30 per device for the first year. Upon renewal the cost jumps up slightly to $39 per year. The downside is that there are no discount options available for additional years or for additional device coverage.
In that respect, if you're already familiar with this engine, then you may find a better deal with Emsisoft's Anti-Malware package. There's certainly more flexibility there with the option to buy a three-year license and get coverage for up to 3 devices for a total of $120. Similarly, you can get a three-year license for Bitdefender's Antivirus Plus package and cover up to 5 devices at a time for only $150. If you divide it per device, per year, then you get a pretty sweet deal of $10 per device, per year.
So let's dive right into it and start with a brief overview of what we liked and didn't like in the Ashampoo Antivirus package.
PROS:

Many configurable options

10-day free trial version

CONS:

Very strange design and interface

No independent testing lab results

Basically just Emsisoft Anti-Malware repackaged
Getting started
One of the things we genuinely enjoyed about Ashampoo Antivirus (and pay attention here, because there won't be many of these) is that it's surprisingly easy and hassle-free to set up. Most antivirus packages require registration with your email address in order to start using the software, but you won't have to worry about that here – at least not right from the beginning. All you have to do is download and install the client and you immediately get the 10-day free trial version.
One issue we detected here is that the Ashampoo installer didn't really bother to check for other antivirus applications present in the system. It's a widely known fact that antivirus apps tend to conflict with one another, and so it's good when this is taken into consideration by the developers.
In the case with Ashampoo, we found that the pre-existing Kaspersky Antivirus we had installed on the computer simply deleted Ashampoo's antivirus product before the setup was even complete. We had tested other products this same way and found that they went about this issue in a smarter way and were able to avoid coming into conflict with Kaspersky or other already existing security solutions in the system.
After we cleared the other antivirus, though, and we able to successfully complete the installation process of Ashampoo Antivirus, we saw that it takes up a pretty average 730MB of storage. And it also launched only 3 background processes in the system, which amounted to just over 200MB of RAM usage.
Another bit of good news is that we weren't able to undermine Ashampoo's processes with test malware attacks. This is usually a common issue present in antivirus solutions that use third-party engines. However, Ashampoo withstood our attempts to delete its files and close its processes, so its work was never compromised.
Protection
We do run our own, very small-scale tests when we review different software applications, especially when it comes to antivirus software. But they pale in comparison with the massive, in-depth tests that are done by respected testing labs with big names that specialize in this field. So we always like to include the results of such tests in our review, when those are available. It helps to form a fuller picture of what you're dealing with.
In this case, however, we don't have much to work with. Ashampoo hasn't been subjected to tests by any of the big antivirus testing labs and so we don't have any results to share with you. Not even Emsisoft has undergone any recent tests, so we can't refer to that either.
The last time anyone did any lab testing on Emsisoft antivirus products was back in 2018, where the product was ranked 16th out of 18 competitors. The protection rate was estimated to be 98.5%, which is even lower than Windows Defender's results. And while that doesn't make Emsisoft completely useless, clearly the competition was way ahead.
We have data about ransomware simulators having been pitted against Ashampoo to see how the package reacted. And since this was a simulator, the software's behavior monitoring was being put to the test, as opposed to its ability to recognize a file signature.
And unfortunately, Ashampoo failed the test, terribly. It allowed the ransomware right past its guard and straight to the hundreds of files that it was after, encrypting them all without facing any resistance.
Of course, the simulator isn't real malware and so it's difficult to draw any absolute, definite conclusions from this test. But there are other products out there that managed pretty well in similar circumstances and somehow that adds to their credibility and takes away from that of Ashampoo Antivirus.
Other features
The interface of Ashampoo Antivirus can strike you as quite confusing at first – to say the least. The design it certainly overly cluttered with a bunch of different tabs and buttons that you need to actually take the time to figure out. But once you have, then it should be relatively easy to get around.
Right from the starting screen you will have the option to start a Quick Scan. Alternatively, you can click on the Scan and Clean button to choose a different scan type. The available options include Malware, Quick and Custom scans.
One thing that some of the other lesser known antivirus suites that we've reviewed here lack is the custom scan option. So this is a great feature to have and a plus for Ashampoo. And what makes it even better is that it the custom scan is highly configurable. You can choose whichever files and folders you want scanned, how you want them scanned, what threats you want the software to look for, etc.
In addition to that you can also schedule scans for a specific time or date, or you can even set them to take place at certain intervals. Alternatively, there's also the option to schedule scans to run after system events such as after updates, after an external drive has been connected, etc. And another thing worth mentioning is that all scans run at a decent speed and detected all the threats we tested them on.
What's also really nice about Ashampoo Antivirus is that it allows you a lot of freedom to control its Surf Protection feature. You can fine-tune it to block specific URLs or ISPs or even import several custom hosts files that would make it possible to counter more threats Furthermore, you can even decode how you want the software to react to given sites: alert you about danger but allow you to continue to the site, block it with an alert or even block it without mention.
However, given that Ashampoo's interface is pretty badly organized, users may find it rather difficult to navigate to these respective controls.
To sum it up
The bottom line of this review is that Ashampoo basically took an existing software product (Emsisoft Anti-Malware) and made it difficult for users to use. And where some elements were concerned, it even made the product worse. So as much as we'd like to, we can't really see a good enough reason to recommend it.