It's no secret that gamers have different requirements from their laptops than most of us do. And it's only natural, because these machines often need to have more processing power and high-quality graphics in order to support heavy-duty games and provide a smooth and enjoyable gaming experience.
Asus ROG Zephyrus Duo 15
And sometimes we like to spoil ourselves and really go all out on the best that is available on the market. So we found one of these machines that particularly stands out from the rest, but also comes at a premium price. And we had a close look at it from every angle to let you decide whether this is your next gaming laptop or not. If you don't mind splurging on your hobby, then read on. And here is also a quick overview of what we thought was great and what – not so much about the Asus ROG Zephyrus Duo 15:
PROS:

Excellent performance

Slim and light stature

Intuitive secondary screen

Terrific 4K screen

CONS:

Very costly

Low battery life
And if you're interested in what other options are out there, be sure to check out some of our other top gaming laptop picks in this list here.
Performance
Let's just blow you away right off the bat, shall we? The Zephyrus Duo 15 impresses on many counts, but its performance is really one of the main reasons you're paying premium dollar for. And in case you aren't aware yet, premium dollar means a minimum of $3,700. Yes, that's just the starting price. So anyone not entirely convinced they want to pay that much for a dual screen gaming laptop extravagance will likely be scared away right about now.
If you aren't – good for you. Then you will get to reap the benefits of some pretty breathtaking specs, starting with the Intel Core i9-10980HK processor, 32GB of RAM and a whopping 2TB of solid-state storage. The Zephyrus also comes equipped with an Nvidia RTX 2080 Super Max-Q graphics card to ensure seamless gaming.
As for the Intel chip, users will get to enjoy 8 cores and 16 threads for that much-needed power. And since these are the latest 10th-gen chips, they benefit from even faster clock speed boosts than the older generation chips.
And on top of boasting such a powerful CPU, the GPU gives the competition a run for its money as well. Better yet, the Zephyrus Duo 15 has a singular thermal system which allows power to be shared between the CPU and GPU. And that's a great added bonus to have.
But here's for the real surprise. As it turns out, the dual screen isn't just there to make you look fancier in front of your fellow gaming friends. It's functional as well, and factors in heavily as far as the laptop's performance is concerned.
As a matter of fact, the ScreenPad Plus plays a vital role in the laptop's cooling. When it lifts up, it actually also props up the Zephyrus at an angle, allowing better exposure for the fans underneath and therefore better airflow. And given the high-end processing gear that this machine is equipped with, this is a highly important feature.
Display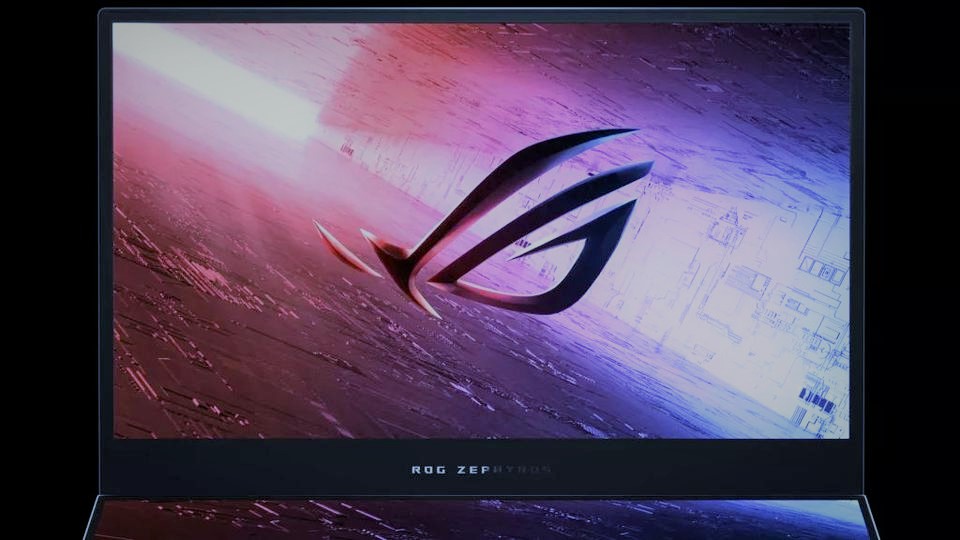 The screen of the Asus ROG Zephyrus Duo 15 deserves a separate section in this review. And that's because it's gorgeous. Not only will it provide you with the best visual experience while you're enjoying your favorite game, it can also be your number one tool for work if your work involves graphic design, video editing or similar.
The 4K screen is 1080p and has a 300Hz refresh rate. Color precision is ensured by 96% AdobeRGB and the 1,040:1 contrast ratio. In addition, there's up to 381 nits of brightness. And the matte finish of the display will be sure to keep glares and reflections to a minimum.
Design

There's no use in sugar coating it: the Asus ROG Zephyrus Duo 15 is huge. It's massive. Yes, the screen is 15 inches, but Asus required extra space to include the ScreenPad Plus without eating away at the keyboard. So we are going to be very honest here and say that this is not the ideal option you would like to take with you to your local café.
But if you disregard the giant bezel, you will notice that in other parts of the laptop Asus has done their best to try and keep it trim. It weighs about 5.3 pounds, and at its thickest it comes to 0.78 inches. And to keep the weight down, the manufacturer opted for magnesium alloy all around.
And like any good gaming laptop, there's per-key, customizable RGB lighting that you have all the freedom to play around with in the Armoury Crate settings. Aside from the odd exception, the keyboard uses pretty much the exact same layout as other Asus laptops. But because it's pushed down to make room for the ScreenPad, it does feel slightly shallow if you compare to other gaming laptops.
The touchpad isn't too great either, which is normal in machines of this type – they have never been the primary focus.
But wait until you get to the port selection. When it comes to connectivity, the Zephyrus has it all: two USB-A ports and a USB-C Thunderbolt 3 port. And in the back there's even an extra USB-A port, alongside an HDMI 2.0 and Ethernet jack. Headphone and mic jacks are also included, of course.
ScreenPad Plus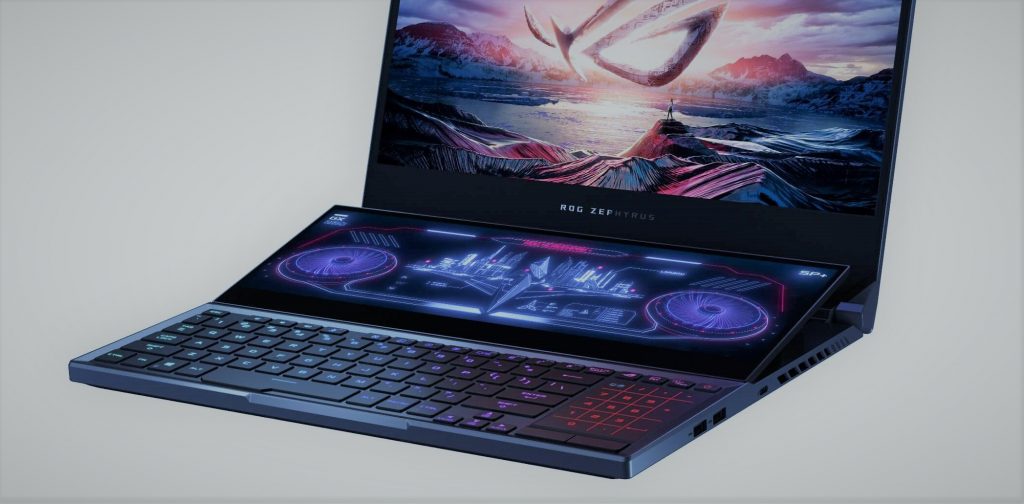 When you open the lid of the Asus ROG Zephyrus Duo 15, the secondary screen is automatically tilted up and it sits just below the primary screen. And while the frame may seem a little flimsy at first, you'll be surprised at actually how sturdy it is once you feel it. It's built into the chassis, so it opens up very smoothly with the rest of the laptop.
And the fact that this screen is titled makes it stand out from other dual screen laptops, because let's be honest here: it's not exactly the best viewing angle when you have your screen flat on the keyboard deck. So comfort trumps practicality to an extent here, and that's great.
But it's very functional, as well. In fact, the manufacturer has included a whole range of different proprietary applications for the ScreenPad Plus, including cool extras like a handwriting app, for example. And with the increased usability that the tilt of the screen adds, you will find yourself turning to the secondary screen more and more often than you would otherwise.
By the by, this is also where you will find the Armoury Crate settings app. And that's important to know because not only will it provide you with a bunch of customization options, but it's also useful in monitoring the system. This is where you can change things like performance modes, as well.
Of course, the ScreenPad Plus isn't perfect and there are some misses that we would have liked to see improved. But that's also more of a Windows issue too at this point, because the OS still isn't quite equipped to adequately support a second touch screen. For example, we wouldn't recommend touching it during gameplay at all, because it tends to freeze your controls.
Gaming performance
Well, we probably don't even have to say at this point but the Zephyrus Duo 15 delivers exquisite gaming performance. Seriously. And it's no wonder, thanks to the silky smooth 300Hz refresh rate.
Of course, the 4K panel does come into a bit of a conflict with that, as the refresh rate on these monitors is locked at 60Hz. So much of the 1080p benefits don't even come into play at all. But that's where G-Sync comes in to save the day. It definitely helps compensate the limited refresh rate of the 4K display.
One thing to be aware of about the G-Sync, though, is that it doesn't come enabled by default once you buy the laptop. You will have to switch that option on in the Armoury Crate settings and then restart your machine for it to be enabled. So to summarize, we certainly wouldn't say that this model laptop is the fastest of its kind for gaming. But it balances perfectly between performance, heat and chassis size and gaming is still highly enjoyable on this machine.
Let us know in the comments what your thoughts on the Asus ROG Zephyrus Duo 15 are. And if there is a laptop out there that you would like us to review, don't hesitate to drop us a line with its make and model down below.