Photoshop is probably the best-known program for photo editing and many businesses and artists rely on it. Still, nowadays, there are plenty of other photo editing applications that can offer similar and, sometimes, even better functionality that can match your needs equally well. Besides, the Photoshop alternatives can be more affordable and more user-friendly in terms of workflow. Not to mention that they can deliver additional features, such as AI-enhanced filters, open-source supportive communities, free online photo editing, etc., that can actually save you time and make the photo editing process like a game.

For these and more reasons, below we have come up with a quick review of some of the best Photoshop alternative apps in 2020 that, in our view, deserve your attention.

Indeed, when it comes to photo editing, there are plenty of options. What we have listed below, however, is a list of apps that we think will do a perfect substitute for the powerful Photoshop. We have picked these apps based on four key criteria: features, ease-of-use, performance and compatibility with different devices.
1.Gimp – a powerful photo editing software based on open source

Pros:
Very customizable interface

Extensive number of features

Compatible with Raw and PSD

Free and open-source based
Cons:
A bit complex interface

More resource-hungry and heavier than Photoshop

No color mode for CMYK (available through add-on)
GIMP is an open source image editing program running on Linux, Windows, and MacOS. The functions and features that rival the Photoshop are plenty in this program. There is also a vast community of developers and artists who have created a variety of plugins to make GIMP very adaptable. In case you need a specific feature, there is surely an add-on that you can find for it.
The main interface is easy to customize – you can use multiple windows and toolbars and layer them as you need. In general, GIMP has a curve of learning as steep as Photoshop, but it's very easy once you have gone through a few tutorials.
When it comes to performance, GIMP seems to be a little less responsive, at least in our experience, and requires more resources than Photoshop. However, we can forgive that considering the fact that GIMP is free and open source.
2. Pixlr X – a capable HTML 5 online photo editor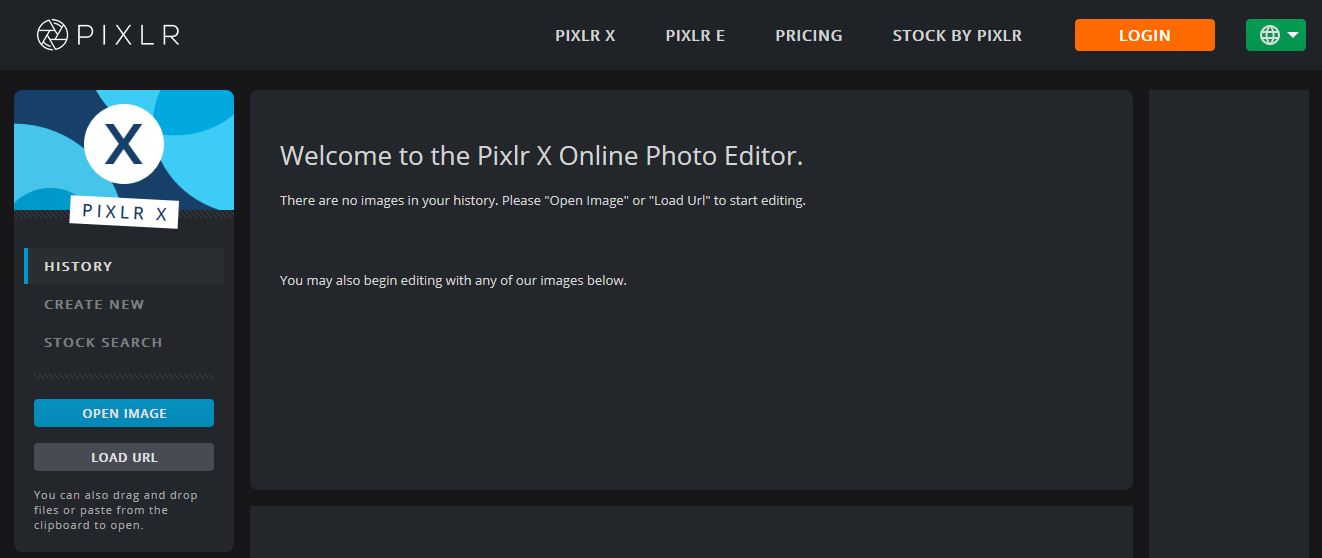 Pros:
Web-app is available on any browser

Good support

Simply designed interface

Very intuitive experience in workflow
Cons:
Features missing (for example custom brushes)

Some tools are still in beta version

Compatibility with different files is restricted (PSD not supported)

No offline usage, needs Internet connectivity to operate
Pixlr X is yet another free alternative to Photoshop which is web-based and operates with HTML 5. Pixlr X's interface is simplified and allows for intuitive workflow – you can drag and drop a picture from your PC or add a URL, then modify it by using familiar one-click filters and sliders.
Being a web app, Pixlr X has surprisingly robust user support. Nevertheless, there are still major features missing. For example, custom brushes are planned for future development but do not exist yet. Ultimately, Pixlr X offers a super clean and intuitive interface for medium photo editing projects.
3. Photos Pos Pro – a feature packed photo editing software that makes for a great Photoshop alternative

Pros:
Very user-friendly and customizable interface

A selection of features and one-click editing tools

Batch editing and scripts support

Compatible with Raw and PSD
Cons:
Advanced interface mode looks congested

Occasional freezes and sluggishness

Limited filter set

Few keyboard shortcuts
Photos Pos Pro is a photo editing software that has a broad range of features, including image editing tools, web design tools and document creation tools.
Professional photographers may criticize it for its lack of deep customization, but, as a matter of fact, Photos Pos Pro is an excellent software that has everything you need to quickly edit images for presentations, marketing campaigns or for your own fun.
The interface allows users to select between Novice or Pro layouts. The Novice layout is more user-friendly but hides some of the power of the program while the Pro layout is rich in features, albeit with a bit more complex look and workflow. If you choose Photos Pos Pro as an alternative to Photoshop, you won't be disappointed. The program offers plenty of filters, masks, scripts, brushes and batch editing that will make any photo editing work a joy.
4. Krita – intuitive, customizable and simple app with excellent tablet support


Pros:
Great tablet drawing support

Quite personalized brush engine

Functions for vector and raster

Supportive community
Cons:
Missing some photo editing features

Several features remain in beta (macro recording)

New features aren't always carefully tested
Krita is free and open-source software supported by a large community of developers and artists that openly share their methods, tips and artwork. If you are searching for an active artistic community to discuss and share art, Krita is a great software where you will surely find buddies.
Putting the community aside, Krita makes for a decent Photoshop alternative that hides incredibly powerful photo editing features. It is very versatile with a selection of brushes, brush customization engine, comic script vector and text capabilities, seamless repeat images and patterns in a wrap-around mode, and a powerful resource manager to import tools.
Krita's interface is intuitive and simple, with few quick-access functions and helpful tool-tips that allow you to quickly find what you need. However, the program is more powerful as a drawing tool than a photo editing tool. There are just a few photo filters, no automatic heal tool, etc. Still, Krita supports PSD files opening and saving. Moreover, the program has excellent tablet support with custom sensitivity settings, making it perfect for artists who want to mix imaged and drawings.
5. Luminar 4 – advanced photo editor with AI-enhanced filters that deliver impressive results

Pros:
Incorporates AI for amazing functionality

Adobe/Apple plugin or a standalone app availability

Sync AI edits across images

Download and upload new skies
Cons:
Raw processing needs improvements

Can be very resource-demanding

No smartphone or web application edition
Luminar 4 is not a free app, but it is a powerful photo editing software which leverages artificial intelligence and machine learning to help artists create awesome images. Luminar 4 is available as a standalone editor or as an Adobe or Apple product plugin, so you can actually use it in a combination with Photoshop.
Some of its impressive features include instant AI sky replacement, AI portrait and skin enhancer, sun rays, advanced AI structure and lighting filters, an intelligent color and texture conservation tool, and great object removal brushes.
Most of the features are available in a sidebar. With one click, you can bring out sliders that open more customization options and effects, as well as advanced settings. The workflow of Luminar 4 is speedy and smooth and makes even a novice feel at home after a few minutes spent with the interface.

Do you know any other photo editing apps that make for a great Photoshop alternative? We would love to know about them in the comments below.