7-day Free Trial w/Credit card, no charge upfront or if you cancel up to 2 days before expiration; Subscription price varies per region w/ auto renewal unless you timely cancel; notification before you are billed; 30-day money-back guarantee; Read full terms and more information about free remover.
*Source of claim SH can remove it.
Big Captcha Here
Big Captcha Here is an application that can be installed inside any browser, and make changes in it. For example, Big Captcha Here may set a new homepage, or replace the toolbar buttons of the browser.

Additionally, this app may try to replace the search engine that your browser uses by default, and it may trigger sudden and unexpected page-redirects to sites that the user didn't want to visit. Usually, the redirects would be to sites that have lots of ads on them, and that try to sell something, and promote some products, and services. Such sites are Hiddengram, Link For Captcha and many more. On the surface, none of this may seem like a huge deal, but once your Chrome, Edge, Firefox, or another browser starts to get flooded by sudden pop-up windows, and unpleasant redirects, and once some of its elements get replaced without your permission, you are likely to get quite frustrated over this. The activities of a hijacker could greatly reduce the quality of your browsing experience, and, what's worse, they may also make your system less safe.
Bigcaptchahere.top
Bigcaptchahere.top is not an application that can be regarded as an actual computer virus. Despite that, Bigcaptchahere.top is still a piece of software that can do things in your system and browser that it hasn't been specifically authorized to.
The changes in the browser we mentioned, and the sudden page redirects are two of the most prominent examples. In addition to that, some users may get lots of pesky browser ads, and banner messages even on sites that don't normally have intrusive advertising materials. As we already mentioned, in addition to being quite irritating, all of this could lead to some safety issues in your computer. This, however, is not to say that you are dealing with a real virus, or some other highly-dangerous malware program the likes of Ransomware, or Trojans. Big Captcha Here is, for the most part, not a harmful software, and it's purpose doesn't have anything to do with damaging your system, corrupting your files, or messing with your private life. Typically, the goal of most hijackers such as this one is to make money through various forms of web advertising, and online promotion. The Pay-Per-Click scheme plays a huge role here, as it is what allows the creators of hijackers like Big Captcha Here to make money from the clicks that users make on the ads displayed by the hijacker.
BigCaptchaHere
Even though BigCaptchaHere isn't intended to directly cause harm to your machine, a hijacker may still indirectly lead to certain security problems, mainly related to the unknown origins of its ads, and redirects. This means it's possible that BigCaptchaHere may sent you to some sketchy phishing page, or a site used to spread Ransomware, Spyware, Trojans, and other threats if you accidentally interact with the wrong ad or banner.
This is why the need to uninstall the hijacker is ever-present, and you shouldn't ignore it. The good news is that the instructions we've prepared for you on this page will help you remove this pesky software piece, and forget that it has ever been in your computer.
SUMMARY:
*Source of claim SH can remove it.
Remove Big Captcha Here Virus
To remove Big Captcha Here, users must first check the extension settings of their browsers and delete from there anything unwanted.
Open your main browser and select its menu.
Go to Extensions/Add-ons and find potentially unwanted items there – anything that looks like it may be related to Big Captcha Here.
Disable and then uninstall the suspicious extensions that you may find in order to remove Big Captcha Here.
Repeat the previous steps with any other browsers that you may have in the system.
Often, the steps we've shown above will be enough to solve the hijacker problem but since it is possible that there are other components that Big Captcha Here has installed on your computer that need to be removed if you are still experiencing the hijacker symptoms after cleaning your browser from unwanted extensions, then you will have to complete the rest of this guide in order to fully eliminate everything linked to the undesirable software.
---
Step 1: Save this page
Since some of the next instructions will require you to quit your browser and restart your computer, it could help if you bookmark this page so that you can find it easier the next time you go into your browser. Alternatively, you can have it open on another device and read the instructions from there while performing them on your PC.
Step 2: Uninstall rogue programs/apps
WARNING! READ CAREFULLY BEFORE PROCEEDING!
*Source of claim SH can remove it.
Go to the Starting Menu, type Programs and Features in it, and select the first result. Look through the list of programs and apps installed on the computer and try to find anything that's been recently installed (around the time of the appearance of the hijacker in your browser) and that seems like it could be responsible for landing you Big Captcha Here.
If you think you know which program or app may be behind this, select its entry from the list and then click on the Uninstall button from the top. Follow whatever uninstallation steps may appear on your screen and make sure that you opt to delete everything related to the unwanted program, including any personalized settings or temporary data related to it. After you are done, restart the PC.
Step 3: Find the hijacker process/processes
Open the Task Manager either by searching for it in the Start Menu or by pressing Ctrl + Shift + Esc from the keyboard. Select Processes in the Task Manager and look for any suspiciously named items that are using up significant amounts of your system's RAM and/or CPU.
If you find anything that has an odd name or a name close to Big Captcha Here as well as anything that doesn't seem to be related to any of your programs or to your OS and yet is using up large portions of your system's resources, look up the name of that process and if you find any information that it may be linked to Big Captcha Here or to another unwanted software, right-click on the process, Open the File Location where its data is stored, and scan each of the files from that folder with the free scanner we've provided below:
Each file will be scanned with up to 64 antivirus programs to ensure maximum accuracy
This scanner is free and will always remain free for our website's users.
This file is not matched with any known malware in the database. You can either do a full real-time scan of the file or skip it to upload a new file. Doing a full scan with 64 antivirus programs can take up to 3-4 minutes per file.

Drag and Drop File Here To Scan


Each file will be scanned with up to 64 antivirus programs to ensure maximum accuracy
This scanner is based on VirusTotal's API. By submitting data to it, you agree to their
Terms of Service
and
Privacy Policy
, and to the sharing of your sample submission with the security community. Please do not submit files with personal information if you do not want them to be shared.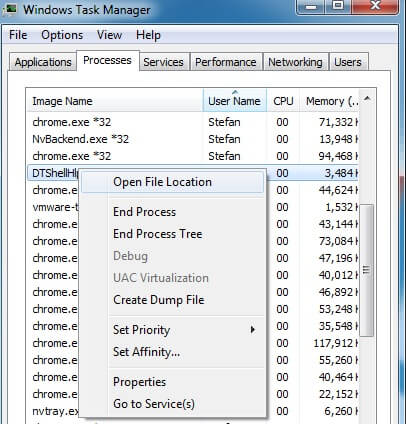 If even a single file is flagged as a threat by the scanner, right-click on the process again, End the Process Tree, then return to the Location Folder, and delete said folder. If you get an error message telling you that some of the files in the folder or the folder itself can't be deleted, delete what you can that's stored inside it and go to the next step. After the whole guide is complete, try to delete the Location Folder again.
Note: Even if scanning the files in the File Location Folder doesn't indicate the presence of malware if your online research gave you enough reason to believe the suspected process is linked to Big Captcha Here, you should still quit it and then delete its File Location Folder.
Step 4 Safe Mode
*Source of claim SH can remove it.
When your PC is in Safe Mode Windows will not allow any non-essential processes to be launched automatically which can help keep Big Captcha Here from running its processes in case you were not able to find and stop them in the previous step. Therefore, we strongly recommend booting your PC into Safe Mode and the link will take you to a guide on how to do that in case you need help with it.
Step 5: Clean the Hosts file
Type (or copy-paste) the following in the Start Menu search box and hit Enter: notepad %windir%/system32/Drivers/etc/hosts.
Check if there are any suspicious IPs in the bottom part of the text in the notepad file that opens. Anything written below "Localhost" counts as suspicious so if there's anything written there, copy it and send it to us in the comments. After we have a look at it, we will be able to determine if it is from the hijacker, and we will tell you if you must delete it from the Hosts file. If that is the case, and you must delete the suspicious lines of text, remember to Save the changes to the Hosts file afterward.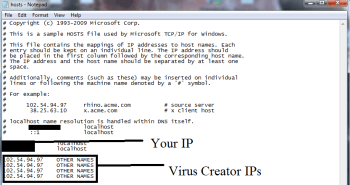 Step 6: Restore DNS settings
Type network connections in the Start Menu, open the first icon from the results and right-click on whichever network you are currently connected to. Open its Properties, select the Internet Protocol Version 4 (TCP/IPv4) item from the list, go to Properties, and enable the Obtain DNS server address automatically option (if it is disabled at the moment). Then proceed to Advanced > DNS tab and delete any entries that you may see below DNS server addresses. Finally, click on the OK button on all windows to save any changes you've just made.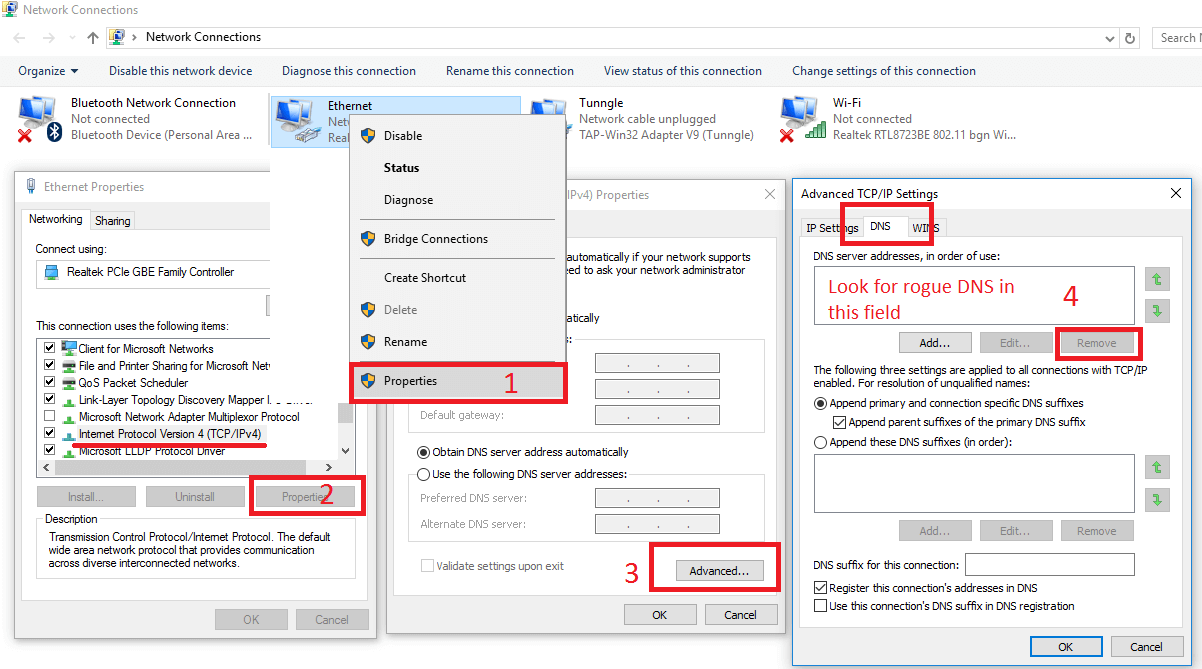 Step 7: Delete unwanted startup items
Press the Windows Key (key with Windows logo) and R and type msconfig in the search field. Select OK to open System Configurations and then go to Startup Look for questionable items with unknown developers in the list and if you think anything there may be linked to Big Captcha Here, uncheck it by removing the tick from its checkbox. Click on OK to apply and save the changes.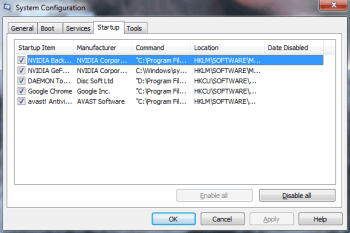 Step 8: Clean the Registry Editor
A word of warning: there are many sensitive and important program and OS settings in the Registry, so you must be very careful when deleting items from it during the current step. We strongly recommend asking us in the comments about anything you are uncertain about before you act so that you don't end up deleting something that you aren't supposed to and thus causing additional issues to your system.
Press Winkey + R again, this time type regedit in the search bar, and click on OK. You will be required to give your permission to the Registry Editor to make system changes so click on Yes. Go to the Edit menu in the Registry Editor, click on Find, type the hijacker name in the search box, and select Find Next to search for related items. If an item does get found, select it and delete it and then repeat the search. Keep deleting the files that get found until there are no more results from the search and then visit the following three directories by expanding the folders from the left:
HKEY_CURRENT_USER/Software/Random Directory.
HKEY_CURRENT_USER/Software/Microsoft/Windows/CurrentVersion/Run
HKEY_CURRENT_USER/Software/Microsoft/Internet Explorer/Main
In those directories, look for sketchy-looking folders with long names that consist of random characters or simply look out of place. If you think an item there looks related to Big Captcha Here, delete it. Again, remember to consult us via the comments section in case you are unsure about a given item (or items).
Step 9: Clean the browsers
At the start of this guide, we gave you generalized steps on how to clean your browsers, and here we will elaborate upon that by giving you specific examples with Chrome, Firefox, and Edge. Also, even if you cleaned your browsers at the start, it's advisable to check them again for good measure.
First, right-click on the icon of your browser, go to Properties > the Shortcut tab, delete anything written after ".exe"" in the Target field, and click on OK. This step applies to all browsers so complete it for all of them.
Chrome instructions
When you start Chrome, open the browser menu indicated by three dots in the top-right, and then click on More Tools. From the More Tools sub-menu, click on Extensions and then find, disable, and remove any extensions that look like they shouldn't be in the browser.
Next, select the menu again, go to Settings > Privacy and security, and click on Clear browsing data. Check everything except Passwords and click on Clear Data – this could take a few minutes so be patient and don't turn off the browser until it is finished.
Firefox instructions
To go to the Firefox Extension settings, select the three parallel lines icon from the top-right and click on Add-ons. On that page, uninstall everything that looks unwanted or that you haven't installed yourself in the browser.
Next, go to Options from the menu, select Privacy & Security, scroll down to find a button labeled Clear Data, and click on it. Put ticks in both boxes and click on Clear.
Edge Instructions
The steps here are basically identical to Chrome: select the icon with three dots, go to Extensions, and find and delete the unwanted items that you may find on the Extensions page of the browser.
Go to the menu again, select Settings and More > Settings and click on Privacy, search, and services. Next, select the Choose what to clear in the bottom right and check all boxes leaving only the Passwords one unchecked. Then click on Clear now to launch the command and don't turn off the browser until it is finished.
What is Big Captcha Here?
Big Captcha Here is a special type of software that gets attached to the main browser on the computer in order to inject it with ads, pop-ups, and page redirects. The goal of Big Captcha Here is to popularize certain sites by boosting their traffic through its advertising activities. Due to their aggressive behavior tendency to uncontrollably spam the users' browsers with intrusive advertising materials, apps like Big Captcha Here are normally referred to as browser hijackers, and though they are not as problematic as Trojans, Spyware, Ransomware, and other such advanced threats, they are still seen as unwanted and experts advise to have them removed at the earliest opportunity. Usually, an app bundle that carries the hijacker as a "bonus" component is what allows software like Big Captcha Here to get installed inside one's computer. Though it's usually possible to refuse to install the added bonus component and only install the main program/app, most users don't pay attention to such options and simply install everything contained in the installation package.
How dangerous is Big Captcha Here?
Big Captcha Here is less dangerous than most other forms of malware, as it is not supposed or able to directly harm your computer. However, there are several factors that may make Big Captcha Here dangerous, such as the fact that its ads may promote unsafe content. It's for this reason that users are strongly discouraged from interacting with any ads, pop-ups, or pages they may get automatically redirected to if there's a hijacker in the browser. It's a common practice for such apps to advertise sites with low reputations and questionable content. Furthermore, it is even possible that hijacker-displayed ads could be linked to sites that spread malware and/or contain phishing elements. It should be said that the potential exposure of your computer to such dangers is not intentional. It is simply a by-product of the attempts of the hijacker's creators to make more money through their app by letting it advertise any type of content, regardless of how safe or reputable it is.
How to remove Big Captcha Here?
To remove Big Captcha Here, first, find and delete the program with which it was bundled and which brought it to you. Then eliminate any leftover data and settings from the system and finally clean each browser that's on the computer (including ones that seem unaffected). The exact steps that must be completed are shown below: 1. Access the Control Panel, open Uninstall a Program, seek out the rogue program that infected you with Big Captcha Here, and eliminate it. 2. Go to the Task Manager program and use its Processes tab to find any processes related to Big Captcha Here that may still be running. If such processes are found, stop them and delete their location folders. 3. Reverse any changes that Big Captcha Here may have made to the following system settings: The DNS settings of your preferred network The Hosts file of your PC The list of Startup items The System Registry 4. Finally, visit every browser on the computer, delete any rogue extensions that may be in it, and then delete the browsing data and history.