BullGuard Internet Security
BullGuard's intermediate package combines antivirus with firewall, backup, parental controls, PC cleanup and Game Booster.

Pros:
Reasonably priced package

Loads of additional tools

Customizable scan types

Impressive Game Booster performance
Cons:
Most features offer basic functionality

Interface is cluttered
BullGuard is a security firm that has been developing computer antivirus applications since 2002. Its basic product – BullGuard Antivirus – is a Windows based virus-protection software with features such as real-time protection, malicious URL filtering, and even a performance-booster for games and other demanding applications. The company also offers a next-level package that unlocks even more features, named BullGuard Internet Security and a high-end package, named BullGuard Premium Protection, which includes advanced security features such as home network scanner and comprehensive identity protection service.
In this post, we are going to make a full review of BullGuard's intermediate security software package – BullGuard Internet Security 2020. This package is an offering for those users, who want to make it to the next level of online security and upgrade from BullGuard Antivirus to a security software with more capabilities than the ones offered in the basic package.
BullGuard Internet Security comes with a decent amount of features for malware protection, parental controls, firewall, cloud-integrated backup and some helpful tools for basic computer optimization. The program has build-ups for Windows, Android and Mac, thus, it will protect any device that you have. In the next lines, we will discuss all the main characteristics of this package and will hopefully help you decide if this is the right software for your online security needs.
All BullGuard 2020 packages include new machine learning technology that, according to the developing company, helps to detect zero-day threats without any significant computer slowdowns and even without the need of an internet connection.
Another major addition to BullGuard Internet Security 2020 is the new Secure Browser feature which uses several layers of protection to keep you safe online. It blocks malicious links, reviews sites certificates and encrypts your web browsing history to keep it safe from prying eyes.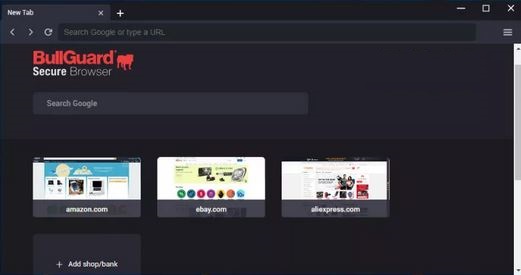 Users may also activate the BullGuard's VPN from the program's interface as soon as they get their license for usage. In comparison to other security products such as Bitdefender, Kaspersky and others, BullGuard doesn't provide a limited free VPN version and one must be an existing BullGuard customer to access its 7-day trial.
The package currently sells at $60 for a one-year license that protects up to three devices. This is a very reasonably priced package that will be enough to cover up your laptop, your smartphone and your tablet against a variety of online hazards.
A 30 day trail helps you to figure out if this is the right antivirus for you. In case you decide to cancel the purchase for whatever reason, you are protected by a 30 day money-back guarantee.
Setup and configuration
BullGuard Internet Security 2020 has a trail version which can be downloaded from the official website within seconds. Before you activate it, however, you will be required to provide your email and create an account which is a normal practice among the antivirus software providers.
The registration process is simple and quick and once you are done with it, you are ready to run the setup package. A long list of components is what is going to be installed by BullGuard Internet Security on your computer.
The program adds several background processes and helper components which actually are aimed at helping with its resistance against malware that tries to deactivate it. Our attempts to erase core BullGuard files, to close processes, or to stop related services were unsuccessful which speaks good for the program's reliability when faced with advanced malware infections that breach protection by trying to block security features.
Another good news is that, the installed components and processes don't eat too much of RAM or other system resources, thus, there should be no noticeable impacts on the performance of your device.
Interface
The main interface of BullGuard Internet Security 2020 looks a bit cumbersome since it is loaded with tiles displaying its varied features: Anti-virus, Firewall, Vulnerabilities, Back-up, Game Booster, PC Tune Up, Parental Controls, and Secure Browser.
Every tile has a drop-down list which helps users to quickly access functions such as Quick Scan, Vulnerability checks or execute certain important tasks from the main screen. Nonetheless, this seems like a waste of screen space since, in our view, features such as the firewall, vulnerability scanner, PC Tune Up tool and the Game Booster can be neatly organized in a menu or a separate tab while the main screen should be focused on functions that are most often performed such as virus scans and protection status.
Scanning
Despite its rather congested main window, however, BullGuard Internet Security 2020 is easy to use. You can run a system scan simply by clicking the Antivirus tile and choose the options from the drop-down menu – Quick Scan, Full Scan, Custom Scan, Quarantine, Settings.
The "Settings" option contains an "Antivirus Profiles" feature which allows for more precise scanning through adding further scan types. You could use this to create custom scans, in which you can manually control which areas of the system should be scanned, the files to check, the way the scan is performed and what the program does if threats are detected.
The Antivirus Profiles feature is very useful when you want to focus on checking for malware a specific section of your computer or concrete folders and documents that otherwise may not be scanned. Besides, this allows for faster detection of threats, faster scans and lower impact on the system's resources.
BullGuard Internet Security 2020 comes with real-time protection that does not disappoint. The program scans and detects dangerous files and downloads in real time and automatically blocks them.
Nonetheless, in e-mail scanning there is one drawback. BullGuard Internet Security does not scan incoming mails on a network level. Instead it uses Outlook and TunderBirds email client add-ins. If you use any other email client or the add-in doesn't work or gets disabled, your emails are not going to be checked. There would be no concern if you read your emails in a browser, though because BullGuard's real-time protection will identify and prevent harmful attachments in real time the moment they are saved or opened.
Scanning times are also significantly short and the scanning process doesn't slow down the device's performance.
BullGuard Internet Security 2020 supports a quick vulnerability scan which checks your Wi-Fi security, your auto-run settings for mobile devices, your Windows Update status and your driver's digital signature.
Competitors like Kaspersky and Avast do cover up some more areas with their vulnerabilities scans but even this basic system checkup is good enough if you don't have a similar tool which can keep an eye on your computer's weaknesses.
Firewall protection
BullGuard Internet Security 2020 comes with firewall protection that blocks attacks aimed to the network and sort of controls access to your internet connection. The firewall automatically allows known safe processes to get online but it asks the user about anything it doesn't recognize.
In a way, this is a concern because, sometimes, even professionals have trouble in deciding which processes are legitimate and safe. At the same time, if users are constantly asked to allow different processes, at some point they may start clicking the "okay" button without actually paying attention.
Therefore, more "intelligent" firewalls which make these decisions themselves are our preferable choice when it comes to this type of protection. Moreover, competitors like Bitdefender and Kaspersky have some offerings which perform well.
Beyond that, the BullGuard's firewall does a good job and stops certain assaults and provides you with a ton of options, should you need them.
Backup
The cloud-integrated backup feature of BullGuard Internet Security is an application which can be very useful. It allow you to pick anything that you want from your computer and back it up in Dropbox, Google Drive, OneDrive or even in your own external drive.
You can schedule backups to run automatically, compress and encrypt data. The backup feature works well enough for basic backup activities and is easy to access from the same window where the rest of the antivirus's features are found. However, it still cannot match the best of the freeware competitors.
Parental Control
The Parental Control module of BullGuard Internet Security 2020 offers a variety of options and technologies to protect your children online.
You can filter websites by your choice of category – adult, social media, chat, gambling, etc. You may also build personalized whitelists and blacklists of sites that can (or should never) be accessed.
You can block specific apps from running with Application control. The module provides a list of chat applications by default.
A Privacy control feature can prohibit your child from disclosing sensitive personal data (names, contact numbers , credit card information, addresses, etc.)
A scheduler can control your child's access to the Internet or the computer at a certain time of the day, or for a certain period. The preferred settings can be applied on the Windows user account of your kid.
BullGuard's Mobile Security has a feature that has the ability to view images received or downloaded on the phone of your child and a device-tracking option. However, it does not synchronize with the main Parental Control service. So, you can't set rules that apply to all the devices of your child.
The Parental Control module, similar to the BullGuard's Firewall and the Backup modules, covers just the basics and can handle certain helpful functions, but the more demanding users would certainly want something more.
Secure Browser
BullGuard Internet Protection 2020 now includes Secure Browser – a customized variant of Chromium that the developers claims it enables you to access the Internet safely and to make safer electronic payments.
The Secure Browser does not load cookies or extensions, which may reduce the likelihood of data leakage. It makes DNS requests using Cloudflare's DNS over HTTPS. This prevents MITM assaults, in which, for example, a fake wifi hotspot might lead you to a malicious location. Thanks to the added encryption, this allows tracking your surfing impossible for snoopers.
The Secure Browser forces HTTPS links and warns users about mixed content (HTTP content on the HTTPS page).
Much like the above-mentioned modules, however, Secure Browser covers just the basics of secure web browsing. It does nothing to prevent malware from taking screenshots, it does not include a password manager or a virtual keyboard. However, it is better than not having any protection of your browsing and, hopefully, more features of it will appear with time.
Game Booster
The Game Booster from BullGuard is a fantastic feature that acknowledges the operation and output of games or other full-screen programs while offering a higher share of the system's resources for them. This has nothing to do with antivirus or safety, and is rather aimed at addressing the idea that antivirus installation does not necessarily slow down your PC.
The Game Booster operates by swapping user processes to use the same Processor cores to minimize their system requirements and maximize the share that is available to your game.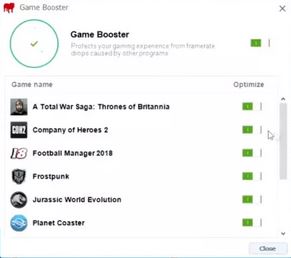 This is a good concept and it has showed really encouraging outcomes from independent research. ChillBlast, gaming rig maker, has checked BullGuard Internet Security's game-related efficiency against Kaspersky, AVG, Norton, McAfee and Windows Defender. BullGuard not only performed best, but also was even quicker than an antivirus-free system.
PC Tune Up
BullGuard Internet Security 2020 includes a range of tools for cleaning and repairing your computer.
The Optimize function will clear the browser cache, delete obsolete file, de-frag the registry, and delete junk windows or third-party data. The function is simple to use, but a freeware program such as the CCleaner provides more features and flexibility while the build-in Optimizer of BullGuard is again very basic, much like the rest of the added features.
The Cleanup Helper can also remove junk files, although it is less successful in finding them compared to the Optimize module. It has, however, a few other handy features. The Drive maps visually highlights the folders that take up the most space on your machine. The Large Files section lists your largest files.
A Duplicate File Finder searches for unwanted folder copies on your device. This is important, however, basic and with minimal options. For example, you cannot search only a single folder tree; each time the module scans the entire system and this takes time.
A Boot Manager monitors and displays the load times for your startup programs. This features gives you more details than the Windows 10 Task Manager's Startup Impact feature and allows you detect sluggish startup apps.
There is a quick way to get rid of the junk without tinkering with too many settings – simply tell the PC Tune Up the type of junk you want to delete (cache, Temp folder contents, crash dump files and more) and it will instantly remove it.
Of course, this won't make your computer like brand new and, certainly, there are tools that offer much more features and advanced options. The various speed-up modules of BullGuard, however, are simple to use and can help with the basic maintenance of your computer.
Protection
BullGuard Internet Security is currently included in the AV-Test antivirus reports for Windows and these reports give us some helpful insights about the program's performance in terms on protection.
The findings of the first complete study on the latest machine-learning technology, conducted in November-December 2019, saw the BullGuard 100% block of popular malware. The program also performed by blocking 99.4% of the zero-day threats. This is a superior performance and has pushed BullGuard up in the results table sufficiently to win one of the Top Product awards of AV-Test.
Several competitors – Avast, Bitdefender, Kaspersky, and Windows Defender, among others – have stopped 100 percent of the attacks. Yet BullGuard Interent Security's results look promising so we are eager to see how it will perform over the next few months.
Final words
BullGuard Internet Security 2020 is a reasonably priced antivirus package that comes with a set of handful basic features for antivirus protection and system maintenance. The program offers several system scanning options and allows for precision and manual selection of the directories that need a scan. BullGuard Internet Security 2020 offers real-time virus protection and newly released machine-learning technology which shows promising results in virus detection tests.