What is Google Chrome Android Virus doing in your system and how dangerous can it be?
This browser hijacker infiltrates the system silently. However, the signs of infection are obvious. The biggest problem is commonly related to the unfamiliar search engine that is imposed to your default browser and has the ability to modify the search results and prompt the users to click on some unknown sites and tabs. These include promotional content and sponsored links that increase traffic to specific web pages and generate profits for the hijacker creators thanks to paid clicks. In addition to the modifications of the default browsers, the users may often encounter increased generation of misleading advertisements, banners, links, pop-ups and general inability to browse the web normally.
If you are an attentive internet user you may probably question such activity and would like to know how dangerous it could be and could it expose you to some potential threats. The truth is that programs like Google Chrome Android Virus are generally not harmful and are not considered as a serious virus or some other form of malware, similar to the Trojans and the Ransomware. The browser hijackers' functionality is mainly related to the aggressive online advertising methods and has no aim to corrupt your system or cause you damage. However, the intrusive way this software may take over your browser and make it serve as an ads-displaying platform may surely cause some inconvenience and irritation. Thanks to its redirection function, Google Chrome Android Virus, for example, may eventually expose you to some non-trusted or compromised web content.
Sometimes, some of the pages you land on may lead to other sites that may potentially contain some destructive malware and viruses. Even more, hijackers may gather some information related to your web searches, visited sites and location. This data may fall into the hands of third parties that provide ads for you. They may analyze the information and generate new ads specifically created for the relevant users, which are responding to their personal preferences and interests. So, depending on the number of clicks on these pay-per-view ads, the authors are collecting a lot of revenue. If you do not like the idea of being tracked down, you may want to uninstall Google Chrome Android Virus. Also, removing it is necessary if you want to regain control of your browser. The fastest way to do this is by using the instructions in our removal guide below.
Google Chrome Virus Android Removal
If you have an Android virus, continue with the guide below.
If you have an iPhone virus, please use our iPhone Virus Removal guide.
If you have a Mac virus, please use our How to remove Ads on Mac guide.
If you have a Windows virus, please use our Windows Virus Removal guide.

Whether you use the default "Internet" App for browsing or a different browser like Chrome you need to go to:
Settings/More/Application Manager/All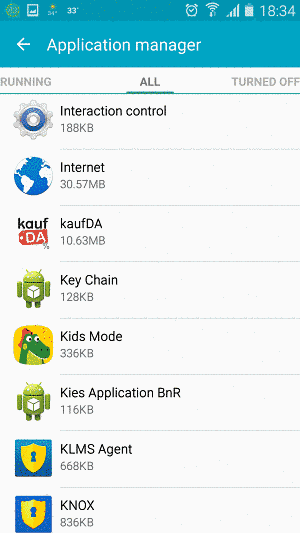 Locate the Browser/App in question and tap on it.

Now the method is effectively the same for users using both "Internet" and Chrome/Other Browsers, yet for more clarity we have provided instructions for both:
For "Internet" Browser Users:
Tap the Force Stop button.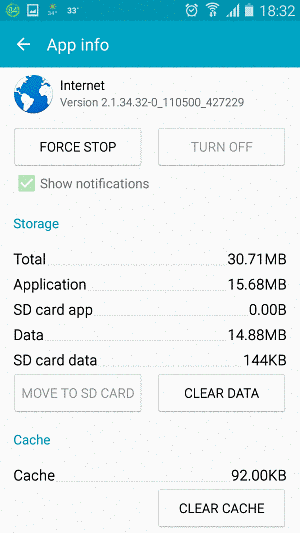 Now tap the Clear Data and Clear Cache Buttons.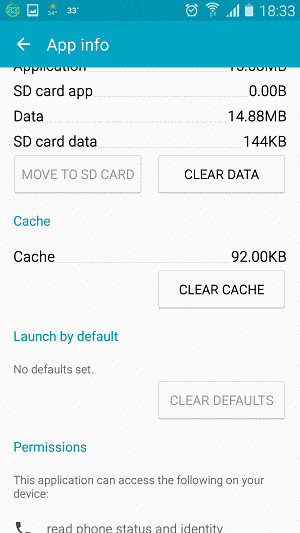 For Google Chrome Users:
Click on Force Stop.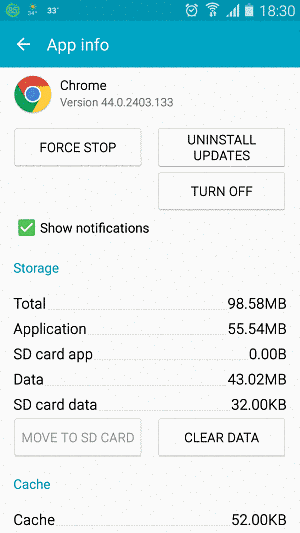 Then click on Clear Data and Clear Cache.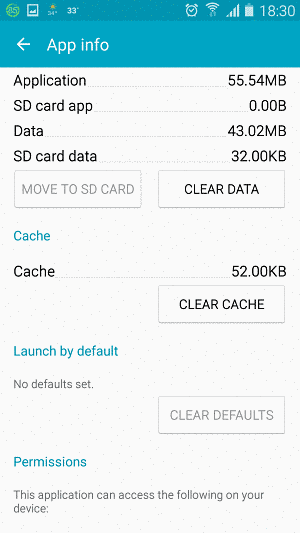 Restart your Browser. It might be a good idea to Reboot your Android device, just in case.

If you are still seeing Ads in your browser, it is likely they are generated by the websites you visit and there is nothing you can do about it.
However, if you are seeing Adverts outside of your internet browser, then one of your installed Apps contains the problematic Adware. In this case you need to take a look at this guide.

Did we help you? Please, consider helping us by spreading the word!