Chromium OS
Chromium OS is an operating system developed by Google and used on Google's Chromebook laptops. The interface of this OS is based on that of the Google Chrome browser. A notable characteristic of this OS is that it is lightweight, making it suitable for less powerful machines.
Normally, Chromium OS is only used on Chromebooks but if you own a Windows laptop and want to try Chromium OS without necessarily buying a Chromebook, there might be a way to do that.
ChromeX from the Exton (Swedish Linux Distribution Society) has compiled a Chromium OS version that can be installed and run on a Windows machine.
In the following guide, we will explain to you exactly how you can install Chromium OS on your Windows computer. Keep in mind, though, that there will be certain functions and features that you won't have access to this in this way. In order to get them, you'd need a Chromebook. Still, this version of Chromium OS is still perfectly functional and many of you may actually find it quite enjoyable, so let's get started!
Part I: Creating a bootable USB drive
To install Chromium OS on your computer/laptop, you will first need to create a bootable USB drive to use for the installation:
First, go to

this link

and download the .7zip file that contains the Chromium OS installation file.

Unzip the file and then use an app/tool that can create bootable USB drives (

Rufus

is a great free option that

'

s really easy to use). Of course, you will also need an empty flash memory stick with enough storage space on it.

Connect the flash drive and then open Rufus (or whatever other program you

'

d prefer to use). If you are using Rufus, make sure, under

Device

, the name of the device is that of the empty USB memory stick you want to make bootable. Then, ensure that the

Partition scheme and target system type

is set to

MBR partition scheme for BIOS or UEFI

, the file system is set to

Fat32

, and that the box next to

Create a bootable disk using

is checked. Also, set the option after

Create bootable disk using

to

ISO image.



Next, click on the disk icon next to

ISO image

, navigate to the

Chromium OS

installation file, select the file and click on

Open

.

Finally, click on the

Start

button to initiate the process. Don

'

t change the option from

Write in ISO image mode

to the other one, instead, simply click on

OK

and then click on

OK again when warned that all previous files on the USB will be destroyed.



Wait for the process to finish and proceed with the next part.
Part II: Disabling UEFI Secure Boot
Before you attempt to install Chromium OS on your computer, you will first need to Disable the UEFI Secure Boot feature, or else you won't be allowed to install the new operating system. You can do that by following the next steps:
Open your

Start Menu

and go to

Advanced Startup

.

Click on

Restart Now

and wait for the computer to restart.

You will be now greeted by a blue screen with several options on it. Use your arrow keys to navigate to the option labeled

Troubleshoot and hit enter to proceed.



Next, choose the

UEFI Firmware option.



On the next screen, select the

Restart option and wait for your computer to restart again.



Once the computer starts back on, use your

right arrow key

to highlight and open the

Security

section.

Use the

down arrow key

to highlight the

Set Supervisor Password

option and hit

Enter.



Type in a password that

'

s easy to remember and, preferably, write down the password on a piece of paper, just in case. It is

very important to remember this password!

After you type the password, hit

Enter

to save it.

Now, again using your arrow keys, navigate to the

Boot

section at the top of the screen.

Highlight/select the

Secure Boot

option and hit

Enter

again.

Now, using your

down arrow key

, change the setting for

Secure Boot

from

enabled

to

disabled

and press

Enter one last time.



Press the

F10 key

to save the changes you

'

ve just made and exit this menu.

Wait for your computer to boot into Windows.
Part III: Installing Chromium OS
Finally, you are all set to start the installation of Chromium OS:
Connect your bootable USB to the computer.

Open the

Start Menu

and click on the

Power

button to reveal the different shutdown options.

Hold down the

Shift

key and click on

Restart

.

When your computer restarts and you are greeted by the

Choose an option

screen, select the

Use a device

option.

Choose the Chromium OS USB as the device you want to boot from and proceed.

Your computer will restart and will now boot from the USB. All that

'

s left to do is connect to your Wi-Fi network and sign in with your Google account. After that, you will have to configure your preferences and wait for the installation to complete. Simply follow the prompts and you should soon be able to use your Windows computer with Chromium running as its ope

rating system.
A brief overview of Chromium OS
This OS is vastly different from other operating systems you may be used to working with. It has a very minimalistic interface and the range of options and features offered by Chromium OS is very limited when compared to Windows or MacOS. Initially, you will only see four icons – Chromium (your web browser), Web Store, a single folder named "Files", and an icon for your Camera. To access the computer's settings, you must click on the clock located in the bottom-left corner.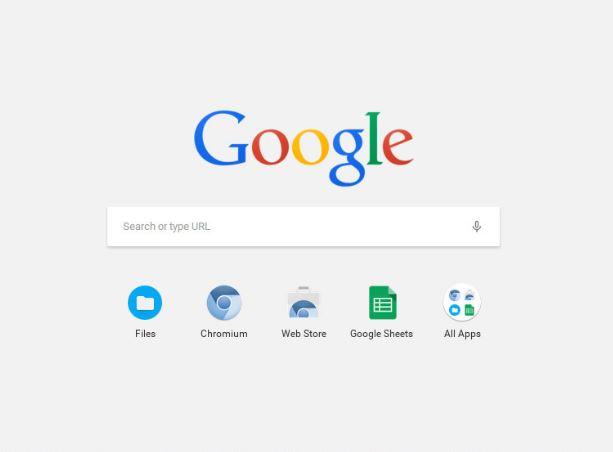 Obviously, the majority of your work will be done through the Chromium browser which is, after all, the whole concept of this OS. To some, this might seem very alien and, because of that, unappealing. Of course, if you are used to having all kinds of features, functions, programs, and options to tinker with, Chromium OS may seem like a step back. However, there's another side to all this and that is the performance of computers running on Chromium.
There's no denying that, nowadays, most computer users (save for PC gamers) spend the majority of their "computer" time using their browser. Browsers are no longer simply tools to surf the Internet – they can now open PDF files, edit documents and images, and much more. Chromium OS takes this tendency and uses it as the basis for its interface. However, since this OS is stripped of other processes, programs, apps, and functions that may take up RAM and CPU, all of those resources could be focused on the browser, resulting in a particularly lightweight OS that allows you for better performance even if your computer isn't particularly powerful.
The one thing we didn't enjoy about Chromium is that it does indeed lack quite a lot of the features that Chrome OS (the original OS that Chromebooks come with) has. However, if you don't particularly care about having lots of features and simply want to get good performance from your computer while using its browser, you may want to at least give a try to Chromium OS.