The Cloudstar Ransomware Attack
Cloudstar, a popular cloud-service provider operating in the USA and providing technology for hundreds of title companies and lenders, has become a victim of a sophisticated ransomware attack. According to the company's official statement published on their website, the incident happened on Friday, 16th of July and has affected their systems which are inaccessible at the time of this writing.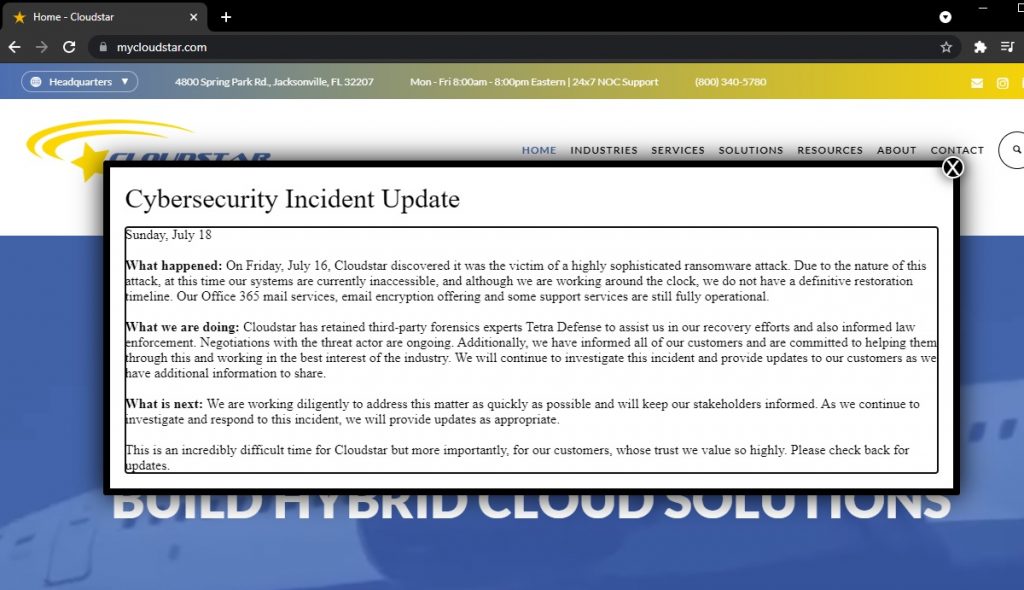 Presently, only the Office 365 mail services, the email encryption offering and some of the support services are fully operational. As per the available information, the cloud provider is working hard to restore access to the rest of the services as soon as possible, but no definitive restoration timeline has been announced.
So far, Cloudstar has notified the law enforcement about the attack and has hired third-party forensics experts to assist with the recovery. As per their announcement, there have been ongoing negotiations with the attackers.
The cloud service provider has already notified all customers about the incident and will provide more details and updates about the investigation of the incident in the following days.
As a result of the attack, Cloudstar's systems are presently unavailable. The company operates as a private entity and keeps five data centers across the United States, which provide cloud-based services and 24/7 support to title professionals.
Partners of the company are commenting that the ransomware attack may cause widespread business disruption if customers are unable to close loans starting from this Monday.
Some professionals have shared their concerns that there could be a national emergency in the real estate/lending/title sector if the cloud-hosting company is unable to fix their ransomware problem by Monday because transactions in some of the industries may be blocked due to the attack.
These comments lead to another suggestion where title agencies may have to consider dual cloud hosting if they want to avoid industry-wide shutdowns caused by ransomware attacks in the future.
According to details posted by users on online security forums, Cloudstar's systems have been down since 2am on Friday. Some people suspect that the incident could possibly affect the settlement of real estate transactions, which may be delayed for those people affected/locked out. On the other hand, Cloudstar hosts only approximately 400 title companies throughout the country, which is not such a massive portion of the overall title industry.
Cloudstar was initially founded with the idea to offer secure infrastructure, encryption, and cloud solutions to regulated industries globally. However, with the increase of ransomware attacks in the recent years, such companies become a very appealing target and successful attacks on them can easily lead to shutdowns of a number of industries at once.