This article was created to help users with the CrushArcade Virus removal from Chrome, Firefox, Internet Explorer and Safari, as well as their PC.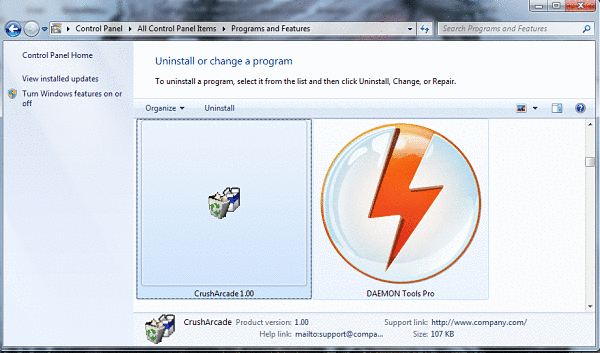 Today's article is about a suspicious piece of software referred to as CrushArcade Virus. If CrushArcade Virus is residing in your computer then you should be aware that you are likely dealing with a mildly dangerous, but extremely annoying virus of the Adware variety. As you have probably already noticed it will create all kinds of pop-ups, banners and maybe even whole pages that open by themselves whenever you load a page of your own or click on a link. And all of these will contain some form of advertisements (Ads) and the Ads will be big enough to be impossible to ignore. These Ads will be annoying to deal with, but at least they are not dangerous on their on, but merely annoying. What you should be worried about is what's hiding behind the facade of those shiny Ads.
Don't click on those Ads – nothing useful will ever come out of them
The whole purpose of the Ads is to be annoying enough so that they eventually get your attention. Do not allow them to fool you!
The hyperlinks that operate behind the Ads will often to lead to very dangerous sites – frauds, fakes and maybe even virus spreading websites. They will try to get you spend money on different things – often with huge discounts. Remember that these sites can only offer those discounts because they are not actually selling anything, but just trying a money scam of some sort!
Worse CrushArcade Virus might also try to trick you into installing a virus on it's own. Usually this virus is port of some free software offer that is supposed to fix a problem with your computer, optimize it or anything else of the sort. It will be accompanied by a set of fake messages that inform you of said problem being found on your computer. These messages can range from missing plug-ins, codecs, video players, virus infestations, problems with the registry and much more.
WE strongly advise you NOT to install anything offered to you by CrushArcade Virus. Also always be on the lookout for executable files (.exe) as they are the types of files that commonly carry viruses. Never download .exe files from untrusted locations like torrent and storage sites from the internet. The best place to get a program is always the official site of the developer.
SUMMARY:
CrushArcade Virus Removal
Search Marquis is a high-profile hijacker – you might want to see if you're not infected with it as well.
You can find the removal guide here.