Sometimes, you not only need a desktop computer but also a laptop and a TV and all of this at the same time. However, what If you don't have the budget to afford all of these devices separately. Well, there may be an option for you that could satisfy most of your needs and, potentially, even go beyond that.
Enter Dell Inspiron 27 7790. This all-in-one Dell desktop is a perfect example of a PC that doubles as a TV while being quite portable due to its slim and light chassis. If, for instance, you are in a student living in a dorm or a small apartment, you may not have the space for a whole desktop PC cabinet plus a monitor and speakers, then you might like what Dell Inspiron 27 7790 has to offer because it combines all of those things in a single TV-like chassis. Its 27-inch screen is big enough but the lack of a separate PC cabinet means you won't need to worry about freeing up more space in your room. Also, the loud and crisp built-in speaker bar further improves the compactness of this machine.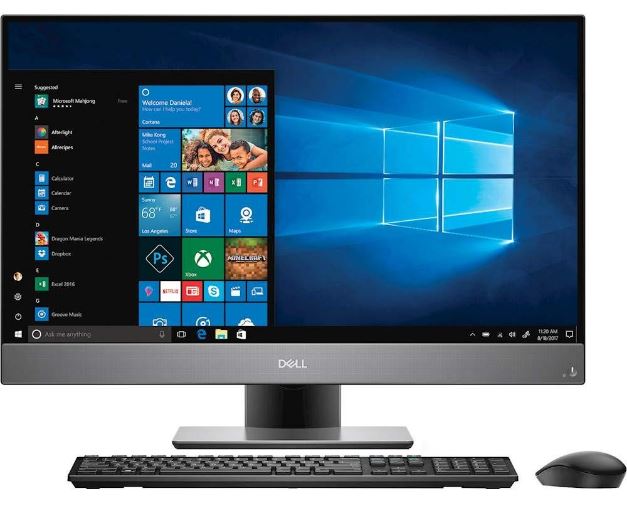 It's no secret, however, that when you try to combine many things in one and keep the price affordable, compromises must be made and the end-product oftentimes turns out to be a mixed bag. Therefore, it is necessary to take a closer look at the capabilities and features of this all-in-one desktop to determine how good it really is.
Design
Starting with the exterior of the Dell Inspiron 27 7790, it has a slick and pleasant look with very narrow top and side bezels. It is also a really thin computer, with a thickness of just over an inch. This also contributes to its lightness (14.79 lbs or 6.71 kg) relative to its screen width.
The speaker bar is, as already pointed out, another nice touch – it is loud and crisp enough to make it unnecessary for you to get external speakers unless you really want to have a loud sound system with sufficient bass. In all other cases, the speaker bar should do just fine.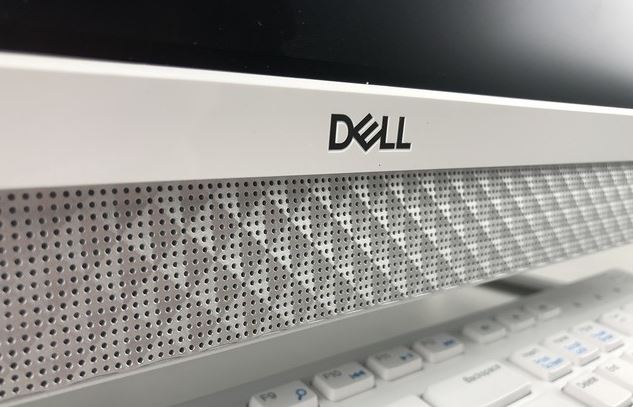 One little nitpick we had, however, was the design of the stand. The stand consists of bent metal tubes that are somewhat in a contrast with the otherwise slick look of the machine. Also, the stand itself isn't particularly ergonomic. You can tilt the screen forward or backward a bit but that's about it – there's not an option to turn it sideways relative to the stand and the stand itself cannot be lowered or heightened. Also, there isn't a bracket at the back of the screen to allow you to mount the Inspiron on a wall and free up even more space.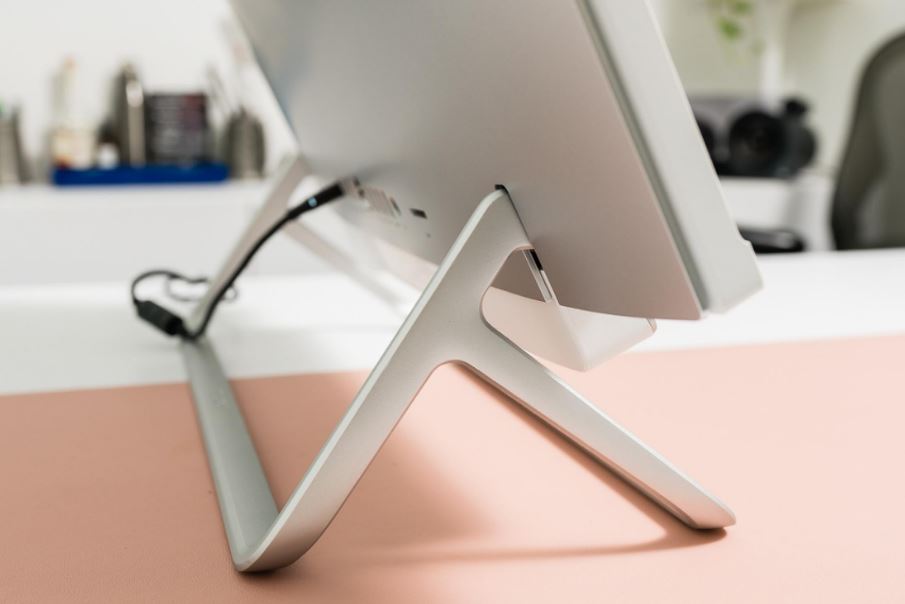 Nevertheless, if you ignore these minor drawbacks, the design of the machine definitely does it justice and should make the Inspiron fit nicely in smaller apartments and rooms where space is limited.
Functionality
The main selling point of all-in-ones is the many ways in which they can be used and this is where the Dell Inspiron 27 7790 really shines. As we stated at the start of this article, this desktop computers doubles as a nearly full-fledged TV while retaining quite a lot of portability so that you can easily move and relocate it around your house/apartment.
One of the best features of the Inspiron is its HDMI port, which basically allows you to quickly turn it from a desktop computer to gaming a screen for your console. The input source controls are easily accessible through a button located at the bottom-right edge of the screen allowing you to quickly switch from HDMI mode to regular PC mode. Needless to say, the HDMI port can also be used to connect laptops or even other desktop computers and use the Inspiron as a bigger screen for them if need be. If you want, you can even use the HDMI port to connect a projector or HDTV. All in all, you should see the Inspiron not only as a desktop computer but also as a TV and as a gaming monitor.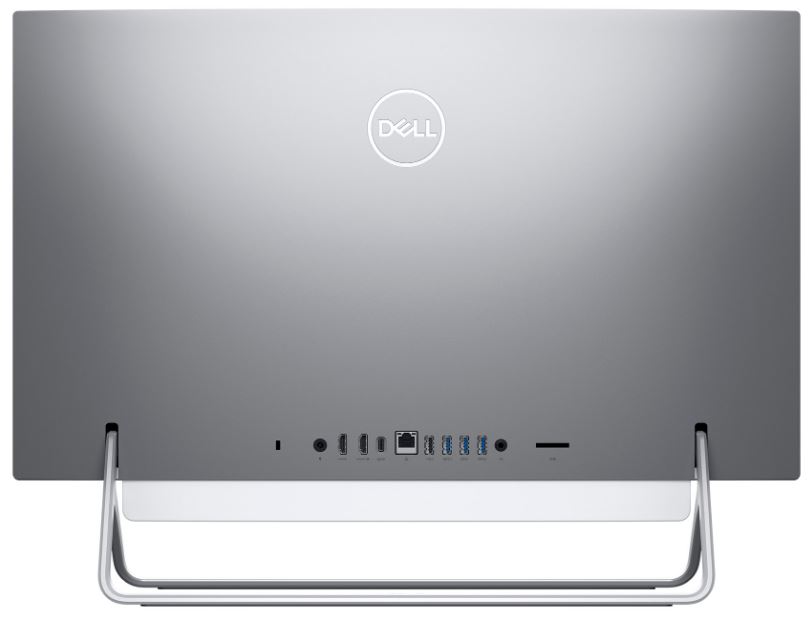 Here, however, we need to mention some of the limitations of the functionality of this machine. While it can certainly double as a TV, it lacks a couple of features we would have really liked to be included in.
First is the lack of volume control buttons which basically means that you cannot directly control the volume of the Inspiron while it is using its HDMI port as input. To change the volume levels, you'd first have to switch to PC mode and use the Windows interface to do that.
The second thing that we would have liked to see come with the Inspiron is some kind of a remote control. That would have really made it feel like a proper TV and not only as a substitute.
Thirdly, there is no coaxial input jack so you won't be able to connect to a cable box like you could on an actual TV. I, personally, don't have an issue with this since cable TV has not been something I use for a long time and my guess is the same can be said for most people who might consider betting the Dell Inspiron 27 7790.
All in all, if you can overlook these drawbacks of the Inspiron, it should serve you well as a desktop computer that doubles as a serviceable TV and gaming monitor.
Specs and Performance
Even though this is an all-in-one machine, we must not forget that, at its core, it is still a desktop computer and we need to evaluate it as such. Now, before I go any further, I need to say that, as far as its performance as a PC goes, this is a perfectly functional machine. However, there are certain aspects of it that I didn't like and feel they should be addressed.
First, let's talk about its processing unit. All configurations of this PC come with a 10th gen CPU, which is nice, but upon closer inspection, one starts to notice some problems. There are two CPU options here: Intel Core i5-10210U for all configurations except for the most expensive one which uses an Intel Core i7-10510U unit. Both processors have four cores and eight threads and they aren't bad…for a laptop. This, however, is not a laptop and you'd expect a bit more from a desktop computer, even if it is an all-in-one model. However, it must be said that a lighter processor that would be more at home inside the chassis of a laptop is somewhat of a necessity for such a small and slim all-in-one desktop PC. Sacrifices must be made to keep the machine small and compact and this is one such sacrifice.
Another one is the underwhelming GeForce MX110 GPU – it is an integrated/shared GPU primarily placed inside laptops and as such, it comes with quite a few limitations. It is not a terrible card but it is certainly not what one would expect from a desktop (they could have at least equipped the Inspiron with a dedicated graphics card). Still, it can run some newer games on low settings and older ones on medium or high settings, but if you want a gaming-oriented machine, the Dell Inspiron 27 7790 is not the best PC for the task. It has been designed, both externally and internally, with other ideas in mind and it is simply not optimized for serious gaming. For moderate/recreational gamers, however, it should be able to get the job done for the most part.
RAM is obviously the next important specification we need to cover and in the case of Dell Inspiron 27 7790, you'd get 8GB of DDR4 RAM. 8GB may not be impressive for a 2020 computer but it's still serviceable, considering the RAM technology is DDR4 which is preferred if you are going for performance. Only one of the four available configurations of the Inspiron can be equipped with more RAM – the most expensive Inspiron configuration comes with 12GB of memory. If you want any more than that, you should probably look elsewhere. Still, considering that the processor and the GPU aren't that great either, getting more RAM would be pointless as you won't be able to fully utilize it.
Lastly, we must mention a few words about the storage space of the Dell Inspiron 27 7790. Here, we were pleasantly surprised – even the cheapest configuration of the machine comes with 128GB of SSD storage and a whole terabyte of HDD. Sure, the amount of SSD is modest but it's nice that it's there and the HDD storage is more than enough even for users who tend to keep all kinds of unneeded data on their computers. The two more expensive configurations add another 128GB of SSD to a total of 256GB and the most expensive configuration doubles that to 512GB (but it doesn't come with HDD so there's actually less storage space).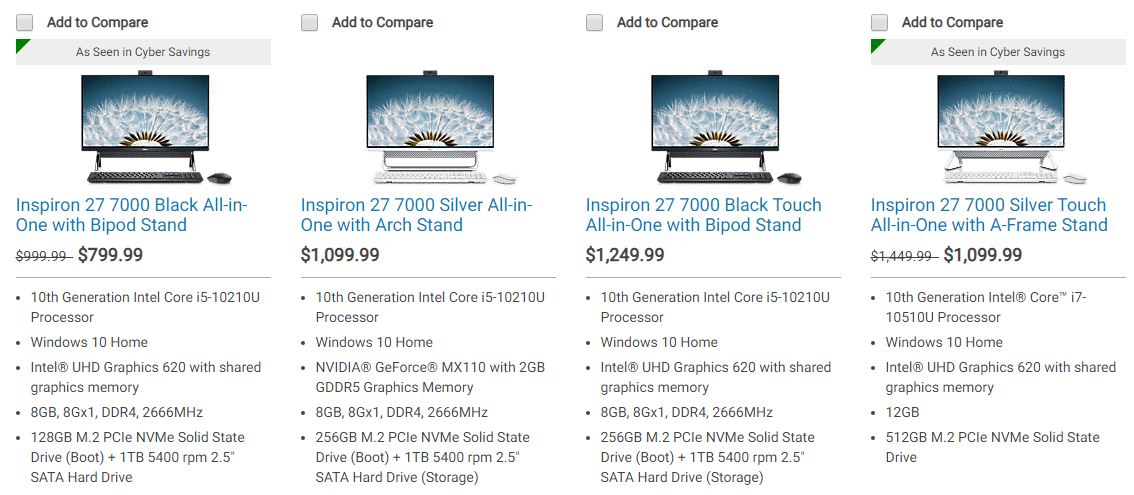 Pricing
The Dell Inspiron 27 7790 configuration/price option we've been mainly focusing in this article costs $800 ($799.99). However, there are three other (more expensive) price options: $1099.99, $1299.99, and $1499.99. We won't go into detail what improvements they come with compared to the entry-level version, especially since the improvements are not that impressive. For the most part, the more expensive versions get more storage space and the most expensive one also has more RAM and a better CPU. Other than that, the differences aren't that significant. In our opinion, the entry-level option provides the best value for its price and it is the one we recommend if you are considering getting a Dell Inspiron 27 7790.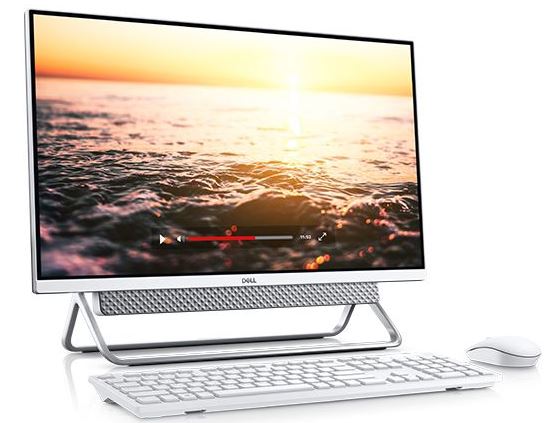 The Verdict
Overall, we consider the Dell Inspiron 27 7790 to be a machine that tries to be many things at the same time and that, more often than not, succeeds in doing so. Its minimalistic and compact design makes it perfect for smaller living quarters, its relatively light weight allows for quick and easy relocation, its HDMI and other various ports give it lots of functionality and are actually its main selling point. However, considering it's not a particularly expensive all-in-one machine, compromises must be made somewhere and, in this case, the aspects of the machine that are less impressive are its specifications. While its under-the-hood characteristics are certainly not bad, they are also not particularly outstanding, which is something you ought to keep in mind if you are looking for a machine optimized for performance. If, however, you are okay with the average specs of the Dell Inspiron 27 7790 and want a multifunctional machine that can be used in a wide variety of ways, you may want to give the Inspiron 27 7790 a try.