This page aims to help you remove the Du quick charge lock screen that comes alongside ES File Explorer. These Du quick charge uninstall instructions work for all Android devices.
What is Du quick charge?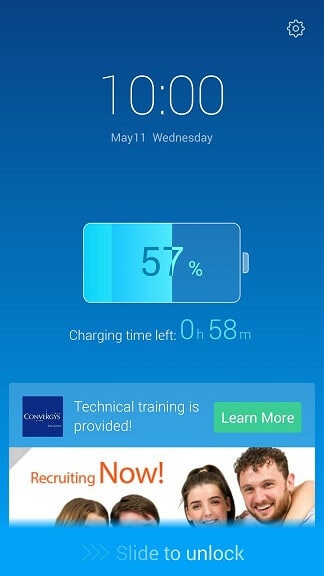 If you are greeted by a blue screen and an advertisement whenever you open your phone, then you probably have the adware program known as Du quick charge installed on your smartphone. Please note that this is not a malicious application, just a very poorly designed screen locker designed to make your life miserable.

Du quick charge is a screen locker and that's the worst thing about it. It may lock you out of important notifications and more. It claims to be able to give your phone a charging boost, but even if it does it appears to have minimal impact. What it can offer you, though, is plenty of Ads and nothing else of substance. This application may have been installed on your phone by another app – there are several apps which may be responsible.
Es file explorer seems to be the most common carrier, but but you can also get it from:
Xender

Amber Weather Widget


GO Weather Forecast & Widgets / (in fact most Apps related to GO, stay away from the whole family)

Kitty Play

Touchpal

Z Camera
Know that if you see intrusive ads in the phone itself, rather than on web pages, the cause is this unwanted program in your system. Installing an ad-blocker won't do. Keep on reading so as to inform yourself about what Du quick charge and other adware applications are and how to deal with them, once they are inside your system. Note that all android phones are equally vulnerable to this threat and malware removal tools generally won't help, as this is registered as legitimate software.

Things you need to know about Du quick charge
Adware (advertising-supported software) is a type of phone add-on, that has one single purpose – to generate ads and via them earn revenue for the adware's developers. This is done through the pay-per-click method. Du quick charge is such a program. It is hard not to notice its presence, once you have it on your phone. In addition to the annoying ads, other symptoms may also occur. Slow-down of your phone's productivity, crashes of your browser and unwanted change to your front page are all possible indications that the intrusive program may have been installed on your PC. It's pretty easy to know when it is actually an adware, that is causing the mentioned symptoms. Know that if you have the obstructive program on your device it will lock down your starting screen and force you to see the Ads created by Du quick charge every single time.

In most cases Du quick charge is not a an aggressive program. It's true that the Ads are annoying, but that's pretty much all it does. However, know that some of the ad, that you receive may actually be harmful. For instance, some of them might redirect you to virus-infested pages, should you click on them. Others may further infect your device with more adware or other unwanted applications. Generally, it is not a good idea to click on those ads. The majority of them are not harmful and will not expose your system to any harm, but it is still not advisable to interact with them. No need for unnecessary risks. Besides, you probably won't gain anything from those ads anyway. In fact, many of them are redirects to pages that you've already visited earlier. This may happen, because some adware applications tend to track your browsing activity. It may sound like an illegal practice – digging into your personal space, but worry not, more often than not adware don't have access to any valuable and/or important information. Some of the more aggressive ones may attempt to record and sell the acquired data, but so far Du quick charge has not shown tendency to do that. Albeit, keep that in mind and remove the intrusive software from your PC as soon as you can, just in case. We have provided our readers with a trusty guide, that will help with the un-installation and removal of the unwanted browser add-on.
Protecting your Android device

Before we get to the removal part, we will give you some general information on how Du quick charge actually gets into your system and what are the ways to prevent this from happening.
Du quick charge is distributed via other ads, but the most common method is via bundling with other free applications. This method is commonly used and in fact you actually give your permission for the installation of the intrusive add-on, even if you did note realize it at the time. Here's how this happens: by installing the free application that you've downloaded, you also agree to install any content that is added to the main install. That is why you should always pay attention to the installation menu. Usually there is an obscure option you need to click on in order not to have the additional apps installed on your device. After doing so, you can safely proceed with the installation of the main program. If you still worry that Du quick charge may somehow get on your phone from other channels, you may want to invest into an adware-removal tool. These come in handy with both preventing intrusive software from getting into your system and helping you remove such applications, if you have any on your device.

Remove Du quick charge lock screen from Android



We are sending you to another page with a removal guide that is regularly updated to counter the latest tricks malware creators use. It will show you how to:
1. Locate and clean up your phone's apps if they are infected.
Find browser extensions related to the threat and how to remove them.

Ensure your passwords were not stolen or tampered with.


You can find the removal guide here.