Online scammers are performing cryptocurrency scams by hacking into verified Twitter accounts and impersonating SNL (Saturday Night Live) after Elon Musk's hosting of the show.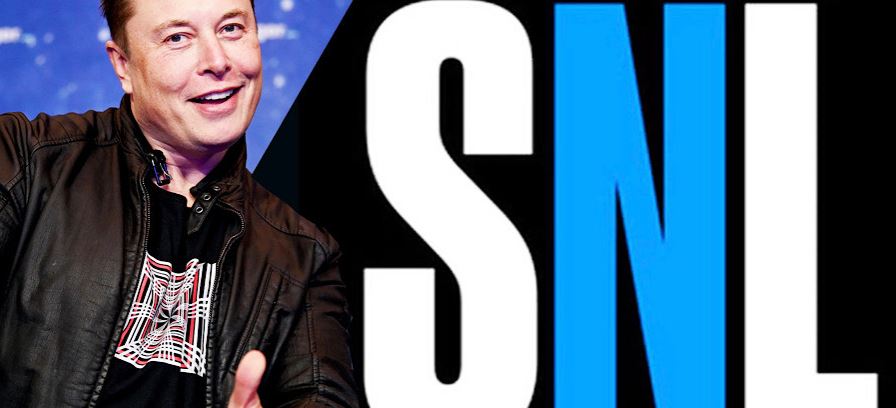 The past year has seen a major uptick of the cryptocurrency scams that involve the use of fake crypto giveaways made from fake or abandoned (and hacked into) profiles of famous people or companies. One major example is the large-scale scams that impersonated Elon Musk and used a fake Twitter profile to post a fake giveaway and trick users into making an initial donation in order to participate in the giveaway. This has led to the accumulation of hundreds of dollars worth of cryptocurrency by the scammers.
The Latest Scam Uses Elon Musk's Hosting of SNL
After Elon Musk's hosed an episode of SNL, Twitter scammers have once again tried to make a profit. This time their tactic was to hack into verified Twitter profiles, change them, and then impersonate Saturday Night Live in the reply section below Elon Musk's tweets. The replies pretended to be promoting yet another cryptocurrency giveaway in an attempt to lure users into donating in order to participate.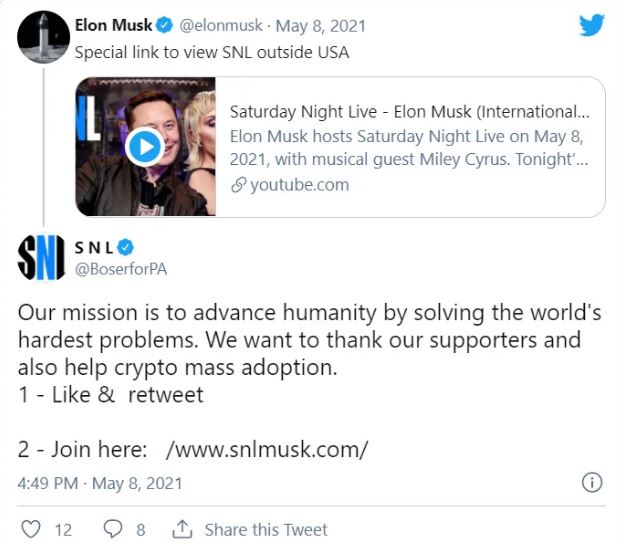 When users click the provided link, they get redirected to a fake post from Medium where it is said that Elon Musk is giving away 5000 Bitcoins. The fake posts also contains links to other fake giveaways for Bitcoin as well as for Dogecoin and Ethereum. According to fake giveaway pages, users would get back the cryptocurrency they send with a tenfold increase.

Currently, some of the linked sites have been flagged as harmful and users receive warnings when they try to visit them. The warning informs that the content of the site likely contains phishing elements, so everyone should heed such warnings and close the site rather then enter it.

The Twitter Scams are Highly Successful
Although it may seem like not many people would fall for such a blatant type of scam, the numbers show that such Twitter scams have actually been highly successful. Reports show that the latest scam, in which the cybercriminals impersonate SNL, is constantly pushing the promotion of giveaway links from different (verified!) accounts.
At the moment of writing, the amount of money gained by the hackers through the SNL Twitter scam is approximately $100,000. This is the amount gained for a time period of two days (the time passed the scamming campaign started). With the current price of Bitcoin, this equals to approximately 0.7 BTC. The following are scammer cryptocurrency addresses that have been gathered from two of the scam sites:
1FEby7AkA6mup1UMFejU75CeAweoZ87yUd
1H2U97kRxzYLH68Zqh6FZQu8uEw7YuVP84
0xdCb048505a78DC727D5213f2bd7eECB095f928E5
0x902501E5655f1b0747dE4fcE892efcf65eb17c2D
DTqWA5kiMQG38S8MFt3SvokrR9w7VPubDZ
DHBzBvSPc51Qpkp2XjtZJNY1mr4MzPkY2S
Although this should go without saying, the fact that so many users have fallen and keep falling for this type of scams means that we should still point out that nobody would freely give away cryptocurrency, especially considering how valuable all the major cryptocurrencies are at the moment. If you see a cryptocurrency giveaway offer anywhere on the Internet (even legitimate sites as is the case with Twitter), know that the offer is certainly a scam intended to trick you into sending money to the scammers behind it – it doesn't matter how legitimate it may seem or who supposedly promotes it!
One other thing to consider is that, due to the nature of cryptocurrency transactions, should you fall for such a scam, there's virtually no chance that you'd ever get your money back.