Emsisoft Anti-Malware
Emsisoft Anti-Malware Home is an extremely configurable antivirus for knowledgeable users.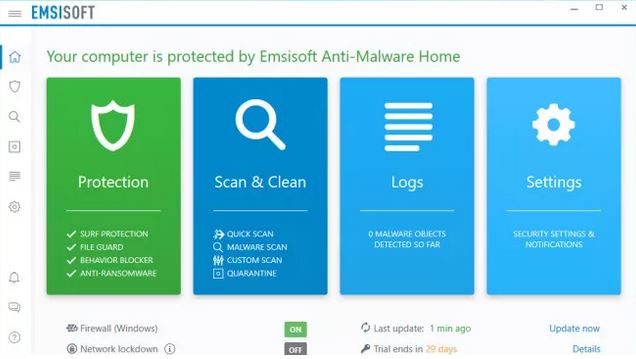 Pros:
Extremely configurable

30-day free trial


Basic scans are speedy and effective

Free limited version for non-commercial use
Cons:
Interface is not very intuitive

Very few results from independent testing labs

Basic package lacks some common bonus features



Emsisoft is an online security company that has been providing antivirus solutions since 2003. The baseline product of the company is named Anti-Malware Home – an offering able to detect and block viruses, ransomware, potentially unwanted programs and more by using two engines (Bitdefender's and Emsisoft's).
Anti-Malware Home is available in a free version for non-commercial use and you can scan your system with it on request. However, it does not protect the computer in real time and updates only manually.
The commercial version adds several layers of real-time protection including anti-ransomware, behavior monitoring, blocking of phishing and malicious URLs. The software receives automatic updates and allows for remote management from a web-based console.
The latest update is the introduction of Emsisoft Browser Security – a lightweight extension that prevents links to malicious and phishing websites on Chrome, Firefox and Edge.
The most recent version also comes with some low-level engine tweaks, as well as some small additions. For example, the console now displays the firewall status, and a Network Lock option blocks all network connections in one click.
The price for a one-computer, one-year license for Emsisoft Anti-Malware home is $30. When you add devices and prolong your subscription, there are steep discounts. A three-year license for three computers costs $120 or $13.33 per device per year.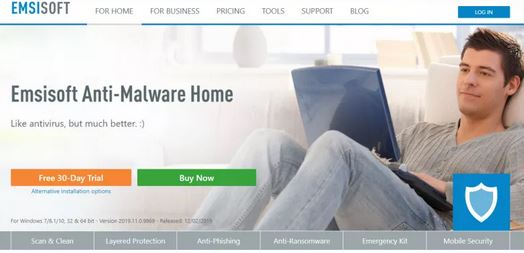 In our view, these are reasonable prices in comparison with, for example, Bitdefender Antivirus Plus 2020 which costs $40 per device per year and the same $120 for three computers for three years. Kaspersky's initial discount may look more tempting at $72 for three devices for three years, but that is only for the first term and the renewal costs $180.
If you want, you can get the Emsisoft Anti-Malware Free package that comes with full-featured trial for the first 30 days. No details of your credit card are required, and also you have 30 days cash back guarantee as additional security.
Setup and configuration
The Emsisoft Anti-Malware trial is easy to download from its official website and the activation is instant after handing over your email address. The program is very lightweight. Its Program Files folder takes around 750 MB, but about 610 MB of them are signatures that are leaving minimal code overhead. There are no cluttered executables which is often the case with smaller antivirus providers. All files are digitally signed with just a couple with main external components like OpenSSSL and the Bitdefender engine. All in all, this isn't kit that can be deactivated easily.
Upon installation, Emsisoft Anti-Malware prompts you to install its Browser Security extension for Chrome , Firefox, and Edge. This is a very basic add-on that identifies and restricts links to harmful and phished websites. The extension is not mandatory for Emsisoft Anti-Malware to work, but is an extra layer of protection on top of the program's file and behavioral monitoring layers that detect any threats you could download. What is more, the add-on can be downloaded free of charge without the need of actually installing Emsisoft's Anti-Malware program. You only have to check Emsisoft's blog or search out the Chrome store for the Chrome Browser Security extension.
Features
Emsisoft Anti-Malware does not have too many features, however, the interface of the program seems much more congested than most feature-packed suites. For instance, the main window contains four colorful tiles named "Protection", "Scan and Clean", "Logs" and "Settings". There are also nine sidebar icons, several status indicators and a few more functions. When you select some of the tiles, more panels full of options and different components are displayed.
If you don't want to get lost in the settings, however, it is enough to just use the "Search and Clean" tile followed by the "Quick Check" option. This will run a basic malware check. You can also check the "Logs" tile to see what has happened lately.

The more experienced users will definitely appreciate Emsisoft's Anti-Malware choice of options and settings, tough. The program is extremely configurable. You can set up custom scans, specify what they should check and twist the technical details of the check as well.
The scanner can be set to run scans at a specific time or interval (every hour, Monday, Thursday between 09am and 05pm, etc.) or at a system event (When Windows starts or when a USB drive is connected).
You can set your own rules for the URL filter or by importing your HOSTS file. On top of this, you can decide when files to be scanned, set up email alerts if malware is found, decide when and how the program runs updates, and even control which user accounts can access Anti-Malware which is ideal if kids try modifying your settings.
The amount of settings is indeed empowering but, sometimes, it is difficult to navigate the tiles and the layers of settings and menus under them. For example, it would be ideal if once you click the "Logs" tile you can take a look at the very last one search. Yet, when you click it, you'll get a complicated log of all recent events. Then, you'll have to scroll down, navigate to Scan Finish, click it, scroll further down that list, reach the "View the detailed Scan log" and finally get all the information you need. It's not complicated, once you've learned it, but it also doesn't seem especially easy or intuitive for newbies.
Of course, navigating the interface isn't the most important thing. Quick Scans are real quick and finish in about 20-30 seconds. The more in-depth Malware Scan is also efficient and detects malware samples in about 15 minutes.
The new Emsisoft's Browser Security extension for Chrome, Firefox and Edge provides a simple way to block malicious websites and phishing links. It doesn't do anything wise, like highlighting questionable sites in you search results, yet, it effectively blocks suspicious URLs when you try to access them.

An Emergency Kit Maker is another feature that helps you to create a portable Emsisoft setup that you can transfer to a USB key and use with other computers that need malware cleanup. This is just a basic feature with just a few Windows executables and, certainly, cannot be equal to a bootable recovery environment. Yet, it is good to have it in case some other device of yours gets infected.
If you are expecting a bunch of extra features from the Emsisoft's Anti-Malware package, you'll be left rather disappointed, tough. The program lacks the fancy extras that other competitors offer with their software such as password manager, secure deletion tool, system optimizer, etc. Instead, the developers focus just on the basics. But, if we have to be honest, most of the built-in additional features, anyways, hardly can compete with the best of the freeware. Thus, in our view, this isn't something to feel sorry about.
Protection
Emsisoft Anti-Malware is not actually being evaluated by either of the major independent antivirus testing labs, sadly. This package disappeared from the AV-Comparatives real-world protection tests in 2019 and is not included in either AV-Tests's or SE Labs's list.
There are some encouraging news, tough. Emsisoft Anti-Malware has been certified in five tests out of fife in the VirusBullestin's VB100 certification. Their certification isn't easy to win since the tested products need to detect at least 99.95% of the test samples and need to have a false-detection rate of no more than 0.01%. VB 100 test results appear every two months and can be checked online.
Final words
Emsisoft Anti-Malware is an antivirus package with a high-level of configurability which is beloved by experts. The package doesn't have all the popular features on the market, neither can compete with speed or ease of use with the big-name antivirus competitors but, still, the free version might be a good alternative of a scanner if you don't have any system protection.