Managing our safety when using the internet is as important for us individual users, as well as on corporate and organizational levels. So one security software solution we've decided to have a closer look at is aimed at small and medium-sized companies and businesses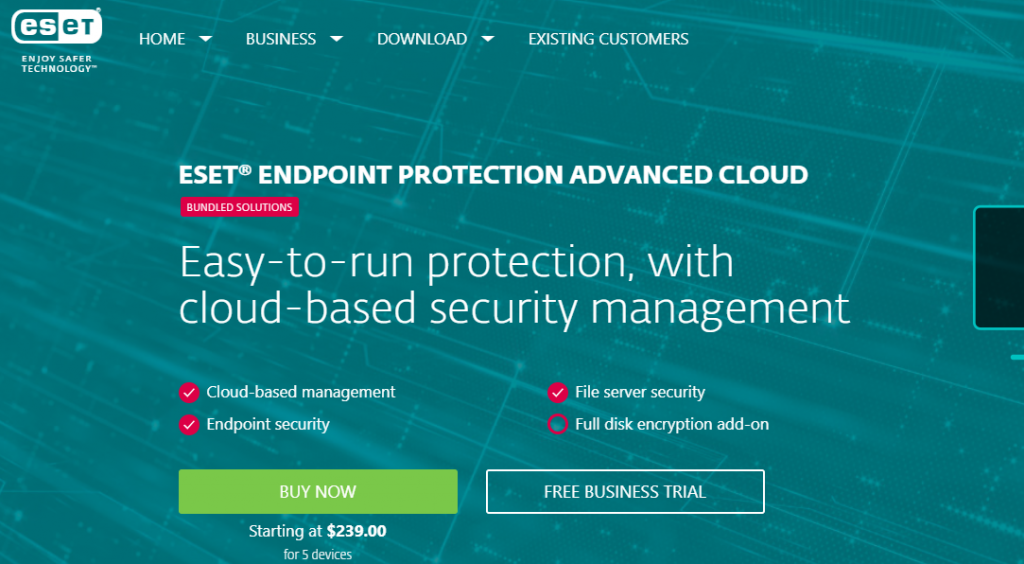 It provides its own security product that works in combination with the company's popular antivirus software. In addition to that, ESET's Endpoint Protection Advanced Cloud covers a pretty much all the most common desktop and mobile operating systems, making it a highly flexible security solutions. It is compatible with Windows, Mac, Linux, as well as with Android and iOS.
It also comes packed with a great deal of useful tools and functionalities and a rather impressive interface that we'd like to discuss in a little more details further on in this review. But for now, here's what we liked and disliked the most about ESET Endpoint Protection Advanced Cloud at a glance:
PROS:

List of useful functions

Remote deployment

On-premise deployment is also possible

Ease of use

CONS:

Not that much control over Linux endpoints
Getting started
You can choose to manage the ESET Endpoint package either via the on-premise interface or remotely (i.e. the cloud-based one). Both options give the chance to choose between 1, 2 and 2-year licenses. However, the former is the cheaper option, by far.
If you decide to opt for the on-premise interface, the one-year license will set you back a total of $190 with coverage for 5 devices. Purchase the 2-year license and you save $95, meaning you can have it for $285. And the 3-year license saves you even more cash coming to the price point of $380. Boiled down, that comes to roughly $25 per machine, per year.
And if you compare that to the cloud-based bundle, things start looking quite differently. For starters, there are no discounts available, even if you purchase the license for multiple years. What you can do is include coverage for more than 5 devices and that's when the pricing starts making a little more sense.
But originally, for 5 devices, the 1, 2 and 3-year licenses will set you back $239, $478 and $717. This makes the price per machine, per device approximately $48. But if you decide to increase the number of supported devices, then the price can come down to about $41 if it's for 7 and upwards.
Features
The antivirus part of the bundle benefits from machine learning and a heuristic approach towards zero-day attacks and malware in order to adequately protect your endpoints. Another great thing about its protection features is that also provides a shield against fileless malware. This is a result of the product being able to detect hijacked applications across all of the endpoints.
As a matter of fact, ESET's package keeps a close eye on all apps that are run on the endpoints. And then based on the behavior and reputation of said apps, it can stop any processes that resemble ransomware. It's especially cautious of apps such as document readers, Flash, Java, browsing programs and email clients, among others.
Speaking of which, ESET has protections specifically designed for email clients, as well as web access in general, that can block harmful downloads, dangerous webpages and can even clean spam from emails. But on a larger scale, the software solution also provides scanning options for the entire device, which is by no means any less important.
Furthermore, there's also a software firewall than comes with the Endpoint Protection Advanced Cloud bundle. In addition, users benefit from the product's ability to recognize and block malicious communications that take place over the internet. There's even a Host-based Intrusion Prevention System (aka HIPS) as an added layer of protection.
The smartphone applications (both Android and iOS) also benefit from antivirus features similar to those you get in the desktop versions of the client, although they are a little different. For instance, with the smartphone version you get several anti-theft functions. In the event that your smartphone or tablet is stolen, for example, you have the option to wipe it clean completely. Or you can lock it remotely, as well.
Design & interface
All of the above features and tools can be configured from the software clients on any of the respective smartphones or desktop computers. But if you're using the cloud interface, then of course, you can control several or all of the covered devices remotely and rollout certain tasks to them. In addition, you get feedback about any incidents that may have occurred in the form of reports and notification.
It's very easy to navigate and manage, as well, thanks to the several dashboards that provide a very decent overview of the different network aspects. Like for instance there's one that shows you the security incidents that have taken place, and another one offers an overview of all the events that have been blocked by the firewall. There's also one dashboard that shows you only virus detections. And whichever one you want to see more details for will provide you with those, as you can examine each and every blocked threat to gain further information about it.
But in order to get this information, you will first need to deploy the ESET agent to the respective devices. And this is done by means of creating a small installer. There are customization options in this process, so you can create multiple installers for different groups of devices, for example. Say, if you want to create small installers for your Windows devices and separate ones for your Macs.
After you have done this, the installer will anchor whatever product you've selected on the respective endpoint, whilst also activating the license that you've already purchased. And then it will automatically connect to the cloud interface, whereas you can choose to either send the download link by email or simply download the client directly.
But a particularly noteworthy function that adds to this products overall convenience and ease of use is the remote deployment tool. It allows syncing with an active directory server and can also scan all the endpoints within your network, as well as remotely deploy the installers to each of those.
Furthermore, the cloud-based interface of the ESET Endpoint Protection Advanced Cloud bundle has two really great administration features. Namely, these are the tasks and policies. There are a bunch of predefined policies that help you push specific commands to all endpoints quickly and efficiently. For example, there are policies that will block access to all devices or will log all warnings and important events, etc. You can roll a policy out to a set of devices or you can do so individually, just as well as you can have multiple policies for a specific machine.
And as for the tasks, these are also predefined commands, only they are for more common operations. For instance, these can be to run a scan, update a specific module of the product, isolate a specific device from the network and so on. You even have the option to create your own custom tasks that can be scheduled and executed as per your own preferences.
To sum it up
As you can see, the arsenal of features and tools present in the ESET Endpoint Protection Advanced Cloud is rather impressive. The remote management functionalities are especially pleasing, but so are the security features.
The Linux version of the product certainly lacks most of these functionalities, although it still works pretty decently. But its high-quality coverage of iOS and Android devices certainly shoots ESET's bundle up towards the top of the list of endpoint security products.