ESET's products for 2020 come with configurable security features
Pros:
Minimal impact on the system's performance

Highly configurable features

Expert-level device control
Cons:
Results from testing labs aren't very convincing

Configurations may require expert level of knowledge

Rather expensive renewal rates
ESET is a company based in Bratislava that was created some 30 years ago and is best known for its NOD antivirus software. Nowadays, the company has a vast product range covering all the major operating systems and is used by 110 million customers worldwide.
This post covers all the ESET's home user security solutions for 2020 and in the next lines, you will find reviews of the following:
A thorough review of the basic ESET NOD32 Antivirus

Analysis of the mid-range package – ESET Internet Security

Analysis of the top-end package – ESET Smart Security Premium
If you are interested in a particular package, you are free to jump directly to its review but please note that the features of the basic ESET NOD32 Antivirus will also be included in the higher security packages.
Review of the basic ESET NOD32 Antivirus
ESET NOD32 Antivirus is a basic package that focuses on providing an anti-virus, anti-phishing and anti-ransomware protection. The major plus of this product is that it supports Windows, Mac and Linux devices while many baseline antivirus programs are just available for Windows.
Pricewise, ESET NOD32 Antivirus lies in the mid-range with prices starting from $40 for a one-year license on a single device to $160 ($240 on renewal) for five devices for three years.
Setup and configuration
To install ESET NOD32 Antivirus on your computer, you can download the package from the official website. The setup steps are quick and straightforward – you just send your email address, select whether you would like the app to identify potentially unwanted programs, as well as to share data on how you use the software and you are good to go.
Upon installation, ESET NOD32 Antivirus automatically begins an inspection of the computer by launching a full system scan. The checkup isn't fast but it doesn't take up too many resources (about 20% CPU and 20-40% for our drives) so one could continue to use their computer as usual.
In case you've enabled the "Check for potentially unwanted programs" feature, don't be scared if you get more warnings than expected. The program may flag some apps as potentially unwanted without them necessarily being a security threat.
The executables and data files of ESET take up a fairly large portion of the hard drive's space for a baseline antivirus kit – about 800MB. Still, a Consumer Security Products Performance Benchmarks 2020 Edition 2 report by PassMark reveals that the program is surprisingly lightweight. The incredibly thorough analysis lists ESET in the impressive third place in terms of performance impact, overpassed only by Kaspersky Internet Security on a second and Nortion Security on the first place.
ESET NOD32 Antivirus impresses also with its self-protection results. In a simulation where malware tries to deactivate the security app by deleting data, shutting down processes, disabling internet connections and filter drivers, removing auto-start setting and more, the program still remained resistant and did not leave the device unprotected.
Interface
The main window of ESET NOD32 Antivirus is simple and easy-to-navigate. A basic dashboard displays your current security status, a full device scan can be performed with a click and a sidebar allows you to access the other features and tools of your software.
In most of the time, you can leave ESET NOD32 Antivirus running in the background, and if you have anything to scan, you can do it in a few clicks. This basic look can make even the newest computer user feel at home, but behind the simple interface, the app hides powerful capabilities.
For example, the dashboard window is resizable and several of the panels rearrange their layouts accordingly. This is a simple, but intelligent tweak to the interface and an easy way to display long reports and view them more easily with minimal scrolling.
Many powerful features appear only when you take the time to dig into the interface. The "Log Files" pane, for instance, may appear as a standard table of recent Antivirus Events, but when right-clicked, a menu with a range of powerful tools appears: multiple parameter filtering, copy and delete options, search tools, exporting to multiple formats tools.
However, even though you can use Ctrl+A and Ctrl+C to copy everything in the Log, you can't do this for the list of running processes. And for the Processes menu, there is no right-click option.
Still, ESET's interface is much more fascinating than that of other competitor programs. If you are into tech, left-click each and right-click every object to reveal the program's powerful features and settings.
Antivirus scans
In terms of scan types, ESET NOD32 Antivirus offers only Full System, Portable Devices and Custom scans which is more limited than what most other competitors offer in their basic antivirus kits.
The usual Quick Scan is not available, but if you dig deep into ESET's menus, you can create scan profiles to run more file-specific checks. In general, ESET NOD32 Antivirus would search for new or changed files only after its first run, which should speed up the subsequent scans and make a Quick Scan option less important.
The "Settings" dialog allows you to control and fine-tune the scan of everything from the basic objects – boot sector, network drives, archives, etc., to the email protocols that should be checked or ignored and the level of nested zip files (zips in zips) that the program should scan.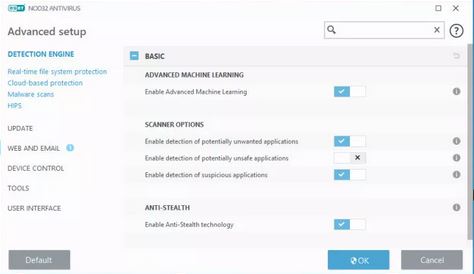 Just like most antivirus apps, ESET NOD32 Antivirus allows you to right-click on a file in Explorer to launch a scan. Additionally, you can check the file reputation to find out more details about it; scan the file without cleaning it, just to get a result immediately; or manually quarantine a file, despite not being flagged as the malware. The last function is very useful if you want to safely archive a file that you don't really trust.
These scans provide variable results. In particular, the reputation scan regularly shows that absolutely secure executables from totally legitimate developers are "risky". It still gives some useful details, including when ESET first detected at the file, so, in general, we find it useful to have such scan options in the package.
Protection evaluation
The Real-World Protection reports of AC-Comparatives from July to October 2019 reveal how 16 top antivirus programs performed against very new malware.
The results of ESET have not been good. Just 98.4% of the test threats were blocked by the ESET test product, putting the company at the end of the list. Of course, we should not focus only on one bad set or results and take a look at test from other major independent labs as well.
The Home Anti-Malware Protection report of SE-Labs published in October-December 2019 uses a different methodology of evaluation. In this report, ESET NOD 32 Antivirus is placed in the sixth place out of 15 other antivirus apps. According to the results, ESET is just one or two steps away from the top-ranked products.
Having one poor set of results at one hand and a very promising one at the other, we normally would look to the latest reports from AV-Test to break the impasse. Sadly, AV-Test has not tested PC products of ESET since 2017. However, it seems that ESET can clearly perform well in some situations, and depending on the methods of testing, can show variable results.
Malicious URLs blocking
ESET NOD32 Antivirus has two URL filter layers, the simplest one for protection from phishing pages, while the other one for blocking more general Internet dangers through the usage of various technologies.
Both layers are built into the core engine so there is no need to install browser extensions or worry about which browsers are supported. You are automatically protected every time you access the Internet.
Several configuration options are also available. For instance, a handy Address List feature allows the creation of lists of sites that will always be allowed, always be blocked or won't have their pages scanned (this one is useful if a legitimate site is blocked incorrectly).
ESET has not been included in the AV-Comparative anti-phishing study either so we can't give a conclusive verdict on its URL blocking capabilities. Simple manual ESET NOD32 Antivirus checks however manage to block some very new phishing links. The software is intelligent enough to identify network threats by analysis, as well as by looking up into a URL blacklist. We don't have enough data to evaluate how good the ESET's URL filtering can be, but small testing shows some really promising results.
Device control
Device Control is an uncommon feature included in ESET NOD32 Antivirus that lets you to decide what the many types of devices that you connect to your system (external drive, a USB printer, Bluetooth device, scanner, smart card reader, modems, etc.) should do.
You can choose making the devices read-only, block them entirely or set a warning. The rules you set can apply to all or specific devices (for instance, you can use the Device Control to block all USB storage aside from a, b, and c.) on some or all user accounts. Besides, the system logs all device connections for analysis so you can review them later.
The Device Control feature is very powerful, but not easy to configure. There are no pre-built rules, neither a visual user-friendly rule creator. You select mostly technical options from lists, therefore newbies may have difficulties to understand all of them. Still, there is a Help page for the function which you can refer to. Experts, however, could really make the most of the Device Control feature and its options, which are rarely seen elsewhere.
Extras
ESET NOD32 Antivirus doesn't have a long feature list. It does not include the generic privacy or security tools that are normally available in other antivirus program: no password manager, no "file shredder," no junk file cleaner, system optimizer or other extras of this kind.
The "Tools" menu has tucked inside all the extras. There you can view logs, watch running processes, see what the program has blocked, download ESET's bootable SysRescue tool for cleaning, etc.
The System Cleaner promises to warn you about key Windows settings that are altered by malware. Sounds fantastic, but, in reality, it doesn't really give you enough details to make an informed decision. In a test machine, for instance, the System Cleaner highlights the System Restore by saying that "Windows System Restore settings allow you to revert your system to a previous state." That is true by default on any system where System Restore is turned on so we see no point in ESET trying to highlight this as an issue.
Similar obsolete notification happens when System Cleaner informs us that it wants to reset our "System folders configuration" and "Executable files configuration" without providing any reasons for the reset as well as the changes it wants to make. On that note, it looks like a good idea not to trust everything that ESET requires to reset.
The SysInspector of ESET is an excellent tool tough. It it designed to take snapshot of your system, and highlight things like the running processes, network connections, critical files (HOSTS), important registry entries and more.
Conclusion
ESET NOD 32 Antivirus 2020 is security software which has some tools and tweaks that can be very handy to experts but its simple interface can make even a newbie feel at home. The program covers all the basics in terms of device protection but its test results by independent testing labs are a bit controversial.
Analysis of the mid-range package – ESET Internet Security
ESET Internet Security is the next-level package that adds up several additional layers of protection to the basic ESET NOD32 Antivirus features.
With the upgrade to this page, you get a Firewall, a Spam Filter, Parental Controls, Webcam Protection, Network Monitoring, Extra Network Attack And Botnet Protection and an Anti-theft feature for Windows OS. ESET Internet Security includes Android support, too.
The package can be yours with a one-year license for $50 on a single device. This is only $10 more than the ESET NOD32 Antivirus license. If you want to cover five devices for three years, that will cost you $190 ($270 on renewal) which is very reasonable price. Kaspersky Internet Security is priced much the same. However, there are better deals around if we take as an example Bitdefender Internet Security 2020 which charges $170 for the same five devices for a three-year protection.
But is ESET Internet Security a good fit for you? Let's take a look at it in more details.
Firewall
Most security suites come with a firewall that prevents network attack and makes at least some effort to smartly decide which apps to link and which block from the internet. Firewalls in suites from vendors such as Bitdefender and Symantec make these choices by themselves.
ESET's Interent Security Firewall protection runs in automatic mode, allowing all outgoing traffic without filters, and blocking uninitiated web traffic. A Windows built-in firewall can do pretty much the same so, in a technical sense, that has a little value.
The major problem is that if you don't specifically explore the Firewall settings, you may never know that outbound traffic is not filtered.
Another problem is that even if you enable the alternative Interactive Mode, the ESET firewall does not determine for itself but asks you whether to trust any single program that makes an outbound connection. In comparison, more intelligent firewalls might know to trust Chrome, but ESET's firewall raises an alert. And if something like Chrome is obvious, other alerts might not give you much of clue of what's happening (64DriverLoad.exe is trying to communicate with remote site 255.255.255.255, for example). Even experts cannot easily determine the reliability of every prompt, at least not without some clarification. At the same time, the more prompts pop-up, the more likely the regular users are to click on "Allow" without paying much attention.
Still, ESET Internet Security's firewall has a "Learning Mode", which the company claims that it creates and saves rules automatically in compliance with predefined parameters. However, ESET notes that the Learning Mode is intended only for initial setup and should not be used continuously, which basically means that you are the one who makes the main decisions when you need long-term outbound filtering.
Spam Filter
The Spam Filter of ESET Internet Security is a reliable junk mail blocker that works by integrating into Microsoft Outlook, as well as the old Outlook Express, Windows Mail or Windows Live Mail if anyone still uses them.
Even if it sounds quite outdated, the Outlook extension has a lot of capabilities to filter spam. You can determine whether to check your incoming, outgoing or already read emails, select whether to delete, move them to the junk or to a designated folder, add custom text to the subject line and keep track of the spam score to catch any false detections.
There is also a function where all the emails in the current folder can be processed to avoid an overcrowded Inbox, if you haven't had an effective spam filter before.
Of course, it takes very long to accurately evaluate the effectiveness of an anti-spam filter but in a test where ESET's Spam Filter is presented with 100 emails from the commercial SPAMfighter flagged as spam (some correctly and some not) it presents well by correctly filtering 84% of the emails as spam and detecting that 10% of them are incorrectly flagged.
Additional Features
An interesting feature that ESET adds to its Internet Security edition is the WebCam protection which is developed to prevent malicious applications from hijacking the web camera of your device.
The feature detects attempts to run obscure commands that try to catch a webcam image and immediately pops-up a warning and restricting webcam access until the app is approved.
The webcam protection operates by a highly configurable rules-based system which allows you to enable access to certain apps and specifically block others. There is also a "maybe" prompt for new apps, as well as an option to never use the webcam and block access to it automatically. These rules don't need to be manually set – ESET automatically manages them all – but it is good that there are controls for manual configuration.
The Banking and Protection feature is another addition to the intermediate package of ESET. It opens your default browser in a hardened form which, according to the developers, makes it harder to capture personal data through the method of keylogging. Through a separate program, however, this Banking and Protection feature may easily be bypassed and keystrokes may be captured, so we don't consider it as a very amazing layer of online safety.
Custom browsers like those provided by Bitdefender and Avast, for example, run on a separate desktop and are more effective when it comes to defeating key logging efforts in test environment.
Parental Controls are added in ESET's Internet Security edition but their functionalities are also very basic and don't add a significant value to the entire package. They allow you to only filter websites by their content. This may be helpful, but most suites provided by competitors do much more, including restricting access to the Internet or the entire computer for specific period of time or until a specific hour.
There is also an Anti-Theft feature in the ESET package and it works just like those of other competitors. Anti-Theft allows you to monitor your computer's location, use webcam image capture to view where exactly it is located, or send a message to its finder. There are many mobile services that do pretty much the same thing, but having one that covers Windows is fantastic.
ESET's Connected Home Monitor lists devices that are connected to your network and alerts you for new connections. You can also scan the network for open ports, weak passwords for your router and other vulnerabilities. In general, this is a feature that is good for a quick analysis and it is good to have it.
Conclusion
ESET Internet Security is a package full of features, some of which are outstanding, while others offer just a basic layer of protection and cannot match the offerings of the competition. If you are a happy ESET user or you need this particular set of features, the Internet Security suite may meet your needs, but there are packages that are more competitive and can offer you more.
Analysis of the top-end package – ESET Smart Security Premium
High level security packages typically add some big new features to the suite in order to attract potential buyers. ESET Smart Security Premium does extend the package of Internet Security a little more by adding a Password Manager and a file and folder encryption. These are indeed very useful additions, but they somehow appear relatively modest, compared to the kind of features you'd get in mid-range suites of competitors.
The ESET Smart Security Premium package, however , is fairly priced at $60 for a single device for a one-year subscription. Just like the Internet Security suite, though, it doesn't compare well with the offerings of competitors as you extend the license. A five-device, three-year license costs $220 for the first year and the chunky $300 on renewal. Just as an example, Bitdefender Total Security 2020 covers the same number of devices for $140 initially, and for $200 on renewal. Moreover, the packages which are priced similarly to ESET usually offer more features. Of course, rhere are discounts as you add more devices and years, but these are not as good as those of other vendors, and if you cover a big number of devices, ESET Smart Security Premium may look fairly costly.
This being set, ESET Smart Security Premium at first glance looks a bit disappointing. When we take a deeper look, however, the suite is much better than the initial impression. For example, the Password Manager is not some basic low-level app that you can get in certain security packages. It is quite powerful and packed with features. The encryption features is also of a high-standard and uses the same DESlock technology as the ESET's Endpoint Encryption products for business purposes.
Extras
So, is ESET Smart Security Premium worth the look? Let's check out all the extras that you will get with it.
The Password Manager that comes in the high-end package isn't as capable as standalone specialized apps such as Dashlane and LastPass, but it's much powerful than what you will get with most security packages and it's more than enough to cover the basics of password protection.
Its configuration, however, involves a little more than normal work. The service will integrate with Chrome , Firefox, Opera and Internet Explorer but ESET won't do it automatically. The program will just open the URL of the extension in the store and will leave you to install it manually.
Once you have done that, you can generate strong passwords, save your credentials, sync them with all your devices and fill in web forms automatically.
The browser extension also allows you to create one or more Identities that contain personal details that you can enter automatically in web forms (name , address, birth date, email address, Skype name, Yahoo ID, credit card information and more).
Weak and re-used passwords are highlighted by the service automatically which helps you to spot possible missuses, hopefully, prior to breaching your accounts.
The Password Manager isn't just about the browser extension, though. A native Windows app helps you to search your logins and access any pages you want. It is even possible to capture and reuse passwords for Windows applications and websites. There is also a Sharing Center where you can safely exchange data with other ESET users.
Of course, you can get many more tools and features from top password managers, but ESET's Smart Security Premium Password Manager offers plenty of powerful features which can meet the needs of most users in such a way that they won't need to seek elsewhere.
Secure Data
The Secure Data feature of ESET enables the creation of an encrypted vault on a hard disk, USB drive or some other device.
When you open the vault with the matching password, it literally acts as a virtual drive or folder. The work with it is very intuitive and you don't have to worry about any technicalities. You can save or copy files in to the vault and they will be encrypted automatically. You can opened or view them and they will be decrypted. Nevertheless, the vault is unavailable for anyone else when you are signed out. Your data will be protected even if, for example, you lose a protected USB drive and the finder plugs it into their computer – they won't see the encrypted vault or if they have ESET's Secure Data, they will be prompted to insert the password for it.
Secure Data is a feature that you won't get with most security suits of competitors and, at the same time, it is a simple and efficient way to secure your sensitive files from snoopers. Of course, you can get freeware tools that do a similar job. Therefore, we are not sure that Secure Data and the Password Manager (even though they are more powerful than the basic apps in competitor suits) would be sufficient enough to justify signing up for ESET Smart Security Premium.
Final words
On a final note, ESET's three home user security suits for 2020 offer some interesting and powerful features but they also come with some limitations that keep them from being a strong competition to the rest of the suits on the market. Still, ESET NOD 32 Antivirus, ESET Internet Security, and ESET Smart Security Premium are security packages that are worth the look and will not leave you bare-handed in the fight against malware.