[Top_Android]
EventBot
EventBot is a Trojan horse virus that misuses Android's accessibility and start different malicious processes in android devices. Viruses like EventBot are usually distributed by being disguised as programs or apps that users may willingly download on their devices.
In fact, it is because of this distribution tactic that requires the use of disguise, that these viruses are called Trojan horses. Just like the fabled Trojan horse in Greek mythology, a Trojan horse virus is capable of entering the systems of its potential victims by appearing as something harmless or even useful. This allows the malware to trick the users into launching it on their devices and providing it with Administrative privileges. Once the malware has been given such privileges, it gains access to a wide range of system settings and data as well as the ability to change them without needing the user's permission. Needless to say, this opens a whole lot of opportunities for the hackers behind the virus, who could launch all kinds of harmful processes on your machine without you having any idea about what's really happening. This, to a large extent, defines the versatility of most Trojan horse viruses. Because of this, and because EventBot is still a new and under-researched piece of malware, the end goal of the threat remains unknown for the time being. However, we can still tell you about the most likely EventBot may harm you if it gets in your device system.
The EventBot Malware
One of the main uses of Trojan viruses like the EventBot malware is to provide the hackers who've created it with remote control of your device. In most cases, the cybercriminals would use this control to force your machine to mine Bitcoins (or other cryptocurrencies) and/or to spread spam emails. In some cases, an infected device may be used in DDoS attacks organized by the hackers. Usually, the Trojan viruses create huge networks of infected machines called botnets and use all of the devices from these botnets for the completion of the aforementioned tasks.
The next potential use of EventBot we'd like to tell you about is that of espionage. This type of virus is, unfortunately, oftentimes used as a tool for gaining sensitive information from the devices of its victims. The collected data, depending on how it is related to the victim, could be used for anything from blackmailing and personal harassment to banking theft and fraud.
A third possible way this virus could harm you is by introducing another piece of malware to your device. The most typical example here would be when a Trojan like EventBot secretly downloads a Ransomware threat on the device. To facilitate the work of the Ransomware, the Trojan may also block your antivirus and even prevent you from installing a new security tool. This would, in turn, allow the Ransomware to freely lock up all your important files so that it could later blackmail you for a ransom payment.
These three examples of how a Trojan could harm your system are only a small portion of all the possible harmful actions that such a virus may be capable of completing. The important thing is to not allow the malware to complete its agenda by removing it in time. If you use the removal guide we offer here, you should be able to do that quickly and effectively.
SUMMARY:
| | |
| --- | --- |
| Name | EventBot |
| Type | Trojan |
| Danger Level | High |
| Symptoms | Trojans can cause different types of system disturbances, including Blue Screen crashes, errors in different programs, slow downs, screen freezes, and more. |
| Distribution Method | For the most part, Trojan horse viruses are distributed via spam letters, fake update requests, pirated software, and clickbait ads. |
| Detection Tool | [Guide_Android] |
Remove EventBot Malware
If you have an Android virus, continue with the guide below.
If you have an iPhone virus, please use our iPhone Virus Removal guide.
If you have a Mac virus, please use our How to remove Ads on Mac guide.
If you have a Windows virus, please use our Windows Virus Removal guide.

Whether you use the default "Internet" App for browsing or a different browser like Chrome you need to go to:
Settings/More/Application Manager/All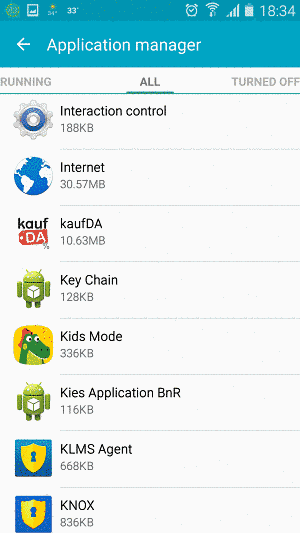 Locate the Browser/App in question and tap on it.

Now the method is effectively the same for users using both "Internet" and Chrome/Other Browsers, yet for more clarity we have provided instructions for both:
For "Internet" Browser Users:
Tap the Force Stop button.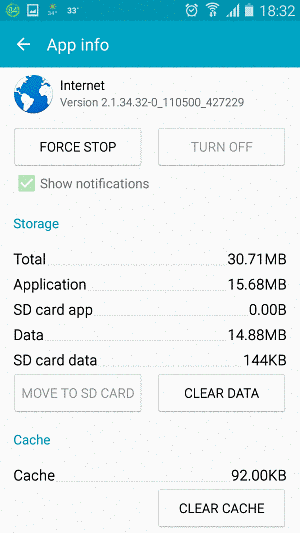 Now tap the Clear Data and Clear Cache Buttons.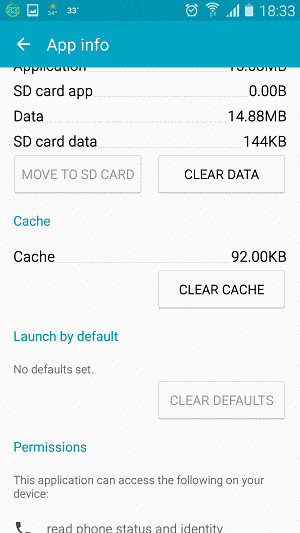 For Google Chrome Users:
Click on Force Stop.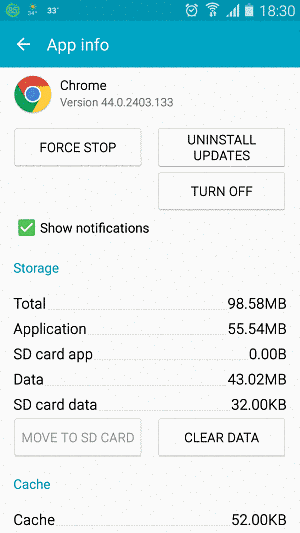 Then click on Clear Data and Clear Cache.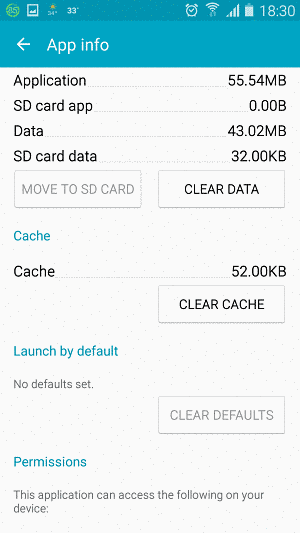 Restart your Browser. It might be a good idea to Reboot your Android device, just in case.

If you are still seeing Ads in your browser, it is likely they are generated by the websites you visit and there is nothing you can do about it.
However, if you are seeing Adverts outside of your internet browser, then one of your installed Apps contains the problematic Adware. In this case you need to take a look at this guide.

Did we help you? Please, consider helping us by spreading the word!