Greater Baltimore Medical Center hit by Ransomware
A ransomware attack was detected inside some of the systems of the Greater Baltimore Medical Center.
The information was confirmed by the Medical Center itself in a post on their official Twitter account on Sunday. The attack brought some of the information technology systems down which led to some of the scheduled procedures being rescheduled. Currently, work has been resumed.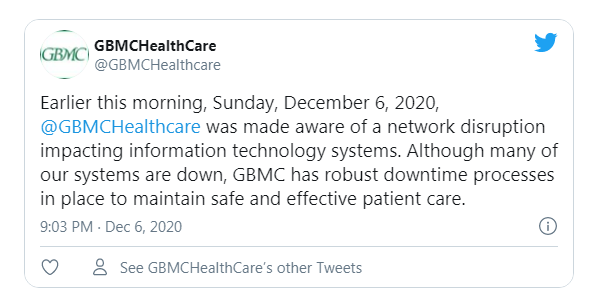 Greater Baltimore Medical Center assured their patients that they have "robust processes" in place to maintain "safe and effective" care for all of their patients.
The Medical Center is now working on the details of the attack with external consultants and law enforcement which are analyzing the case. From the initial evaluation, there is no indication that patient information has been misused. However, it is yet to be revealed what is the extent of the outage and its full impact, as well as what has caused it.
Some of the medical procedures that have been planned for Monday, December 7th, have been re-programmed in relation to the incident. GBMC confirmed that all patients whose schedule for treatments has been changed have already been duly notified.
The hospital ensured in a statement that they will provide more information on the case. Meanwhile, their number one priority remains the patients' care and they are putting their efforts to provide outstanding services to all the people that are using their facilities, despite the accident.