HideMyAss! is a VPN protection from Avast.

Pros:

A selection of servers in more than 190 countries

A lot of options for customer support, including Live Chat

Successfully unblocks BBC iPlayer and Netfilx


Easy-to-use VPN client apps

Effective kill switch for both system and mobile apps

Cons:

Session logging policy may be concerning for some users


Few options for configuration

A bit highly priced plans
HideMyAss! (HMA) is a VPN service that has been on the market from the last 15 years. For that time, the service has placed its name next to leading VPN providers with a network of 1000 servers and a choice of 290 locations in more than 190 countries.
If we compare these numbers with the numbers that some of the leading competitors have (For instance, NordVPN has more than 5 800 servers in 59 countries, ExpressVPN has more than 3 000 servers in 160 different locations on 94 countries.), we can quickly figure out that there are less servers, but the choice of locations and countries is far greater.
Since 2016, HMA is owned by the well-known security company of Avast and keeps winning the trust of millions users by protecting their online privacy and hiding their traces on the internet.
The protection of HideMyAss! is based on OpenVPN and IKEv2, AES-156-GCM data encryption, RSA-4096 for handshaking, and SHA-256 data authentication. Besides, the service has a DNS of its own that helps to avoid DNS leaks and blocks links to malicious and phishing sites as a bonus. There is also a P2P support for several locations, and a handful of other extras.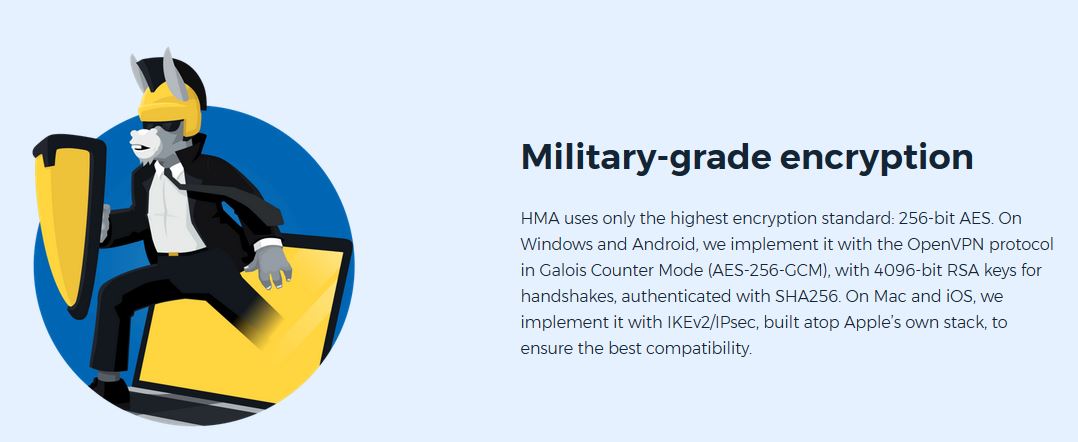 In its official website, HideMyAss! openly claims that it operates on all devices thanks to the selection of custom apps for all major operating systems including Windows, Mac, Android, iOS and Linux, as well as setup instructions that can assist you to manually configure the VPN service on many other systems and even routers. With such a big choice of VPN clients and setup support, you can basically use HideMyAss! with all your smart devices.
The apps come with a sleek interface and a selection of features such as Location Picker, improved kill switches and split tunneling on Android. And yeah, there's even an extension for Chrome 's browser and Android TV support.
In the next lines, you will be able to read about all the functionalities and specifications that HideMyAss! hides, as well as our take on its service and performance.
VPN clients setup
Starting to use the HideMyAss! VPN trail works similar to signing up for any other web service. All you have to do is head to the official website, select a plan from the plans page, choose a method of payment from the options (card or PayPal) and proceed with the payment steps.
Once you do that, a download page will point you to the VPN client app that is needed for your system (this could be Windows MacOS, Android and iOS). There you can also find a few tips on how to set up and use the service on Linux.
If we have to compare, HideMyAss!'s website doesn't have the same number of tutorials on manual setup as high-end competitors like ExpressVPN, nor is there a link to download the Android APK file if you want to install it manually elsewhere. Still, the site covers the fundamentals very well and gives you guidance on how to initially set up the VPN service.
HideMyAss!'s VPN apps have a streamlined and simple interface. The latest versions function just like any of the other VPN apps, with the list of locations, an On/Off button and a Settings dialog that gives you quick access to some helpful tweaks.
The Location Picker feature lets you view locations by type or content. It also lets you insert text in a Search box or save frequently used locations as Favorites for accessing them later. Sadly, it has no indicators for server latency or load. Yet, you can do a speed check through a Speed Test option that can detect and measure the latency and download speeds of your nearest servers.
The sidebar has a limited range of configuration options, but you can still select to connect to the VPN automatically any time you access the internet. From there, you can also enable/disable the kill switches that are included in the VPN client app. The Windows app, in particular has two switches: the first one is a system-wide kill switch that blocks the internet access if the VPN drops. The second is an optional app kill switch that shuts down your chosen processes (e.g. your browser or the torrent client).
During a test on the Windows app, where the Openvpn.exe and its TCP connection are forcibly closed down and servers are switched, the system-wide kill switch works without a fail, correctly blocking all leaks and preventing the IP address from being exposed.
The second app kill switch is also remarkable as it not only closes down specific applications when the VPN fails, but also immediately connects to HideMyAss! when these apps are launched.
Unfortunately, as convenient as it is, you are not given much control over the switch. For example, when you open your torrent client, you may not want to immediately connect to the VPN by default. However, HideMyAss! doesn't give you an option to configure that, so that's what's going to happen if your torrent client (or any other app) is on the kill switch list. We believe that it would be much better if the client treats the auto-connect option as a separate function that is configurable for each VPN app.
The Preferences panel has an interesting feature – an IP Shuffle that makes sure to change your IP address at a given interval of time (30 minutes, an hour, a day, etc.) making it much harder for other people to track your online traces.
The auto-connect function can be further customized to let you connect to HideMyAss! when you are accessing a public network, but to stay disconnected when at home.
Another small but thoughtful touch includes the ability to view your OpenVPN connection log. This can be very helpful when you want to troubleshoot and fix issues with the connection.
The apps for Android and iOS look and operate almost identical to the Windows client, thus, you will have no trouble using any of them once you've found how to operate one.
The latest split tunneling support of the Android app has an additional feature tough. It allows you to choose which apps should use the encrypted tunnel, and which apps should use your regular connection with one or two taps.
The mobile apps have a bit more intuitive auto-connect rules which allows you to automatically connect you to the VPN if you join an insecure Wi-Fi network, any Wi-Fi, or both Wi-Fi and mobile networks.
In general, HideMyAss!'s apps aren't that feature-packed as some of the competitor's apps, but their design is simple and offers quick access to the basic functions that are needed.
Performance and user experience

The performance check of HideMyAss! includes a selection of small group of test servers in the US, in the UK, in Europe and several locations from the rest of the world – in Hong Kong, South Korea and Australia. Promising results are found after connecting to each server, recording its connection time, running a latency check ping and using geolocation to verify the actual location of the server. The server locations are exactly as advertised. The Connection times at about 5 seconds are good even for distant locations considering the fact that some VPNs take twice more than that to establish a connection. Ping times are a bit longer than what you would expect but still, they show no latency problems.
A check of the download speed when connected to the nearest servers from US and UK locations and a test of the download performance through TestMy and SpeedTest from Ookla also reveals interesting results.

UK speeds are excellent at about 70 Mbps. The results from the US checks from a super-fast 600Mbps connection, however, aren't any better with speeds of about 75-80 Mbps. Still, we should take into account the record-breaking traffic with VPN and Internet in this coronavirus times that may have an impact.
Besides, even though a speed of 75-80Mbps for US may not seem like a great performance, it is still more than enough to do most of the things with it. Plus, a quick test from the UK shows that even the most distant servers still manage to offer very usable speeds with Australia hitting 34 Mbps and Malaysia reaching about 25-30 Mbps.
Streaming
The official website of HideMyAss! boldly claims that the service lets you stream from anywhere in the world through their dedicated streaming servers. As a matter of fact, the Windows client of HideMyAss! does lets you filter the locations list in order to display only streaming servers. Currently, there are streaming servers in New York, Florida, London and Frakfurt which is not such a great choice, though.
The results of the streaming tests are also a bit mixed. When connected to the UK server, there is an instant access to BBC iPlayer and the UK Amazon Prime Video. Yet, there is no access to the UK Netfilx. Connecting to the US server lets you access the US Netfilx and US-restricted YouTube content, but it gives no access to US Amazon Prime Video. This isn't exactly what HideMyAss! advertises on their website. Still, the good news is you can try the service for free for up to a week and check if it works for you.
Privacy policy and data logging
The Legal section of HideMyAss!'s website is full of lengthy small print text. There is a sidebar with more than 10 sections that lead to a cluster of documents. The Privacy Policy alone is quite lengthy to read through. However, this is not as horrible as it looks. HideMyAss! has shifted some key sections into individual articles, which encourages their exploration. Besides, most of these articles are well organized and clearly written.
The privacy policy specifies that no IP addresses, DNS requests or information related to the websites you access are logged. Nonetheless, the service records every time you connect or disconnect, the subnet of the IP address you use to connect to the service, the IP address of to the VPN server, and the amount of uploaded and downloaded data.
This is a bit more logging than what you will see with other VPN providers. However, the good news is there is no way to identify your internet actions with your account due to no logging of your real IP. Plus, HideMyAss! says that it deletes the logged data after 30 days, limiting the chance of any potential exposure.
Unfortunately, users can't validate these no-logging claims since HideMyAss! hasn't allowed independent companies to check its systems for logging. In comparison, other VPN providers on the market, such as TunnelBear, NordVPN and VyprVPN, have undergone external audit and have published the results of the checks. We believe this is the best way to inform customers of what a VPN offers, so we expect HideMyAss! to follow the rest players in the sector.
Prices and plans
HideMyAss!'s website gives the impression that the company doesn't offer many plan options. However, the reality is that there are a lot of plans to choose from, it is just that they are not that easy to find on the website. This doesn't make sense for us but after a bit more digging, here is what we get:
A monthly plan charges $11.99 which is a price that you can expect from a top VPN. Still, this plan is best suitable just for occasional one-off month usage. For comparison, Surfshark gives you VPN access for less than $48 for two years service which makes just $1.99 a month.
A six months package of HideMyAss! would cost you $7.99 a month. That is still a bit more expensive than what is available on the market. The amount goes down to $5.99 a month for a yearly subscription, and $4.99 if you purchase the service for two years. A three years plan is also available for $3.99 a month. These prices aren't bad if you are happy with the service. Yet, there are VPN providers that offer much better deals in terms of package prices. For instance, signing up with Private Internet Access will cost you only $3.33 a month for a whole year. With HideMyAss! you will have to pay upfront for several years to reach that monthly price.
Along with the monthly and yearly subscriptions, HideMyAss! offers also a Family package that covers up to 10 simultaneous connections for one year for $12.99 a month. Now, this is a decent deal, but, just for comparison, you can purchase up to six two-year Surfshark plans for less.
HideMyAss!'s Business plans are priced the same as the Family plan but they support more simultaneous connections. For $13 a month you can have up to 10 connections. For $26 you will have 20, and for $39 up to 30. You can also make personalized inquiries if you need anything specific.
When it comes to payment options, you can choose between PayPal and cards. Cryptocurrency isn't accepted.
You are given a 7-day free trail of the VPN service to test it out. However, you will have to fill in your payment details so that you can be automatically billed in when the trail ends. After you buy, you're backed by a 30-day money-back policy in case you run into issues and decide to cancel the purchase.
Customer support
In case you need assistance with setting up the service or you have some questions and issues, the HideMyAss! website is full of useful resources that can provide user support. There are setup guides, FAQs page, a web forum, a very convenient searchable knowledge base and a 24/7 Live Chat support for any urgent matters that you have.
The support materials are not as detailed or as comprehensive as those that we find on some of the competitor's websites. Still, if you are into DYI, you can find guidance.

The web forum of HideMyAss! isn't very active, but if you publish a question, a staff member would typically answer you within a few hours. Answers are usually helpful, but in case your issue isn't solved, the help staff creates a ticket or gives you a direct email where you can address your questions. Live chat is on hand if you can't wait for a reply or have an urgent problem. There you can get supportive and reliable response from a service agent within minutes.
With all these customer support options available, we believe that HideMyAss! should be able to offer you help when you need it and assist you overcome common VPN problems without losing time.
Final words
HideMyAss! VPN offers a network of servers all around the world. The service comes with powerful apps for all the major operating systems and customer support that gives you plenty of options to receive assistance. The VPN client interface is simple an easy to use. However, the session logging policies of the company may be a concern for some users. Besides, in terms of price, HideMyAss! can't really compete as there are cheaper services around that offer much the same or similar value. Nevertheless, HideMyAss! has one of the biggest VPN networks that gives you access to US Netflix and the BBC iPlayer, as well as quick access to servers in 190+ countries. You can try the trail service risk free and maybe come here to leave us a comment on your personal experience.