Express Find Ads Overview
A virus of the adware class, this is yet another in a string of new threats that surfaced in 2015. Its removal is highly recommended to ensure the safety and future of your system and the longer Express Find Ads retains its positions, the more damaging it will become.

It presents itself as a tool for "enhancing" your browsing activities, but its primary functions are to flood you with advertisements, and to infect you with other malware.

Its activities significantly slow down any computer's processor. Effects such as browser crashing, sound glitching and windows errors will become become much more frequent than before. The older the system in question, the worse these effects will become.

There is no active way to turn off Express Find Ads without uninstalling it completely.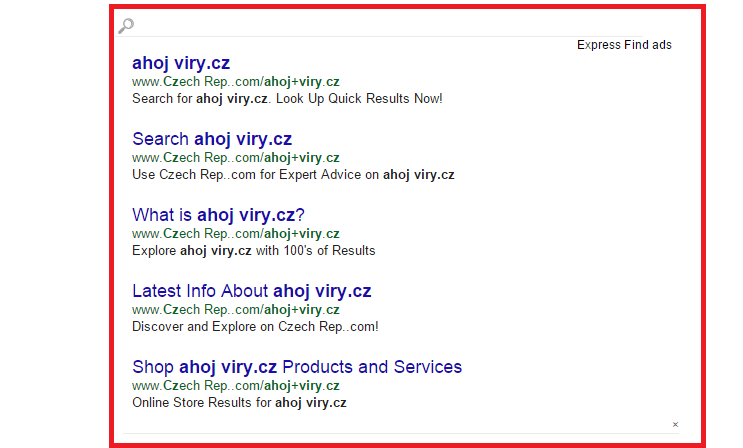 The above are all the immediate things you should be aware of. In the rest of this article, I plan to expand and elaborate on this information, as well as add a few other things that should be very helpful in identifying and dealing with viruses in the future.
How Express Find Ads Works
How it works is directly tied to its ultimate goals, and they are to:
Advertise third-party affiliate websites.

Completely fill your PC to the brim with malicious software.
Once the hyperlinks and banners begin appearing, they will redirect you to a few select websites that whoever created the virus was hired to promote. Unfortunately that is a fact. There is absolutely no way to find out whether the offers are real or not, but that's not the point here. The point is, you, along with every other user infected with Express Find Ads, are herded towards these offers and are unwitting accomplices in the promotion. Promoting isn't a bad thing, but you're basically coerced, because the ads and banners are very intrusive, and in many cases are hard not to click. And since these people don't want you to turn off the advertisements, you are stuck until you delete Express Find Ads. And since most WOULD do exactly that, virus creators usually take another precaution – messages that there are missing plugins will start appearing, Flash Player or Java will be in need of an "immediate update." These are fakes that will then download another malware, one that will riddle your PC with junk even more. So do NOT update anything until you've removed the pest. They can not enter your computer unless you give them access.
And on and on, with one very unpleasant spin on the story: not all viruses that can be downloaded are like Express Find Ads. Some of them can take over your PC and start encrypting files, asking for a ransom payment to release them, some, the worst ones, will bide their time and record your passwords and accounts, then send them to the creators – a nightmare for anyone with active online banking.
SUMMARY:
How to Remove Express Find Ads
Search Marquis is a high-profile hijacker – you might want to see if you're not infected with it as well.
You can find the removal guide here.