If you are always on the run while also trying to get work done but a smartphone or a tablet just doesn't cut it, you may want to take a closer look at the 2-in-1 laptop that we will be reviewing today. The Elite Dragonfly is a highly specialized laptop developed by HP that is best suited for customers who lead a dynamic life and who need to both stay mobile while also having constant access to a reliable portable workstation at all times. Within the next lines, we will go over the main characteristics and features of the HP Elite Dragonfly laptop and we will give you our honest opinion on how good this 2-in-1 really is. If you think that you are the type of person who may benefit from such a machine, we suggest you stick until the end and find out if the HP Elite Dragonfly is the right one for you.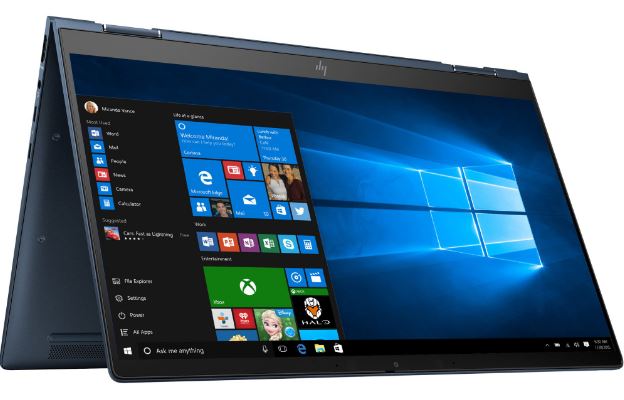 Design
Size and weight
Obviously, if you are looking for a travelling laptop, design should be one of your main concerns. After all, a powerful machine such as Dell's XPS 13 or the HP Spectre x360 are great but their size makes them rather ill-fitted for someone who really needs to be able to work from anywhere (including cramped airplanes, buses, trains, etc., where personal space is limited). In this regard, the HP Elite Dragonfly certainly delivers – its super slim and compact design allows for high mobility even in places where you don't get too much space to do work. Something that surprised us in terms of design when we took a look at this laptop is how light it is. It weighs only 2.2 pounds or 1kg – you will barely feel its weight when you put it in your travelling briefcase or backpack. This is truly one of the lightest business laptops currently on the market – HP claim that they've tried to cut weight from as many elements as possible while still keeping the build and structural integrity of the machine.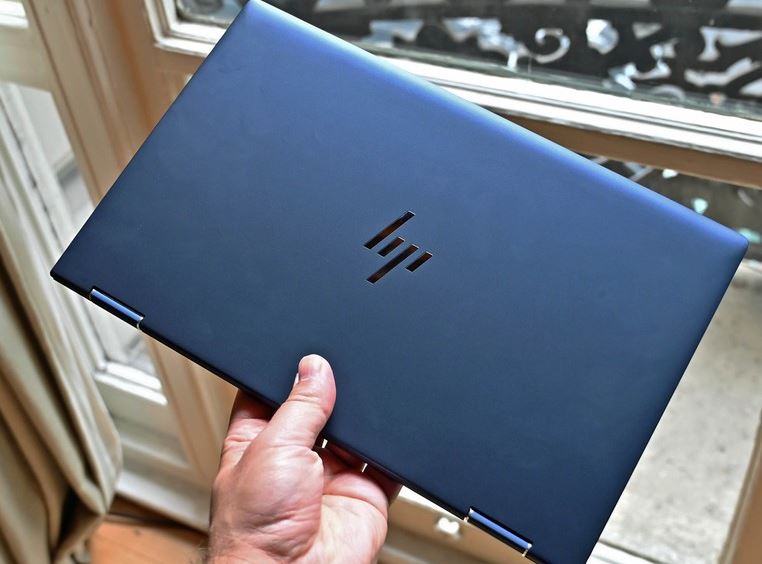 However, we are still talking about a laptop and this means that it still won't be as portable as a tablet despite it being a 2-in-1 model meaning that can effectively be used in a similar manner to a tablet.
Keyboard
It's only natural for a smaller size to require some compromise with certain aspects of the laptop. The design of the keyboard is one such aspect – due to the small size of the HP Elite Dragonfly, the keyboard could feel a bit cramped. However, to be fair, this is not entirely due to the size of the laptop but also because of the designer's decision to put two top-facing speakers on either side of the keyboard which further decreases the space that is left for the keyboard itself. While this may contribute to better stereo sound, in our opinion it's a bit unnecessary considering this is primarily a business laptop and not one intended for leisure. Still, the somewhat cramped keyboard isn't a deal-breaker. The keys themselves are responsive and offer enough press travelling space so that your typing doesn't feel awkward.
Screen
As far as the screen of HP Elite Dragonfly is concerned, it is what you'd expect from a 2-in-1 laptop. HP Elite Dragonfly has a touchscreen display that comes with a stylus. An important feature of the display is HP's Sure View Reflect – this is a privacy feature that makes it impossible for people beside you to see what's happening on your screen. The only way one could see your display is if they are standing right behind you. Otherwise, if you are looking at the screen from an angle, it would appear black/dark. If, however, you actually want someone next to you to be able to see what's going on on your screen, you can always turn off the Sure View Reflect feature – this will make your display brighter and visible from all angles.
Unfortunately, the HP Elite Dragonfly's screen doesn't offer 4K resolution – it's still only 1080p, though a 4K version may come out sometime in the future.
Stylus
Unsurprisingly, HP Elite Dragonfly features a stylus but something we disliked about it is that there's no way to attach it to the laptop and carry it with it and that there isn't an even separate case for it. If you want to bring it along while travelling, you'd have to find a separate place for it which could be a bit inconvenient at times. Aside from that, the stylus itself is highly-responsive and easy to use and it charges via the USB-C port.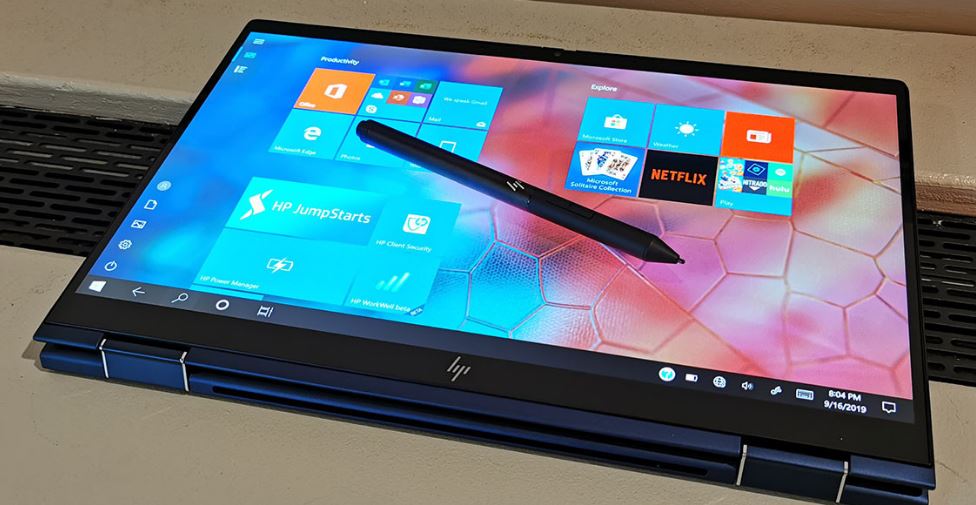 Portability
The main purpose of this machine is to be a compact and portable workstation that can easily be used under different circumstances without sacrificing effectiveness. To that end, HP Elite Dragonfly has an impressive battery that should last most people throughout a whole day of work on the go and then some. The battery lasts around 10 hours of non-heavy browsing, which should be more than enough in most cases, even if you need to take a lengthy flight. Also, if you are worried that the Sure View Reflect feature may cause battery life to drain quicker, know that the feature doesn't seem to have any effect on the battery.
Another nice thing we really liked about HP Elite Dragonfly is the wide variety of ports which is rather surprising for such a travelling laptop. It has a USB-C 3.1 one Thunderbolt 3 port and it also comes with a USB-A port for those older devices you may still need to use. There is even an HDMI port which is a rare thing to find on newer laptops, especially on 2-in-1 models.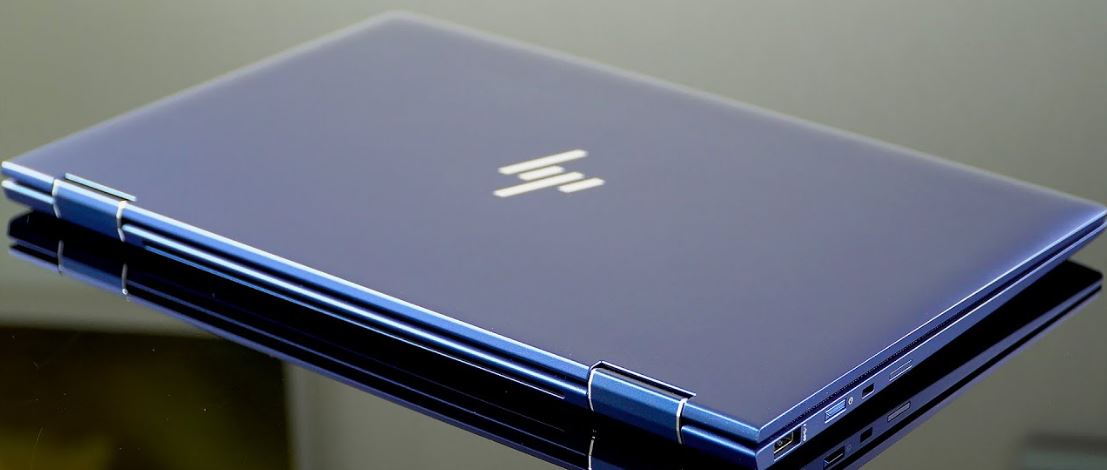 Specs and Performance
Even though the HP Elite Dragonfly isn't supposed to be some highly-performing gaming-class type of laptop, performance is nonetheless an important factor that needs to be considered when looking at any particular computer.
In that regard, HP Elite Dragonfly's processor might seem a bit underwhelming – there are a couple of options you can choose from that would affect the price but the most powerful of them is an 8th generation i7 CPU with 4 cores. For those of you who'd prefer a laptop with a 10th generation CPU, maybe you ought to look elsewhere. Also, the 4 cores of the CPU may also seem less than impressive. That being said, you must account for the fact that this is a very small laptop that focuses on mobility rather than on power. For such a small machine, this CPU actually performs quite well and you won't notice any performance issues for the most part. Only the most resource-intensive of programs may cause it to slow-down.
In terms of RAM, you are given different options but the maximum amount of RAM that HP Elite Dragonfly can have is 16GB which is an adequate amount for a laptop of this size and type.
You also get lots of options in terms of internal storage. The maximum HDD you can have on this laptop is a whopping 2TB and if you go for SSD, you can get up to 512GB of it.
As far as the graphics are concerned, the HP Elite Dragonfly comes with an Intel UHD Graphics 620 GPU, which is an integrated graphics card optimized for battery economy – exactly what a laptop of this class needs. Even though it is actually a pretty good GPU, it should go without saying that it isn't well-suited for gaming. Integrated GPUs are generally not a good choice for gaming and the fact that Intel UHD Graphics 620 is supposed to save battery life further makes it a bad fit for this type of activity. Then again, the HP Elite Dragonfly is most definitely not a gaming machine so we'd say the graphics card that comes with it is a good choice for what it is supposed to accomplish.
Security and Utility
A highlight of this laptop is the numerous and maybe even a bit overwhelming security features that it offers. Its developers at HP have really made sure that your work is kept secure and private and that you can rest assured only you have access to it.
We already mentioned the Sure View Reflect screen but that's only the tip of the iceberg. HP Elite Dragonfly offers Tile support to help you find the laptop in case you end up losing it while travelling. There is also a fingerprint scanner, a facial recognition feature (Windows Hello), and even an option to suppress surrounding noise during Skype calls.
There are also a couple of neat (albeit a bit unnecessary) utility features such as an extended Wi-Fi connection range the presence of not one but three microphones of which two are facing towards the user and one is facing outwards, towards the rest of the world.
Going back to security, this laptop comes with the HP Sure Start feature which keeps the machine's BIOS secure and protected from malware that may try to compromise it.
All in all, it can be said that this laptop is like a little data safe that has a big number of precautions and security measures in place to ensure that you are indeed the only one who has access to your personal data. However, since most users don't really need this level of protection, for many all these security measures may make the laptop feel a bit bloated with them. This is certainly not a big deal but if you are thinking about purchasing the Elite Dragonfly you should know what you are dealing with.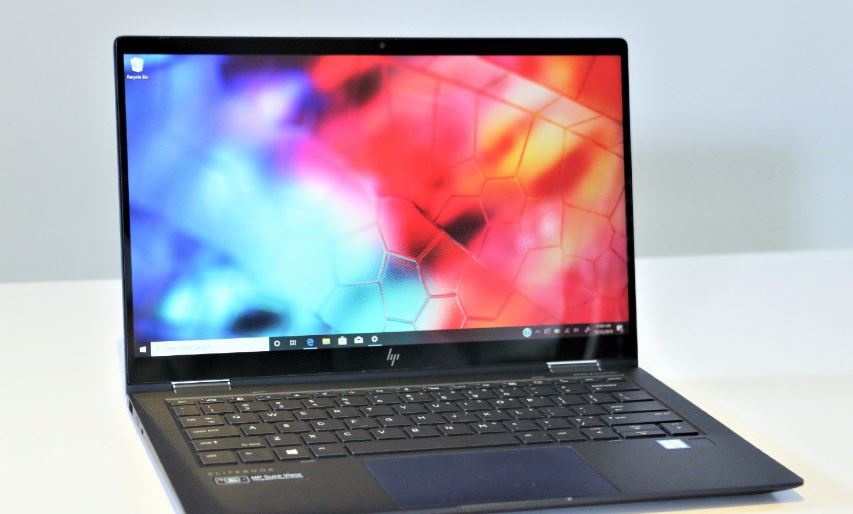 Pricing and alternatives
Finally, we need to talk about the pricing options of this machine and how well it fares against other laptops of the same type and class.
The starting price of the laptop at the moment of writing is $1807.00 on the official HP site but this is a discounted price. The original starting price is $2780 and it only goes up from there. There are a variety of possible customization options that you can choose from such as adding more RAM and storage or getting a stronger CPU. The most expensive RAM+CPU configurations adds another $802.00 to the base price of the machine and it comes with 16GB of RAM the Intel Core i7-8665U Processor, which is an 8th gen processor with 4 cores (this is the one we mentioned earlier). Separately from this, you can customize the type and amount of storage space you get as well as other specifications of the laptop which, for the most part, further adds to the overall price-tag. Obviously, this is not a cheap laptop and if you are not the type of person who needs such a specialized 2-in-1, you may be wondering why it is so expensive. Obviously, there are many other options out there that may seem to provide much more value for a lower price but it would be unfair to compare the HP Elite Dragonfly to them, considering how this is a laptop with a very specific purpose.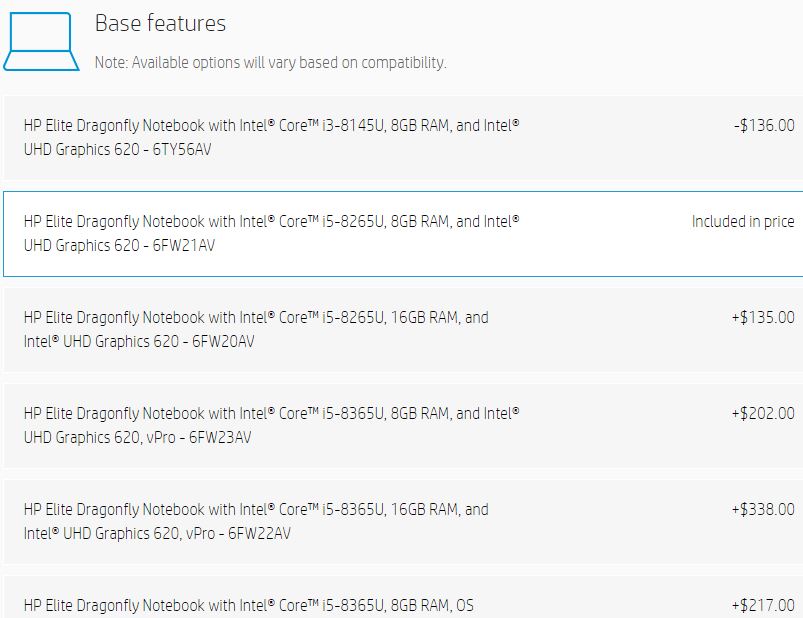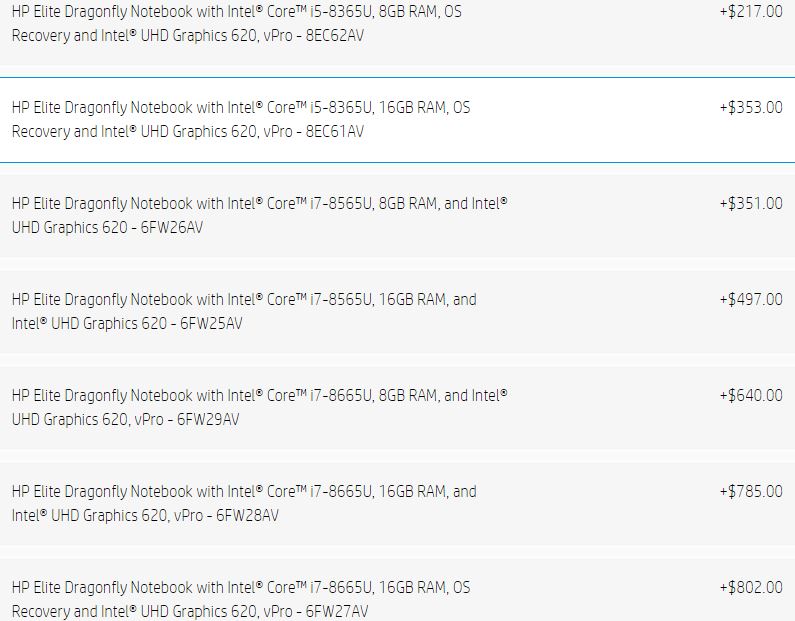 Machines that are similar to it in terms of functionality and price are the ThinkPad X1 Yoga and the Dell Latitude 7400. Both are good alternatives to the Dragonfly – the ThinkPadX1 Yoga is generally a bit cheaper and can be customized with a 10th generation CPU and a 4k display. However, it isn't as compact as the Dragonfly and doesn't offer the same level of portability. The other similar option, the Dell Latitude 7400, is a bit more expensive than the HP laptop and also offers a wide range of security features. However, it is also a bit bigger making it a bit less compact.
Final notes
The HP Elite Dragonfly laptop is not for everyone. Most regular users or even power users who simply do not need this level of portability are likely to not be impressed by what the Dragonfly has to offer. However, for those few of you who are in dire need of a small, compact 2-in1 laptop that can last them a whole working day without the need to recharge and that can be used anywhere to get some work done on the go, the HP Elite Dragonfly might prove to be an excellent choice. It is certainly not a laptop we wouldn't call affordable and, depending on one's needs, it may even seem rather overpriced. That said, for the right user that has those specific needs we mentioned, this 2-in-1 laptop has the potential to be a perfect fit.