Aside from Apple's iMacs, all-in-one desktops never really became particularly popular and have always been somewhat of a niche. Currently, there aren't too many all-in-one models and there are even fewer of them that stand out in any meaningful way. However, there are always some exceptions that take you by surprise and show you that even a less popular type of machine can be quite impressive.
Enter HP Envy 32. The HP Envy 32 is quite an outstanding machine on all fronts and it is one of the few (if not the only one) all-in-one PC that could give the iMac a run for its money (and maybe even surpass it in certain aspects). HP Envy 32 is slick, powerful, with premium design, and tons of functionality. However, is it really on par with the iMac or is Apple still the king of all-in-ones? We are about to find out within the next paragraphs.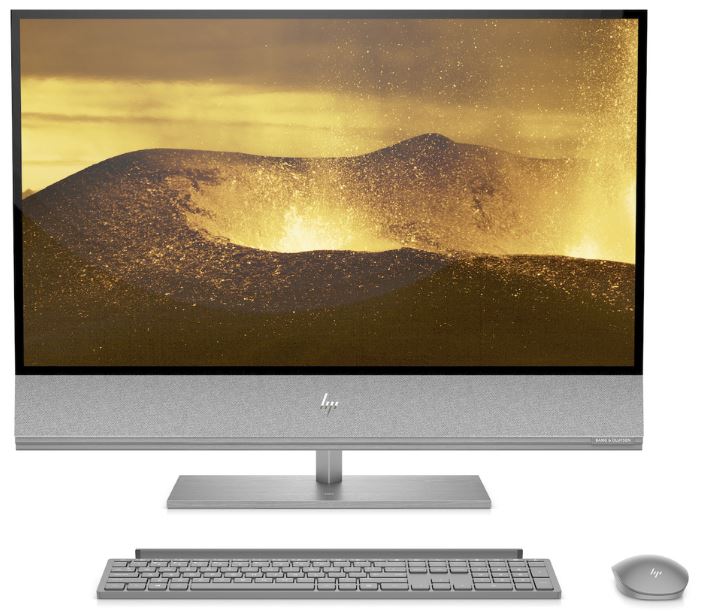 Design
As with all of our computer reviews, we will first start with the most obvious aspect of the HP Envy 32 – its exterior. Well, right off the bat, the HP Envy lets you know that you are in for an experience. It comes with an imposing 31.5-inch display with minimal bezels and a stylish, slick-looking design. At the same time, its leathery and wooden finishes are not something you'd expect from a piece of advanced technology, yet there it is and the HP Envy 32 is all the better for it. It really manages to give you the feeling that you aren't simply using a desktop computer but rather a premium piece of tech intended for attending to serious business or spending your leisure time with style.
Below the display, there is a rather large speaker grill that some users may find to be too much but, trust us, there's a good reason for it to be there and to be that big and we will tell you more about it in a bit.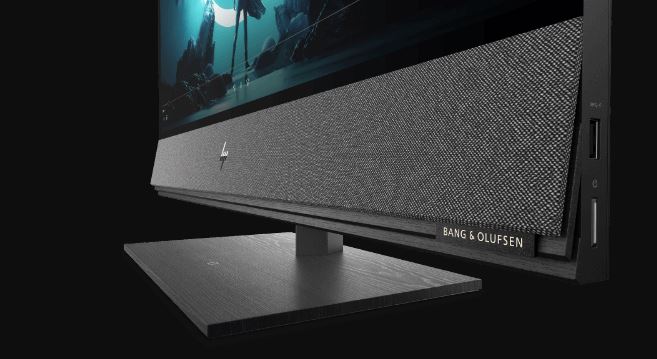 Moving on to the back of the computer, it keeps its polished outlook but here it switches to a more contemporary style that seems inspired by gaming PCs. It's stand, however, could have been designed to provide greater movement of the screen to provide better ergonomics.

On the back of this all-in-one, you will also find all the connectivity you might need. There is a USB-C port, a Thunderbolt-A port, two HDMI ports (input and output), and a jack for an ethernet cable. Additionally, there is another USB-A port located on the lower side of the right edge of the PC as well as an SD card slot on the lower side of the left edge. We really liked this positioning as it makes it much easier to reach those commonly-used ports. Anyone who has ever needed to look for the SD card slot or the USB-A port at the back of an all-in-one or a TV knows the struggle, especially if the device is mounted on a wall.

Functionality
There's a reason why they are called all-in-ones – after all, a PC of this type is supposed to provide you with lots of functionality neatly packed together in a single computer. Obviously, the inclusion of an HDMI-in port means you can easily use the HP Envy 32 as a TV by connecting to it a console or another computer. What surprised us is the inclusion of an HDMI-port which allows you to connect the computer to another screen and use that screen as a monitor for the Envy 32. Now, whether you'd ever have a reason to do this considering the premium quality of this computer's screen (we'll get to that in a minute) is a whole other question, but the option to do so is always there.
Another thing we liked is the inclusion of the Thunderbolt 3 port (something that is lacking in the Dell Inspiron 27 7790, another all-in-one we recently reviewed). The presence of a Thunderbolt 3 and an HDMI at the same time means you can daisy-chain two additional displays next to the HP Envy if you really want to cover your room's wall with screens controlled by the same machine.

The other impressive aspect of the HP Envy 32 we really want to tell you about is its rather big speaker grill. As we said, some might think its size is a bit overkill and that it appears to be a bit inconsistent with the highly-stylish look of the PC. However, there's indeed a good reason for this – the HP Envy is loud and by that, we mean really loud. It is almost certainly the loudest all-in-one on the market. Under the cover of its speaker bar, it has a total of six speakers (two treble tweeters, two mid-range speakers, and two passive radiators) as well as a woofer for improved bass. Normally, I would think that a speaker/speaker system that doesn't properly touch the ground wouldn't offer any impressive amount of bass but the HP Envy 32 proved me wrong. Its sound quality is premium and its bass is something that you would not expect by simply looking at the machine. The speakers of the HP Envy 32 really takes the meaning of all-in-one a step further as you will not need any additional speakers with this computer. I imagine only people who really want to get the best possible sound quality and loudness would go out of their way to get a separate sound system to connect it to the HP Envy 32. For everybody else, the built-in speakers of this machine should be more than enough.
Lastly, a surprising feature provided by HP Envy 32 is that the base of its stand doubles as a wireless phone charger – simply put your smartphone on the stand and the charging process would begin.

Display
We cannot talk about the HP Envy 32 without paying special attention to its display. As was pointed out above, it is impressive, but how impressive exactly? Well, compared to the iMac, it doesn't have a 5K resolution and instead settles for 4K, which is still definitely not something you get on many computer screens. However, in our opinion, the HP overall has the better display compared to the iMac and here's why:
First of all, the screen itself is bigger – the size of the iMac's screen is 27-inches while the HP Envy has a 31.5-inch screen. Additionally, the HP all-in-one has a significantly brighter display with a maximum brightness of 600 nits compared to the iMac's 507 nits. Next, and even more impressive, is the contrast ratio of the HP computer which comes at a whopping 6,000 to one which is about six times better than the iMac's 900. All in all, the HP Envy 32 seems to have the best screen among all currently available all-in-one computers and that's no small feat.

The only possible drawback here is the lack of a touchscreen option. However, this has been a conscious decision by HP in order to keep the pricing of this PC a bit lower, considering it is already quite high as it is.
Specs and performance
So, the HP Envy 32 has a nice design, loud and crisp speakers, and a vibrant, high-quality screen. However, above all else, this is a desktop computer and in order to determine how good this machine really is, we must take a look under its hood and if what's in there doesn't provide the necessary performance, then all of the other niceties won't matter one bit.
Starting with the processing unit, the Envy comes with a couple of different Intel CPU options depending on the specified configuration and the additional customization that could be made by the user. All of the CPU variants, however, are highly-performing powerful 9th or 10th gen Intel processors with either six or eight cores. In other words, there's no lack of processing power here. Compared to the machine from our previous review of an all-in-one, where we talked about the Dell Inspiron 27 790, the HP Envy certainly steps it up and provides significantly more processing power. Oftentimes, the CPUs that get put inside all-in-ones are ones that have been designed primarily for laptops. This is done to save space and make the machine more efficient but it also affects the performance and more often than not results in an unimpressive desktop computer in terms of raw performing power. With the HP Envy, however, the processors that it comes with are all designed for desktop PCs, providing above-average performance.
The next aspect we should talk about is the graphics of this HP all-in-one. Again, there are different options but all of them are good. The entry-level HP Envy, without customization, comes with a GeForce GTX 1650 card which is a dedicated GPU with 4GB of memory. Not the best but certainly a decent graphics card. However, what makes the HP Envy 32 truly shine is the option to equip it with a GeForce RTX 2080 Super GPU with 8GB of dedicated memory. This is the first all-in-one machine that can be equipped with the RTX 2080, which turns into a very potent machine in terms of graphics. However, one thing we must make clear is that all the GPUs that can be put in the HP Envy are mobile cards so they will still underperform compared to full-fledged desktop ones of the same price range. Still, there's little else one could complain about in terms of graphical prowess on this all-in-one PC.
The RAM options are a bit more restricted – all of the three possible HP Envy configurations come with either 8 or 16GB of DDR4 RAM so if you want to get a more powerful and gaming-oriented configuration, you can always opt for the bigger amount of RAM.
Lastly, we must say a few words about the storage that comes with this PC. Well, there is a wide variety of options so we won't be listing them all. You can have SSD or HDD or a combination of both and choose between different amounts for each. If, for example, you are willing to sacrifice a spacious storage and instead spend more money on the 16GB RAM option, you can certainly do that. On the other hand, if you are in need of a machine with a huge amount of storage space, you can go as high as 2TB of HDD.
Considering all these great characteristics of this machine, the obvious question for some would invariably be "Can it be used for gaming?". Well, we cannot say that this all-in-one can be regarded as a full-fledged gaming machine but if you want to play demanding games on it, it would certainly be up to the task. However, if gaming is your main priority, there are cheaper options out there that will give you the same (if not better) gaming experience simply because they would be better optimized for this specific type of activity. However, if you are a casual/moderate gamer, then the HP Envy will certainly not disappoint you with its ability to run even the newest and most demanding of games with satisfying performance.

Pricing
Quality and power don't come cheap and this is exemplified by the HP Envy 32. The entry-level machine costs $1,699.99 and it only goes up from there up to $1,899.99 and that's if you are going for the stock versions. If you want to customize the machine to have more RAM, a bigger storage, or a better CPU and/or GPU, you'd have to pay even more. If that's too much for you, or you simply don't think you need such a high-end machine when a more average one would do the job, then you may want to have a look at the Dell Inspiron, which has weaker characteristics but is still a great machine and offers a lot of the things that you can find in the HP Envy at a significantly lower price.

The Verdict
The HP Envy 32 is a high-performing all-in-one machine that is sure to satisfy even the most demanding of users. If you are specifically looking for a high-end all-in-one computer, then you should definitely not overlook what this machine has to offer. As we said many times, earlier, it is on par with the iMac and, in some aspects such as the display quality, it even surpasses its Apple counterpart. The only drawbacks we've been able to find with this machine are mostly minor nitpicks that you will likely not even notice while using it. So, to sum up, would we recommend it to our readers? If you have the budget for it and are willing to spend your money on a high-end all-in-one computer, we would most definitely recommend the HP Envy 32.