This article aims to help users remove Instant Support virus from Chrome, Firefox, Internet Explorer and Safari, as well as their respective system.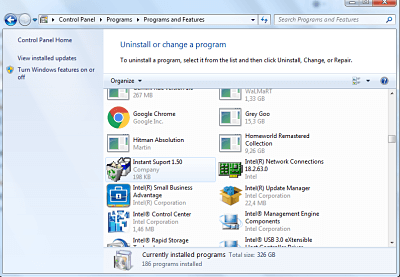 Instant Support is an Adware application, which is a type of virus. It works by creating advertisements and flooding your browser with them. They can be presented in the form of pop-up windows, banners, maybe even new pages and as random words turned into hyperlinks. The Ads will usually advertise for sites you may have visited recently and for items you were interested in.
The reason Instant Support virus is able to do that is because it reads into your browser's history and past search queries. Yes, this is very dangerous and also extremely suspicious as nothing is preventing the virus from sending that data back to it's creator – thus violating your online privacy. It could even send your passwords and log-in details for important institutions like online banking. These are of course encrypted, but it's best to get rid of Instant Support as soon as possible and then change your passwords.
What other harm can come out of Instant Support
While you have the Instant Support virus on your computer you'll be seeing Ads whenever you load an internet page. This means double the work for your CPU, resulting in general slowdown for your computer. This could get even worse if you are using a limited internet or one with slow download speed like hotel Wi-Fi.
Worse Instant Support will also try to install viruses or scam programs on your computer. This will be presented as offers for free software downloads. Remember that Instant Support is not shy about generating fake messages about non-existing problems with your computer in order to scare you into downloading an anti-virus or PC registry optimizing program in this way. It could also mask the virus as a missing plug-in or maybe some codec or video player that you supposedly require in order to view movies online. It's best if you simply ignore Instant Support and its offers until you get rid of it – otherwise you might end up with even more viruses for removal.
Before you dive into the removal guide there is one important thing you should be aware of. There are multiple versions of Instant Support virus in existence, because whoever created Instant Support likes to update it and make it harder to get rid of with every new iteration. We've written our article so it can remove even the latest known versions of Instant Support, but if your PC has been infected by an older one some of these steps may not be necessary.
Proceed with Step 1 and carefully read and perform every step. If at any point you do not see Instant Support in the list to remove as described here don't worry and just move on to the next step, because you likely didn't need the previous one as explained above.
Instant Support "Virus" Removal
Search Marquis is a high-profile hijacker – you might want to see if you're not infected with it as well.