Intel Frost Canyon NUC
If you are looking for a miniature PC that doesn't suffer from all the most common disadvantages that smaller PCs tend to have, then you need look no further than the Intel Frost Canyon NUC (NUC 10i7FNHAA). Small PCs, as is well known, tend to have problems when it comes to customization options and power, as well as poor port selection and future upgrades.
But that is not the case with the Intel Frost Canyon NUC and that is why we have chosen to take a closer look at what this computer has to offer users. As a matter of fact, Intel's NUC computers have been available for some 7 years now (at the time of writing) and there's a reason that have been around for so long. Namely, they have managed to turn around the common issues of most miniature computers and make them their main selling points.
So, let's have a look at the latest model – the NUC 10i7FNHAA. Here are some of the main features that we liked and disliked:
PROS:

It's small (duh)

Great CPU performance for the size

A lot of ports for the size

Very low power consumption

RAM and hard drive are easy to upgrade

CONS:

Makes a lot of noise

Not suitable for gaming

Cannot swap CPU
If you have your own experience with the NUC 10i7FNHAA that you'd like to share with us, please feel free to do so in the comments below.
Design & connectivity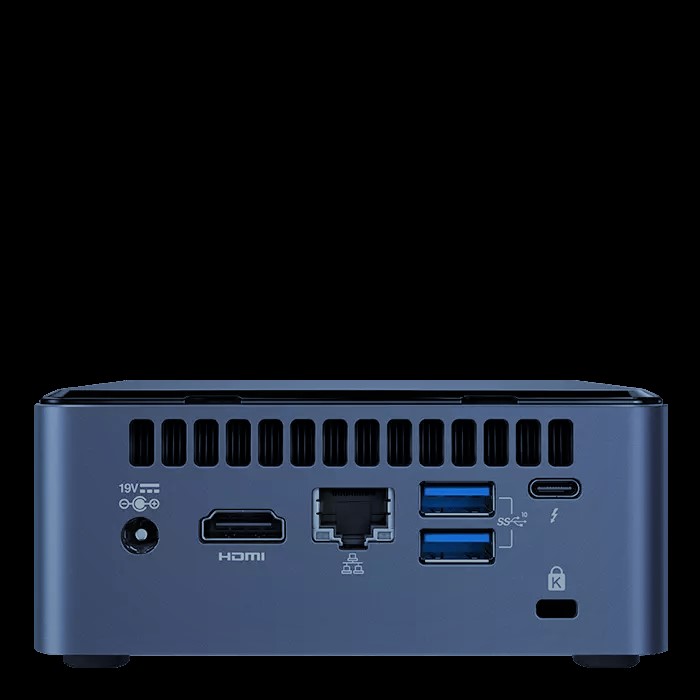 As a miniature computer, it's obvious that the NUC 10i7FNHAA is small. But it's also smaller than most other small desktop PC's, which is nice. The parameters of this model are the same width and height of 4.4 inches. And it's a total of only 2 inches tall. No, it isn't the thinnest representative in this line, but it's certainly also not the thickest.
And if you have ever seen any of Intel's other NUC computers, then the design won't surprise you much. In fact, the manufacturer has kept things fairly minimalistic and if you've seen one – you have pretty much seen them all. With that being said, the exterior is a dark gunmetal and it comes with a glossy plastic lid on the top.
Now as for connectivity, the NUC 10i7FNHAA will be sure to impress those of you used to dealing with small PCs. This tends to be a weak point for this type of desktop computers, but here there are plenty of options to choose from. Namely, there's a headphone jack, one USB-A 3.1 port and one USB-C 3.1 port on the front panel. And in the back you have two more USB-C 3.1 ports, as well as an Ethernet and HDMI ports. In addition to those, there's also a thunderbolt 3 port there, too, which is great to have and not very common on desktop PCs.
CPU performance
This model benefits from a powerful Core i7-10710U processor. It boasts 6 cores and 12 threads, with a humble base frequency of only 1.1GHz. But it maxes out to a Turbo frequency of 4.7GHz. And based on our testing results, this has proven to be more powerful than most laptops out there and even most small desktop computers. So for a computer that retails at around $1,050, it offers very solid performance. Usually at this price point you can expect a Core i5 chip, which tends to be the standard.
And as per the manufacturer, this Frost Canyon NUS is actually made to meet the needs of content creators as a small, convenient work station. Hence, Intel is marketing this model as a good solution for photo and video editing, as well as a good option for engineers and developers.
And it is true, as long as you aren't working with high-end content such as 8K videos, for example. That will certainly require more processing power than this NUC has to offer.
So all in all, for the price that it comes at, the Intel Frost Canyon NUC provides exactly what you can expect from a small desktop PC – nothing more, nothing less.
Power consumption
Aside from being small and taking up less space than most regular stationary computers, the benefit of using a small PC is that it consumes less power. And that is especially true for the Intel Frost Canyon NUC 10i7FNHAA.
For example, when idle, the power consumption of this model is only 9.8 watts, which is the same as many 13-in laptops on the market. And if you compare that to most desktop computers, that's about twice as less than what is considered average for idle mode.
During testing, the maximum that the NUC 10i7FNHAA managed to hit was 98 watts, before stabilizing at 57 watts. And that, too, is comparable to most modern laptops. Desktop counterparts, on the other hand, go well above 100 watts under the same conditions.
Unfortunately, though, you would think that less power consumption should also equal less fan noise, which isn't the case here. The fan in the NUC 10i7FNHAA is pretty loud and it is very clearly audible even at idle.
Upgradability & internals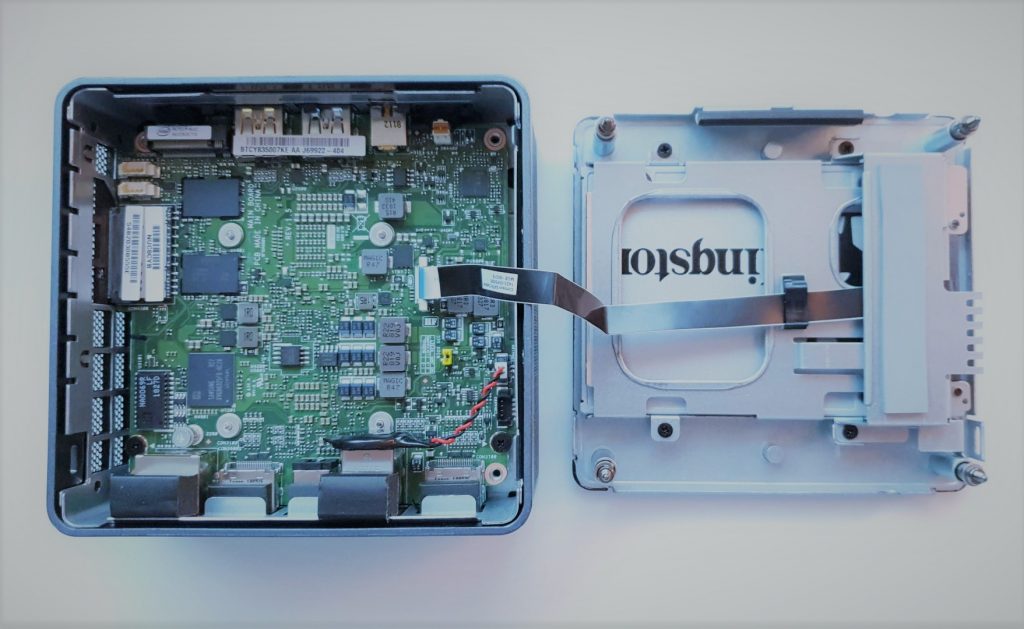 Intel is really at the top of their game when it comes to small desktop PCs, so don't expect complex internals to be hidden underneath the clean and minimalistic casing of the NUC 10i7FNHAA.
Once you open it (which is done fairly easily, by the way, you just have to unscrew the four feet at the bottom), you will see that things are quite neat on the inside as well. The CPU is soldered to the mainboard, however, so you don't have many upgrade options. In fact, the only things that can be replaced in this PC are the RAM SO-DIMMS, the M.2 and the hard disk drive.
Originally, the machine comes with a total of 16GB RAM, which doesn't seem like much. But it can support up to 64GB of RAM, so you can always upgrade if and when you so choose. That would mean that you would have to replace the original RAM, though, and not add more, as there is no spare RAM slot. There's also no spare SATA or spare M.2, so those will have to be replaced as well.
The good news is that these components are all easy both to remove, as well as to find new ones. There are only a handful of screws to worry about when replacing them, so anyone can handle it.
Really not great for gaming
We're going to be very honest and just lay it right out: this PC is not good for gaming. At all. If you are looking for a compact desktop computer to meet your gaming needs, please look elsewhere. Just because it's fast and relatively powerful doesn't mean it will perform well with games.
You might be able to get away with titles that have relatively simple 3D graphics, like World of Warcraft for example. And that's if you have the graphics resolution set at low. But anything beyond that will suffer terribly so it's really not even worth trying.
As mentioned above, the Frost Canyon NUC does come with a Thunderbolt 3 port. So that may offer you the opportunity to connect an external graphics dock, provided you have one handy. If not, then it simply won't make sense to do so – simply just speaking from a cost standpoint. External graphics docks are pricey and it would just be better to opt for a regular gaming desktop PC.
To sum it up
The Core i7 Intel processor is great and it is fast enough to still be relevant even a few years from this point. But like some of the other components in this model of the Frost Canyon NUC, it can also be replaced. And as the same is true for the hard drive and RAM, we reckon that the NUC 10i7FNHAA should be good for at least 5 years of usage.
And given the fact that this piece of hardware comes with a 3-year warranty from the manufacturer, you can be sure of its durability. Normally PCs of this class come with a standard 1-year warranty.
So we would definitely recommend this desktop computer to those who need a machine that can fit just about anywhere, but would still like to benefit from a powerful processor. It's a niche purchase, for sure. But it's among the best options available in its niche.