Intel NUC 9 Extreme Kit
The Intel NUC line of small computers has been around for a few years now and it's clear that the manufacturer really knows what they're putting out into the world. Miniature computers are great when room is scarce and you need something small but functional to take care of various workloads.
However, what you get in compactness you usually have to give up on in other aspects. For example, small desktop computers are known to be a lot less powerful than their bigger counterparts. Hence, they are also not considered to be a good choice for gaming.
But here is where Intel proves these notions wrong. In fact, the NUC 9 Extreme Kit specifically caters to gamers. And it does so at a pretty high level, too. So we've taken a close look at everything this PC has to offer. And here is a brief overview of the things that stood out to us the most before we get into the whole nitty-gritty of it.
PROS:

Very small size

Great connectivity (has Thunderbolt 3 as well)

Upgrade potential

Modular design

CONS:

Upgrades are difficult to implement

Noisy fan
We would love to hear what your experience with the NUC 9 Extreme Kit 'Ghost Canyon' was in the comment section below, if you would like to share it with us and other readers. And if you think there's a better miniature computer out there suitable for gaming, then please let us know about it as well. We are always open to testing and reviewing new pieces of hardware that are available on the market.
Design & connectivity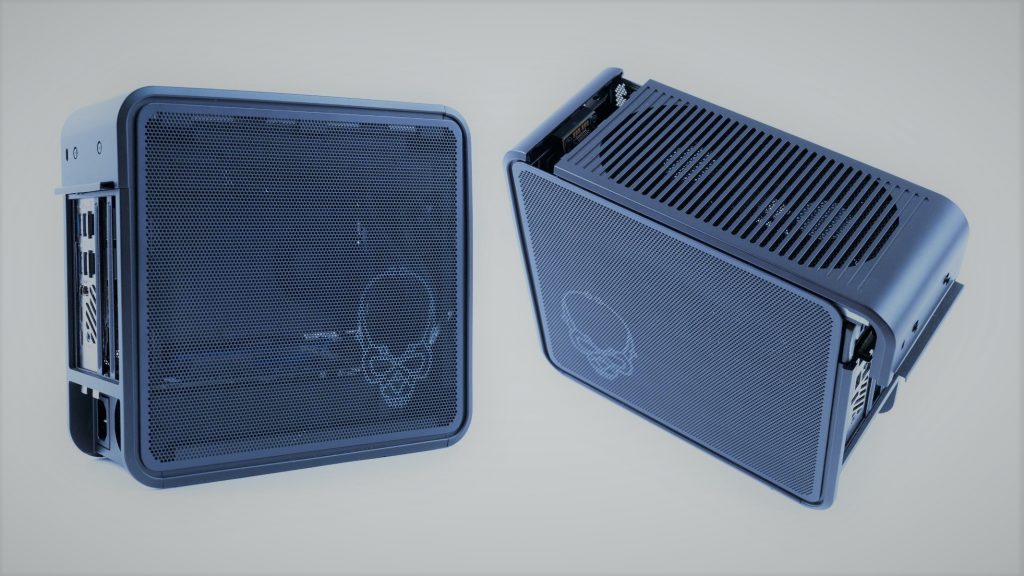 Right off the bat, the NUC 9 Extreme Kit wins us over with its sleekness and very slim build. It is super small if you compare it to some of the other small desktop PCs, especially in the same price range. Speaking of which, the Ghost Canyon will set you back some $1,700, which is decent money for the value that it offers.
As for the parameters, this model comes in at about 9.4 inches tall and 8.5 deep, and it's about 3.8 inches wide. Yes, extremely small. And yet in terms of its appearance, it doesn't drastically differ from other NUC models. Sure, there's the skull logo that has been added to the design to signalize that this machine was built with gaming in mind. But aside from that it sports the same square-ish build and rounded edges that other, previous models in the NUC range have.
So, visually at least, nothing about this PC will give away the kind of performance it packs. And that's fine. It's tiny and unobtrusive and will fit just about anywhere, and that is largely what these compact PCs are all about.
But wait until you have a closer look at the port selection. Mini computers aren't that great in this department, but the NUC 9 Extreme Kit begs to differ. It has a headphone/microphone jack, an SDXC card reader and two USB-A 3.1 ports in the front. And then if you look at the back, you'll see an additional four USB-A 3.1 ports. That is alongside the two Gigabit LAN ports, the DVI, the HDMI 2.0 and the DisplayPort. Oh and let's not forget the not one, but two Thunderbolt 3 ports.
You don't get this many connectivity options on most regular desktop PCs, let alone on their small counterparts. So this is certainly a very pleasant surprise coming from the Intel NUC 9 Extreme Kit.
Furthermore, the NUC 9 can easily accommodate a graphics card to meet your gaming needs. But the manufacturer does also make a point of this being a 2-in-1 machine that can just as easily double as a functional workstation for graphic designers, photographers and other content creators. And adding to the connectivity bonuses, the Ghost Canyon supports the latest Wi-Fi 6 and Bluetooth 5 standards.
Internals & upgrades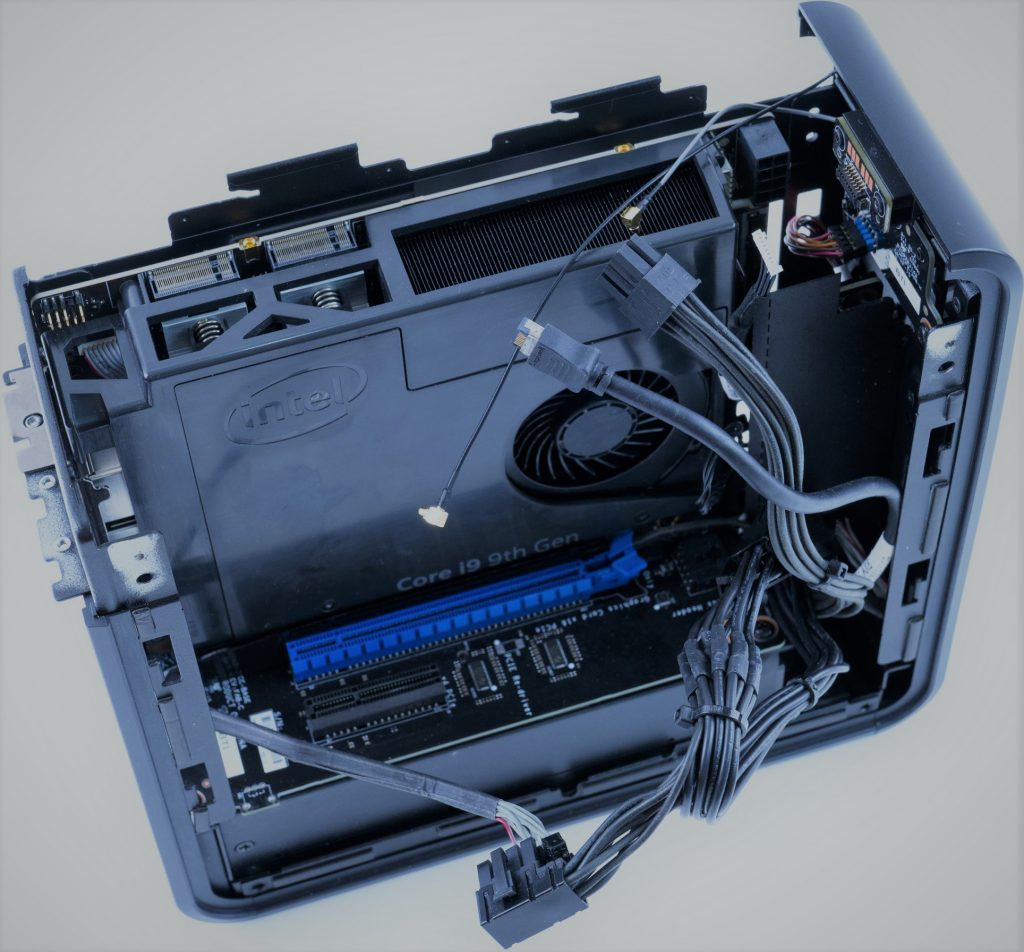 The NUC Extreme Kit is impressive up to this point already. But when you open it up, you will see that it comes with Intel's Compute Element, which ultimately makes this a functional computer that has been placed onto a tiny PCI Express card. For reference, it's even smaller than your regular video card.
This is where you will find your hard drive, your memory and the processor – all in one. However, the hard drive and memory need to be purchased additionally, don't come straight from the box.
The main selling points of the Compute Element are its customization options and upgradability. It basically gives users the opportunity to replace almost all of the most important components in the computer. And that includes the hard drive, RAM, the processor and video card, and even the power supply if need be. And if you decide to change the Compute Element that means you can benefit from even better port selection and upgrade the other connectivity options such as the Wi-Fi and Bluetooth.
Or at least that is what Intel claims you can. Can you do it in real life, though? Well, as it turns out, these component swaps are much easier said than done.
While you can open the casing easily enough simply by undoing two screws, you will immediately come across the first major obstacles right after. There is a whole bunch of connectors at very strange angles, and you will have to be very careful when removing them. But once you have that path cleared, you can easily slide out the Compute Element.
There is a slight hitch, though. So far it's not quite clear what Intel's roadmap on future Compute Elements is, although they have promised to make them backwards compatible. In other words, in theory at least, one should be able to upgrade an older NUC computer by swapping the old Compute Element for a newer version.
Performance
The NUC Extreme Kit comes with an Intel Core i9 processor, coupled with a 16GB of RAM. And there's also an Nvidia RTX 2070 video card, too. And while this isn't Intel's latest processor, it is still pretty much top of the line as far as Intel's mobile chips are concerned. It boasts a total of 8 cores and 16 threads, and the frequency can be maxed out to 5GHz with Intel's trademark Turbo Boost feature.
And yes, those specs are fairly impressive and the NUC does perform very decently for what it packs under the lid. However, it does have a lot of solid competition and we even tested a few gaming laptops that outperformed the NUC – as unlikely as it sounds. And for the price of $1,700 we have to be honest – that is rather disappointing
Gaming
The NUC 9 Extreme Kit, although built with gamers in mind, does not come with a graphics card. So that you will have to find yourself, which can be good and bad. On the one hand, it offers you more freedom to customize your gaming performance by choosing the graphics card that best suits your needs. On the other hand, it can be a little annoying to have to source on yourself and not have it already fitted into the PC straight out of the box.
Speaking of which, this model can fit dual-wide video cards of up to 8 inches long.
But we do have to hand it to the NUC 9 Extreme Kit, it really delivers a near silky smooth gaming performance. Almost all of the games we tested ran exceptionally well and there's hardly anything to complain about. So all in all, this PC does pretty much exactly what it promises to.
Cooling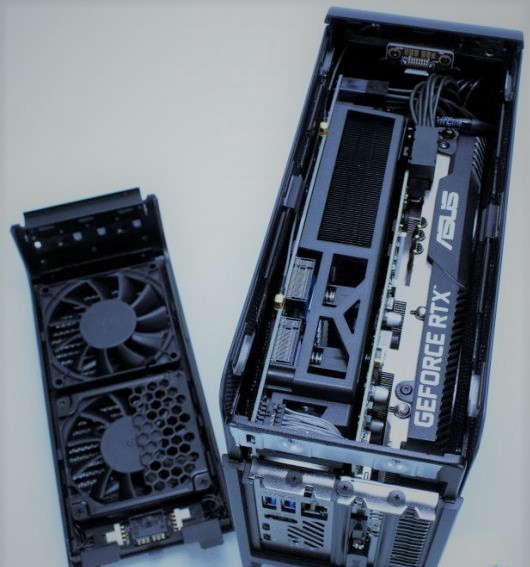 Great performance usually comes at a cost, and right now we aren't even referring to the price tag. As there's so much power packed into a small space, cooling does tend to be a bit of an issue with the NUC 9. But it's not so much the problem of overheating, as the fans do a good job handling that problem. It's more about the amount of noise they make.
And there's really no form of sound isolation that would somehow dampen the racket that these fans cause. Also, expect to hear them a lot. They spring into action very often and usually at top speed.
To sum it up
The NUC 9 Extreme Kit 'Ghost Canyon' seems like a very promising compact desktop computer, but it doesn't quiet manage to deliver on all of its promises. The major disappointment is that for the price that it retails at, many of the components don't come included – you need to buy them separately.
The Compute Element is also an intriguing feature that, unfortunately, isn't as easy to use as one would have hoped for.
However, there is great connectivity options thanks to the variety of ports available. And that makes the NUC 9 a great small workstation as well. But if it's purely for gaming that you're getting it, our take is that it's a little too expensive.