IObit Malware Fighter
IObit Malware Fighter is a free and simple-to-use malware scanner that can run alongside your existing antivirus.
Pros:
Free virus and malware scanning on demand

Runs without conflicting with other antivirus apps

Offers some popular bonus features

Does not require registration
Cons:
Basic scan modes

Few scan customization options

No real-time protection in the free edition

Not tested by major testing labs
IObit is a popular developer of Computer Maintenance software. The company is situated in San Francisco and is known for products like iObit Uninstaller, Advanced SystemCare, and Driver Booster.
IObit Malware Fighter is yet another software product from the same developer that operates as a free antivirus and anti-malware scanner.
The free kit is intended to function along with an established antivirus and does not replace it. Thus, IObit Malware Fighter offers some complementary features such as On-Demand scanning, limited real-time protection by the IObit's own engine, as well as some bonus tools that protect your browser and DNS from prying eyes.
The commercial version of IObit Malware Fighter Pro comes with far more features – Bitdefender engine, full real-time protection, anti-ransomware protection, behavior monitoring; detecting malware running in RAM and preventing unwanted entry to your webcam. The Pro package with all these features costs $20 for one year and $40 on renewal.
Here, however, we will review the free IObit Malware Fighter edition to help you figure out what exactly it can do and whether it is worth the install.
Setup and configuration
The IObit Malware Fighter Free setup package can be easily downloaded from the official website of the developer. It is not necessary to provide your email or any other personal details for the download.
Upon installation, the program suggests that you do a Smart Scan which is similar to the Quick Scan that runs in other products the very first time they are launched. This scan only monitors running processes, the Registry and key system areas and takes about seven minutes to complete.
The interface of the main screen has several panels most of which simply turn the available features on an off. All that is usually required from you is to tap the Scan button on the sidebar and select one of the scan types – "Smart", "Full", or "Custom".
It is very easy for a newbie to get used to the program and figure out what to do with it. However, we cannot ignore that messages prompting you to upgrade to the commercial IObit Malware Fighter Pro edition are everywhere.
Scanning overview
The scans that IObit Malware Fighter Free can perform are limited down to three – "Smart", "Full", and "Custom". There is an option to launch scans when you select files, folders or drives in Explorer by right-clicking on them and selecting the "Scan with IObit Malware Fighter" option. However, running parallel scans is not supported.
A good antivirus package, on the other side, will allow you to search a suspect file from Explorer independently and see the results separately while your antivirus is busy running a full scan of the device. Trying this in IObit Malware Fighter, however, only opens the currently active scan window.
Features such as behavioral analysis for process monitoring and blocking anything dangerous, "scan when idle" option or a scheduled scanning are also not available in the free version and are only active in the Pro edition.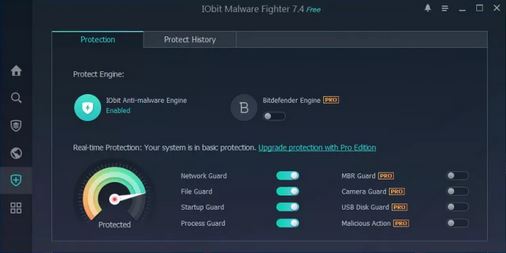 IObit Malware Fighter Free doesn't offer many configuration options. You can't create multiple custom scan types and decide how each of them behaves. There is a Scan Options pane in the "Settings" dialog that includes several useful customizations: you can pick whether you want to scan archives, skip large files, receive alerts about potentially unwanted programs and scan by low, normal or high priority.
Scanning may take some time. All scans (even on a single file) start with "initializing database" step that may take up to one minute. On a test machine, "Custom" scans take up to 5-7 minutes, but a "Full" system scan takes more than 150 minutes, which is twice as long as most products of competitors.
Speed in scanning, however, may not be the most important if you are using IObit Malware Fighter Free as an additional scanning tool for a second opinion. What would matter more is how the software performs with detecting malware, not how fast it is in skipping files because it is focused on speed.
Features
IObit Malware Fighter Free is rather short on core antivirus features but it does have some extras. Its Download Protection will automatically search for threats in your downloaded files and e-mail attachments. At least, that is what the developers claim. The reality is a little different because we noticed that we could download some files without receiving a notification from Malware Fighter. After running a manual scan, however, the software would flag them as threats.

The Homepage Advisor is another extra that is there to monitor changes to your homepage and search engine in browsers like Chrome, Edge, and Firefox.
The DNS Protect system says it prevents modifications to your DNS configurations. It can also maintain existing configurations of the network or enforce use of popular DNS providers (Google, Verizon, OpenDNS, Comodo, DNS Advantage).
Having DNS protection is useful. However, it is not easy to manage. Especially, if, for example, you have a multiple network connections with different DNS settings and legitimate software (such as VPN client) that regularly changes them.
IObit Malware Fighter Free also offers a Surfing Protection & Ads Removal feature. It requires browser extensions to function and does a basic job. However, there are already plenty of big-name free ad-blockers that hardly can be beaten in terms of functionality which the IObit Malware Fighter extension on the mediocre side.
One more feature that initially seems promising is the "Force Delete with IObit Malware Fighter". This option is available when right-clicking a file in Explorer and allows for deleting a file even if it is in use by some other application. That is indeed useful not only for cleaning up malware but also when removing unwanted files that legitimate programs leave behind.
However, in an attempt to use the "Force Delete with IObit Malware Fighter" option, the software displays a warning that the file cannot be restored from the recycle bin (which is not quite what we want) and then when we agree on this, it says that the file cannot be removed anyway.
Protection
To give a definitive picture of antivirus accuracy we usually check how a given security product is reviewed by major independent testing labs. Unfortunately, IObit isn't covered by any of them. In a way, this is not surprising because the program is not meant to work on its own but is rather a supportive tool that should operate alongside full-featured antivirus program. Therefore, if you are hoping that with the IObit Malware Fighter Free edition you will get protection that can replace the investment in professional antivirus software, our advice is to better seek elsewhere.
As a conclusion, IObit Malware Fighter Free is not a bad product – it is free, it doesn't need registration and can detect some types of malware. On the flip side, it is a bit slow compared to other freeware products, it lacks some extras which can be found in competitor packages and can hardly stand a chance against some big-name freeware offerings on the market.