Lenovo Yoga C640 Review
Pros:

Excellent battery life

All-aluminum durable build

Excellent display for the price

Good value for the money configuration
Cons:
The design is not eye-catching

No Thunderbolt 3 port
Do you really need to pay over a thousand bucks on your new laptop to get a fully functional machine? According to Lenovo, certainly not. With its budget-friendly Yoga C640, the company offers an affordable solution to all those college students or people who need a laptop good enough to handle their Office apps.
Lenovo Yoga C640 is a powerful configuration with a 10th-gen Intel Core i3 processor, 8GB of RAM, and a 128GB SSD that currently sells at just 600 dollars and pretends to be the best laptop that you can buy on the market for that price. But is it really true? Let's take a look at its characteristics in more detail.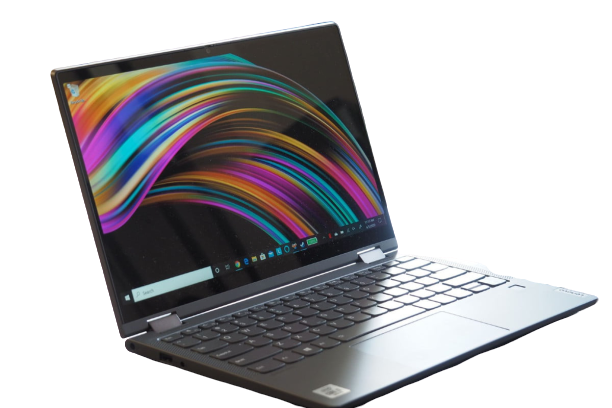 Design
With its all-aluminum construction, from a first glance, the Yoga C640 looks more elegant and modern than most laptops in the 600 dollars price range. The keyboard tray and the bottom of the chassis have a tiny bit of flex and there is none on the lid. The later can be opened almost one-handedly but the tight hinge actually does a good job by keeping the display in place considering that this is a 360-degree convertible 2-in-1 model, that can switch between clamshell, tent, media, and tablet modes.
In terms of esthetics, Yoga C640 looks a bit conservative with its gunmetal gray color with no bling. However, with its 2.98 pounds and its 0.67 inches thickness, it compares well with high-end laptops in terms of weight and portability even though it is from a much cheaper price class. Moreover, for its 13", this laptop isn't the smallest laptop around. Indeed, the bezels aren't huge, but compared to Spectre x360 13 or the Dell XPS 13, its chassis a bit larger.
The Webcam of Yoga C640 comes with a privacy shutter similar to those in the ThinkPad line. This is known as the TrueBlock Privacy Shutter and works by just sliding it over to block the webcam physically. Still, a preferred choice to the privacy shutter is the HP button on Specific x360 13 which switches off the Webcam electronically, leaving no hacker access to it when it is not working.
In terms of connectivity, the Yoga C640 comes with a compromise even for a budget-friendly class laptop. It has two USB-A 3.1, one USB-C 3.1, and a 3.5 mm Audio Jack. There's no port Thunderbolt 3 (which, honestly, isn't expected in a device from this price range) and there is no microSD card reader which is a bit disappointing. Wireless connectivity is at Wi-Fi 5 (a step behind the newer Wi-Fi 6 standard) and Bluetooth 5.0.
Keyboard and touchpad
If you are a fan of the Lenovo Yoga keyboard, then the Yoga C640 will not disappoint you. It has enough spacing and a crisp mechanism. The touchpad isn't large but its surface feels comfortable and works smooth thanks to Microsoft Precision Touchpad drivers. The 2-in-1 display is touch-enabled just like on the rest of the Yoga line and is as precise as expected. There is also support for Lenovo's active pen with 4,096 levels of pressure sensitivity. The pen itself is an optional choice and currently sells at $69. The fingerprint reader at the top right of the keyboard deck offers password-less authentication service for Windows 10. It is very precise and rather fast. Lenovo has once again built a powerful function in a very inexpensive laptop.
Display
The display quality is something in which budget laptops often disappoint. After all, manufacturers need to compromise on something to fit within a target price range. The display test of Yoga C640, however, shows pretty satisfying results for a $600 laptop. Even though the colors may not fit the demands of highly professional photo and video editors, they are more than adequate for the average user needs.
The contrast is very good at 1041:1, and the color precision at a 1.07 is excellent for a budget laptop. The Yoga C640 brightness is probably its weakest point at 242 nits where, usually, for good visuals in brightly lit environments, 300 nits is what we seek for. In general, however, this laptop will give you a good image both for productivity work and Netflix watching, if you wish. The audio is also satisfying with its loud, clear, and crisp sound in the mids and highs, even if it is short on the bass.
Performance
The dual-core Core i3 processor that Lenovo Yoga C640 comes with is the entry-level model in Intel's current Core lineup which does not quite meet the standard four cores that premium laptops have. However, it runs Windows 10 smoothly and doesn't give up compatibility with legacy desktop applications and peripherals. Of course, the upper level of Core CPU, the Core i5 performs significantly faster on more demanding workloads and multitasking but Core i3 is more than enough for office work and student-like tasks that don't require running very heavy applications. Moreover, for just $170 more, users have the option to upgrade to a 1oth-gen quad-core Core i5 and a 256GB SSD, and significantly increase the performance and storage space while maintaining the laptop's budget.
Lenovo C640 isn't for gamers, though. The Intel UHD graphics will let them play older titles at lower resolutions and graphical detail but will not perform on anything modern.
Battery life
Lenovo Yoga C640 is equipped with 60 watt-hours of battery life which lasts around 3.5 hours on a demanding Basemark web benchmark test that stresses the CPU. On a single charge, videos can be watched on Yoga C640 for about 24 hours. In a web-browsing test, the laptop's battery lasts for about 10.5 hours. In conclusion, this machine won't leave you in the middle of your work and if you're doing standard office tasks or web browsing and even video-lessons, then you'll easily get a full day's work out of it.
Summary
The Lenovo Yoga C640 is a budget-friendly configured laptop that can easily meet the needs of students, regular office workers, and web users that spend most of their time browsing the web, watching videos, or running simple apps that don't demand significant CPU power. The machine currently sells at 600 dollars with an option for upgrading to Core i5 and 256 GB of storage for just 170 dollars more. The all-aluminum constructed design with a sleek look and the Yoga modes that easily match any person's individual style of work offer comfort and durability. With its excellent battery life, Lenovo Yoga C640 is a reliable machine that will support you through your entire workday.