The Lockbit 3.0
After releasing version Lockbit 3.0 of their ransomware, LockBit operators have launched a bug reward scheme, promising to compensate anyone who discovers vulnerabilities on their website for leaks and in their code.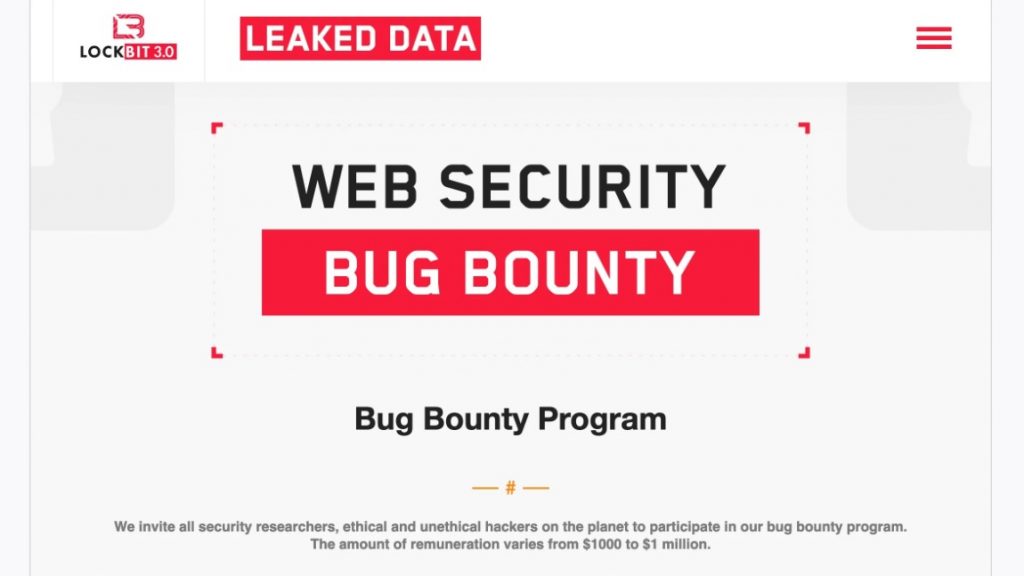 The Bug Bounty Program
Screenshots of ransomware as a service have been circulating on the internet stating that "all security researchers, ethical and unethical hackers on the earth", are needed to help "making ransomware great again". The rewards are starting at $1,000.
When it comes to website errors, the LockBit gang is particularly interested in hearing about XSS vulnerabilities, which could allow outsiders to access the decryption tool or victim chat logs, as well as errors in the locker, which could allow victims to recover their files without having to pay for the decryption tool. Suleiman Ozarslan, the co-founder of Picus Security, commented on the unusual step by saying it defines the continuous trend towards increased collaboration in the field of cybercrime.
With Lockbit 3.0, the LockBit ransomware group has expanded its use of additional financially driven threats. For a long time, they had the practice to pay for program flaws and faults, including those found in remote control tools and online apps. The crooks are now willing to pay for the personal information of high-profile figures as part of their doxing campaigns.
The researcher also notes that the criminal gang is also now paying for bugs to improve their tools in order to enhance their website and ransomware. Locker mistakes, ransomware encryption errors, flaws in Tox messenger, and flaws in the Tor messaging channel are all included.
Security professionals in the ransomware-research field are worried that the usage of these payment methods by both ethical and immoral hackers will only lead to the creation of more advanced ransomware threats in the future.
More information about the threat reveals that version Lockbit 3.0 includes a variety of new features for monetizing and retrieving data, as well as the option for victims to pay using Zcash, a new cryptocurrency.
Now that Conti has fallen, LockBit has an opening in the market that it is more than eager to fill. LockBit has been active since 2019, and although it has not yet attained Conti's or REvil's scandal status, it poses a big danger to companies worldwide.
This points out the need for businesses to get acquainted with the new methods, techniques, and processes used by ransomware so that they will be able to better understand how to defend themselves from sophisticated attacks and take the most effective security measures.
According to Trend Micro, LockBit's main operators are very skilled in generating what can properly be dubbed high-performance ransomware. Most LockBit-related attacks have been aimed at the healthcare sector, followed by education, technology, financial services, and manufacturing, according to data gathered between June 2021 and January 2020. The majority of the victims were in financial or professional services, followed by the industrial, legal, and automobile industries.
Another thing to take into consideration is that victims in Europe may be more willing to pay if they are concerned about being found in violation of the General Data Protection Regulation (GDPR).