PrivateVPN is a service brought to you by Swedish company Privat Kommunikation Sverige AB. It's certainly among the lesser known names in the industry, but we didn't think that should be a good enough reason to not give it a chance. So we did.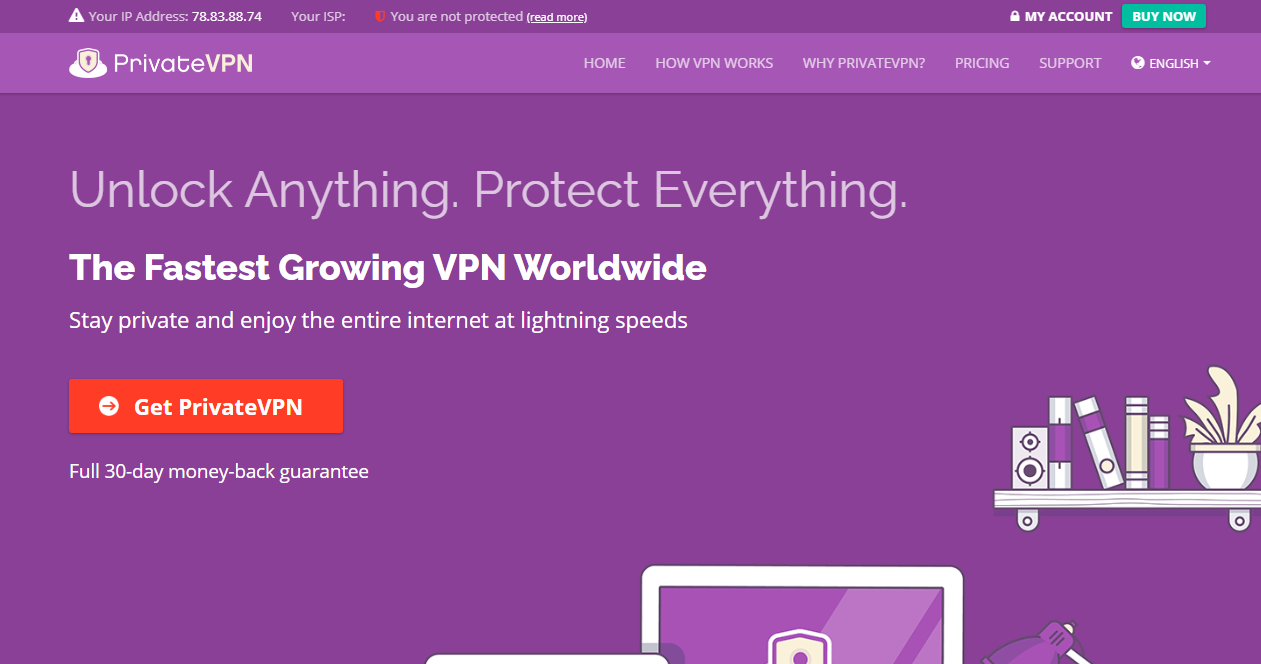 And in truth, this really isn't the most powerful or capable offering on the market, but it still has a few intriguing features that you won't see with most VPNs. The network is rather small, though, with only 150 servers (comparing to the thousands that bigger companies boast). And these are spread across 60 different locations around the globe.
We found that the client is easy to set up and use, and it has a large compatibility scope. The VPN supports all desktop operating systems like Windows, Mac and Linux. And there are even decent mobile versions of the app, available for both Android and iOS devices alike.
In addition, there are technical features that are well worth pointing out, such as the OpenVPN and support for IVEv2 and L2TP. PrivateVPN even has a feature called stealth mode, which is there to prevent VPN blocking. There are kill switches available for the whole system, as well as just for certain applications to protect you in the event of connection drops. Speaking of which, there's even DNS and IPv6 leak protection, as well.
What we really liked here is that you can unblock a whole range of popular services, most notably Netflix, iPlayer and Amazon Prime, but this list is by no means extensive.
Another selling point that earns this provider some respect is that they don't outsource their support. In other words, if you have a problem – you can speak straight to the developer and get some assistance.
Prices aren't much different from the average VPN prices you get, but we'll get to that in a little bit.
PROS:

Unblocks a large number of services (Netflix, iPlayer, etc.)

Good speeds

In-house support

Highly configurable settings

CONS:

Small network of servers

Vague privacy policy

Apps seem a little too complicated

Getting started
Setting up your PrivateVPN is fairly straightforward. Head over to the provider's website and you will be offered to select one of the three available plans. All of them offer the same perks, the only difference is the license validity and therefore the pricing. You can pay for 1 month and that will cost you $7.67, or you can opt for the 3-month subscription and get it for $4.88 per month. And the 1-year plan will give you an extra month of free usage at the price of $3.82 per month. All plans offer coverage of up to 6 devices simultaneously.
There are a bunch of payment options to choose from, too, including Bitcoin, PayPal credit cards and others. There used to be a trial version mentioned on the website, but we found it to be nonexistent. Instead, PrivateVPN has a 30-day money back guarantee, which is in line with what most other providers offer as well.
BUT! There's a catch here. In order to be eligible for the refund you will be asked to provide a reason why you're unhappy with the service and you will need to have used less that 100GB of traffic.
Logging & privacy
PrivateVPN is quite loud and clear about their no-logging policy, which states that Swedish law doesn't require them to keep traffic logs. And they go further to say that even they do not know what the users are doing online. Fair enough. But that's pretty much what most other VPN providers say, too.
Moreover, there's no mention of session logging or collection of any related information, such as connection times and IPs, for example. And there's not a word on that in the company's privacy policy either.
All we were able to find in the fine print of the website was that PrivateVPN does store your email address (for obvious reasons) and the website uses cookies, as well as third-party analytics. And while there's certainly nothing off-putting about the whole thing, it still leaves you with no proof to support any of the claims made as to the no-logging policy.
Performance
One thing that really stood out to us is that PrivateVPN doesn't try to convince you that it will unblock every serve imaginable. Instead, it provides a precise list of locations in each of its apps to help you unblock services such as HBO, Hulu, Netflix, BBC iPlayer, Amazon Prime and others.
And during our testing, PrivateVPN turned out to be true to its word. It seamlessly unblocked all of the services we tried out. Speed tests were quite encouraging, as well, although we have certainly reviewed faster VPN's here before.
We found that when connected to the closest server locations to us, the speed dropped around 10%, which is quite acceptable. Of course, the father the locations we chose, the more the speed dropped. And with locations in Asia, for example, the speed completely dropped to a crawl making it unusable, so that was a bit disappointing. But most other locations performed rather well.
What's no less important is that PrivateVPN withstood our privacy tests, as well. There were no DNS leaks, the visible IP always matched the advertised server locations and we had no issues relating to WebRTC either.
To sum it up
PrivateVPN didn't do much to impress us in terms of exceptionally high speeds or show-stopping prices. But it gives you a decent service at a fair price with a variety of extra features that give you plenty of room to configure and use according to your own preferences.