Are you troubled by Ads By Super Ad Remover? We have a guide, prepared specifically for the removal of Ads By Super Ad Remover.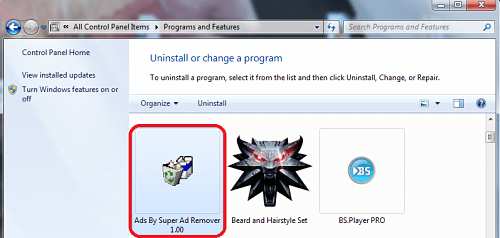 Adware viruses can be a royal pain in the crapper to deal with and Ads By Super Ad Remover is no exception. This nasty piece of software will generate a new page full of advertisements (Ads) every time you start your browser, open a new tab/page or whatever else the virus creator has seen fit to add as a trigger. It can also change words in any text you read in your browser into hyperlinks, which if you hover over or click will reveal additional Ads. In corner cases it might even install unwanted toolbars or mess with your search engine.
Since you are reading this article I suppose you've already decided you want to remove Ads By Super Ad Remover. Our Removal Guide, which can be found below will help you through the process with easy step-by-step instructions, but don't jump there just yet. Generally the most effective form of defense against viruses is spotting them before they actually make it inside your computer. The thing is very few viruses will target your OS directly or use a loophole/security vulnerability to install themselves. Against that small minority there is really nothing an average user can do beside install some Anti-Virus software and prey for the best.
Fortunately the vast majority of viruses are not so technically advanced – instead they prefer to target the human. A human authorization will override all system safeties and Microsoft's large amount of random warning is not going a very good job informing you which files exactly are the real threats containing a virus. It's likely you got a warning message when you were about to install Ads By Super Ad Remover on your computer. It's even more likely that this message got ignored, like the rest of the meaningless messages Windows throws at your face.
The golden rule
In nearly all cases the virus file will be an .exe (executable file). For this reason you have to be very careful whenever you run an .exe file on your computer. Try to only run such files if you have acquired them from the official site for that particular item or scanned them with an anti-malware program /if you have any/.
The most common ways to receive infected files are through free storage service sites or torrent sites. These sites contain a large amounts of Ads, banners and pop-ups and often have more then one download button. Clicking on the wrong button will initiate a download window for a file that may have the name of the file you want, but the extension will be .exe. Such a file is incredibly dangerous, because it's certain to be a virus.
Program bundles – a less known, but very potent method
This is the number 1 way Adware propagates itself and the most likely cause of Ads By Super Ad Remover being on your machine. When you get an install for some program, that installer might offer extra installation. Usually those are trial programs from partners of the owner for the main program, but often enough (especially if you are installing free software) they might also contain viruses. Some are nasty enough to not even give a notification. For this reason we recommend you stay away from the default installation option and always go advanced. It will allow you to remove any unwanted bonus program from the installation.
SUMMARY:
Remove Ads By Super Ad Remover
Search Marquis is a high-profile hijacker – you might want to see if you're not infected with it as well.